OCTOBER 20, 1945
BETWEEN SHANGHAI AND CANTON


From Fletcher Hank's, "WHEN AND HOW THE CNAC CRASHES HAPPENED ON THE HUMP AND ITS ENVIRONS DURING WWII" (hand-dated 5/4/02)

On October 20, 1945, Frank (Higgs) was flying between Shanghai and Canton, supposedly with some bankers aboard (and much gold and currency); the plane crashed into a mountain, killing all aboard. A newspaper clipping from Shanghai said there were 20 passengers aboard.



Zanesville [Ohio] Times Recorder, 31 October 1945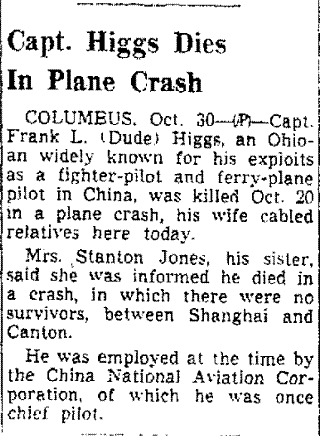 Hillsboro [OH] Press Gazette, 2 November 1945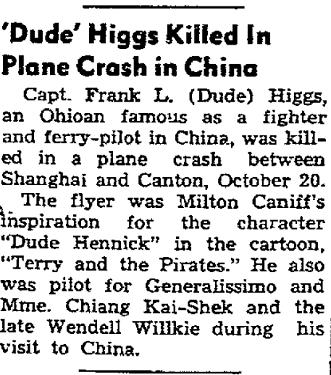 July 26, 2012 -- Additional information about the accident from Angie Chen. Thanks Angie.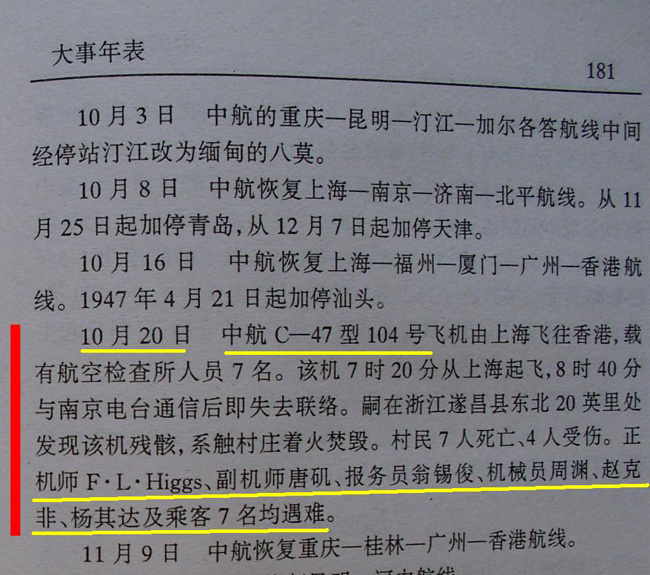 Above is the incident description in CAAC history book P.181.

"On Oct. 20, 1945, CNAC C-47 #104 was flown from Shanghai to HK. It took off from SH at 07:20am. At 08:40am it communicated with Nanking by radio and then lost contact. Then people found the crached plane in 20km NE of SuiChang County, ZheJiang Province. The plane fell on a village and burnt down. 7 villagers were killed and 4 wounded. All on board were killed, including Captain F. L. Higgs, co-pilot Tang Ji, radioman Weng XiJun, mechanics Zhou Yuan, Zhao KeFei and Yang Qida, as well as 7 passengers (all staff of Aviation Inspection Institute)."

So totally 20 died and 4 wounded.




If you can share any information about this accident
or would like to be added to the CNAC e-mail distribution list,
please let the CNAC Web Editor, Tom Moore, know.
Thanks!


Background music to this
page can be controlled here.
"Clair de Lune"