MAY 15, 1944
Dinjan to Kunming.


There are major differences in some of the details surrounding the disappearance of Captain Atwater, his crew and his plane. This we know for sure; Captain Atwater, Co-Pilot Y.T. Chang and Radio Operator C.H. Loh (C.H. Loh might be C.L. Lu) and their plane were never recovered. The plane was a C-47, Tail Number 90.


---

From log book of Don McBride:
May 16,
We lost another ship today. No 90. Leo Atwater took off from Dinjan headed toward Kunming -- Was cleared out over Roger Uncle to Tare Howl on Item course to Tare King boundry. He reported position when 26 minutes out. That was his last message. He probably hit a mountain on the west range of the Patkais. The weather is all instrument.


---
The following two telegrams are courtesy of Leo's niece, Sue Baze.
Both telegrams signed by H M Bixby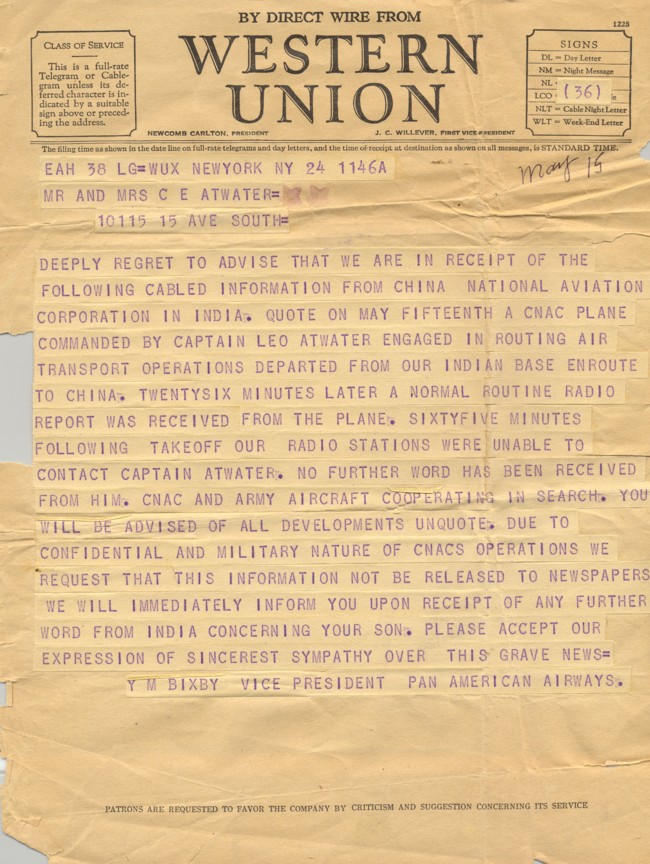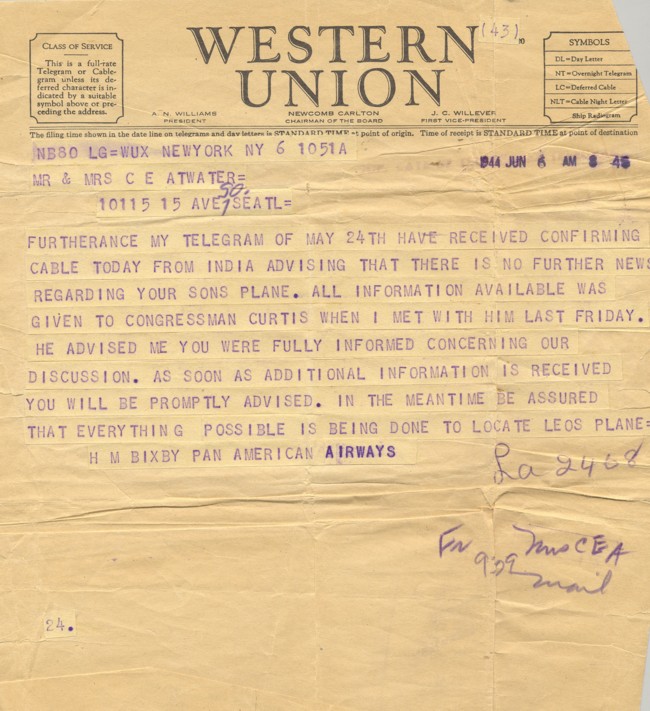 ---
The following excerpt comes from "The Aluminum Trail" by Chick Marrs Quinn.
See booksetc01.htm for details about this and other related books.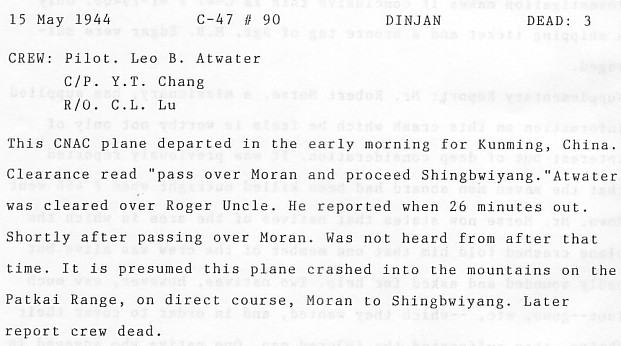 ---
From Gene Banning's list of 8/31/00:
"... killed in crash during inst descent to Kunming, 5/16/44, plane #90."

---
From Fletcher Hanks, "WHEN AND HOW THE CNAC CRASHES HAPPENED ON THE HUMP AND ITS ENVIRONS DURING WWII" (hand-dated 5/4/02)

Leo Atwater, 05/15/44, C-47 #90.
All 3 crew killed. Copilot, Y.T. Chang, (Chinese). Radio operator, C.H. Loh (Chinese). This was Leo's first trip as captain and he was the first CNAC pilot to follow the new ATC procedure: climb to 10,000 feet over the RR marker before heading out on the Fox Charlie course. Plane wreck found at 9,000 feet on the first ridge. There was severe turbulence from a storm that was raging on the first ridge that night as reported by George "Robby" Robertson who landed just after Leo took off. Robby recommended that Jim Phillips, operations manager, close the Hump until daylight. Several of the pilots criticized Jim for sending a first-tripper out into a raging storm and in new #90. The philosophy was that the junior captains should get the poorer planes and the experienced captain get the better planes. The records list the crash as caused by pilot error. Most pilots thought it was the acting operations manager's fault. It became a strike against Jim Phillips. Robby gave him a censure in cracker dialect that ran the snakes out of the thached roof.
Source: Fletcher Hanks.






If you can share any information about this accident
or would like to be added to the CNAC e-mail distribution list,
please let the CNAC Web Editor, Tom Moore, know.
Thanks!


Background music to this
page can be controlled here.
"Clair de Lune"