JANUARY 20, 1941
NEAR KIAN IN KIANGSI PROVINCE


From The Dragon's Wings
"Other losses followed. Bernard Wong in a Ford Trimotor crashed in mountainous terrain near Kian in Kiangsi Province on January 20, 1941."


---
The North-China Herald
February 5, 1941
(Courtesy of Patti Gully)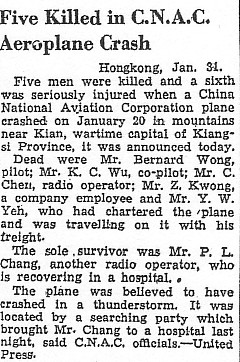 K.C. Wu
C. Chen
Mr. Z. Kwong
Mr. Y.W. Yeh, civilian.
P.L. Chang
---
August 10, 2004

Tom,

Nothing on Bernard Wong. Maybe he was one of those Chinese who ran across the path of the airplane while it was taking off and lost the battle to kill the evil spirits that were following him.

Christy (Hanks)






If you would like to share any information about this accident
or would like to be added to the CNAC e-mail distribution list,
please let the CNAC Web Editor, Tom Moore, know.
Thanks!



Background music to this
page can be controlled here.
"Clair de Lune"