THOMAS EARL APPLEGATE (1914 - 2004)
"Tom"
(Pilot)
(CNAC September 1945 - September 1947)
(Captain - January 11, 1946)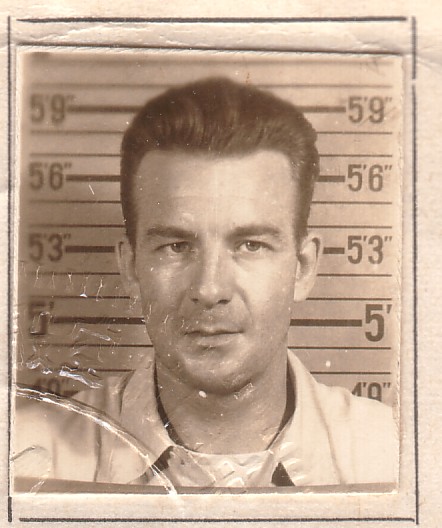 Thomas Earl Applegate
Nanking - January 11, 1946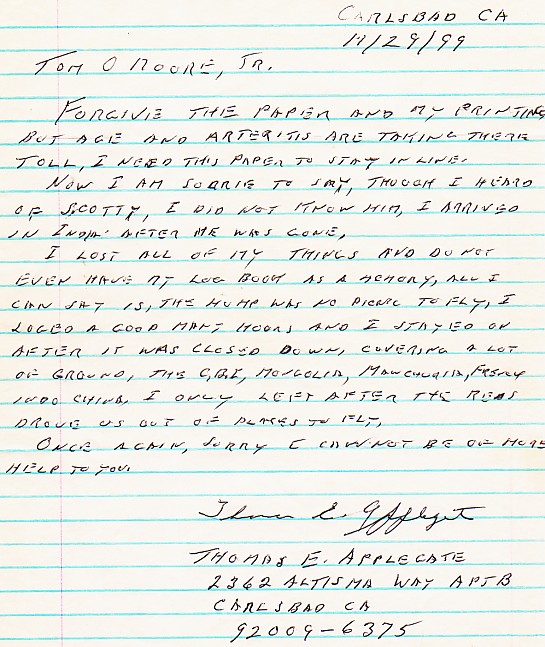 ---
I received the following letter from Tom's widow, Marcelle Applegate.

La Costa, Calif Nov 3 - 2005

Dear Mr. Moore,

An answer to your letter about my husband Thomas E. Applegate.

Tom was born in Trenton, New Jersey April 6, 1914. In 1942, as he was living in Quebec, Canada, he joined the Canadian Royal Air Force, as a pilot instructer until the end of the war in 1945. Then he went to N.Y. and joined C.N.A.C. in Sep. 1945 to Sep. 1947.

Nov 19, 1947 he joined C.A.T.C. until 1950. The owner and manager for C.A.T.C. was Moon Chin.

He returned to Calif until he died June 2004 of lung cancer at 90 years old. I am also 90 years old, so please excuse my writing and also I am French, so my English is not so good. I have other papers, also his Log Book. I include this document with his picture in 1946.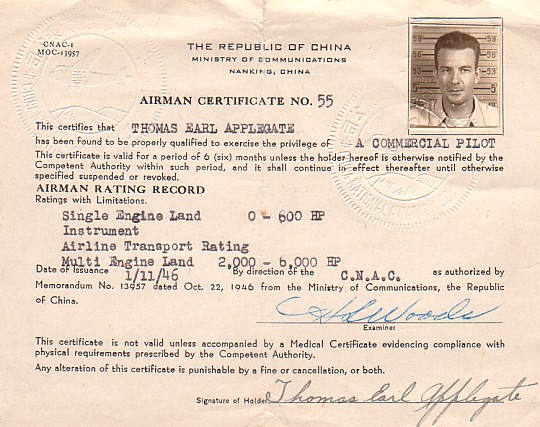 Please mail me if you need more. I am deaf, so the telephone is not very good.

Sincerely

Marcelle Applegate

P.S. I was also living in China from 1946 to Dec 1949.






If you would like to share any information about Thomas Applegate
or would like to be added to the CNAC e-mail distribution list,
please let the CNAC Web Editor, Tom Moore, know.
Thanks!



Background music to this
page can be controlled here.
Top of the chart in 1940.