HARRY R. BOLSTER (1918 - 1944)
(Pilot)
(Captain ???)
(CNAC 1942? - 194?)
(Hump Flights - ???)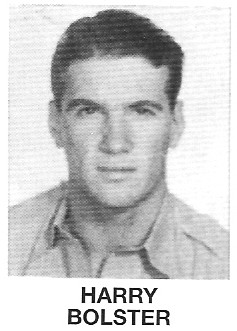 The above photo was included in photo groupings of all AVG at the Flying Tiger reunion May 2001.
---
Harry Bolster is one of those that I'm having trouble determining whether or not he flew for CNAC. I am pretty sure he flew the Hump, but don't know if it was with CNAC or the military. Any clues will be acceptable. Thanks.


---
2006(?)--From an anonymous source we received the following:

Harry Bolster was Wing Man in the 2nd Squardon with the American Volunteer Group (AVG)
From a list of the 67 Flying Tigers who received bonus payments from CAMCO, followed by each man's victories as customarily shown, then by his air-to-air victories as calculated by Dr. Olynyk from the AVG files in the Chennault Papers at Stanford. For Harry: two from CAMCO and one from Olynyk.

Harry was killed flying an experimental Fisher P-75A while stationed at Eglin Field, Florida, October 10, 1944.

(NOTE: In the above link to the crash, Harry has the rank of Major.)


---

July 19, 2009

Harry Bolster was born in Baytown, Texas on August 6th, 1918. He received the Cloud and Banner and Winged Star Chinese medals for his AVG CAMCO victories. He is buried in the Baytown Cemetery. I have his AVG jacket.

Best,

charles Adams


---

Here's another clue about Harry Bolster:
December 31, 2009

Interesting. He wasn't among those shown as having joined CNAC in China following the disbandment of the AVG in July 1942. However, I known absolutely nothing about his military service after he returned to the US Army. Given the specialization of the USAAF, would he have been a transport pilot earlier and a fighter pilot / test pilot in 1944?

Blue skies! -- Dan Ford






If you would like to share any information about Harry R. Bolster
or would like to be added to the CNAC e-mail distribution list,
please let the CNAC Web Editor, Tom Moore, know.
Thanks!


Background music to this
page can be controlled here.
"Tea For Two"