Biography excerpts and photographs Copyright © 2001 by Gregory Young. All rights reserved.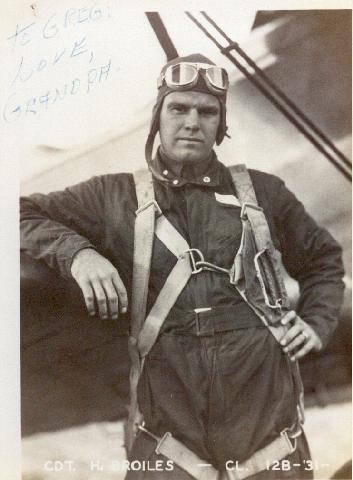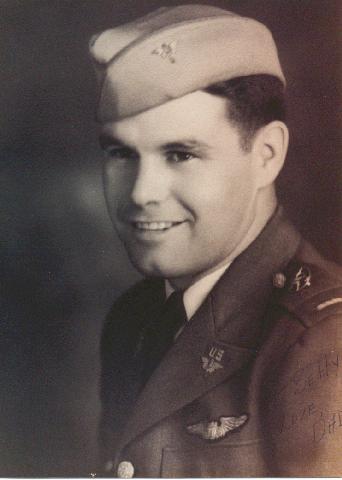 Cadet Hiram Broiles - 1931 and later Lieutenant Hiram Broiles - 1932


Hiram Broiles, a slim 5' 10" Texan born in Dallas January 17, 1905 and raised in Fort Worth, began his first commercial flying venture with China National Aviation Corporation (CNAC). Before his arrival, Hiram attended the Agricultural and Mechanical College of Texas when it was an all-male military college, now known as Texas A&M. This "Aggie" graduated with a Bachelor of Science degree in Agricultural Administration June 4, 1929. Hiram was a well-known baseball player when he signed a professional contract with the Beaumont Exporters, Texas League in 1928 during his last year of college. Hiram was an outfielder and an excellent hitter. Hiram left professional baseball for the Army when he enlisted February 24, 1931. Hiram attended Army Air Corps pre-flight school at Brooks Field and later graduated from the Army Air Corps Advanced Flying School at Kelly Field February 26, 1932. Hiram had a short initial career in the Army because of budget constraints during the Great Depression, and was released after a year on active flying status.

Hiram Broiles tenure with CNAC began in August of 1933. He was a pilot based in Shanghai and under contract as a Captain not only to fly routes, but also to train Chinese pilots. Hiram piloted a Loening Amphibian on the Hankow-Chungking route twice a week with intermediate stops at Ichang and Wanhsien. During much of the time flying the Loening, CNAC had the wheels removed to increase payload, so takeoffs and landings were made on the river. The Loening could carry four passengers, but most of the payload consisted of mail. When the weather was poor, it was necessary for Hiram to fly low through the narrow gorges of the Yangtze River. Fortunately, the route was only flown during daylight because of poor radio contact and navigational aids.

Hiram Broiles only mishap during those years was shortly after liftoff with a plane full of passengers. Engine trouble forced a hasty landing on a river sandbar. None of the passengers were injured, the plane was not damaged, and even Hiram's co-pilot didn't have a scratch. However, Hiram's face hit the instrument panel when his co-pilot slammed into him from the sudden stop. A permanent crease remains across his nose as a reminder. While recuperating in the hospital, longtime friend Claire Chennault, later commander of the Flying Tigers, paid Hiram a visit waving a bottle of whiskey. Hiram later flew the airplane off the sandbar during high tide.

While at CNAC, Hiram also flew passengers and mail in the DC-2 from Shanghai to Peking (now Beijing) and from Shanghai to Chengdu. Hiram remembers his personal involvement in the famous kidnapping called the "Xi'an Incident". On December 12, 1936, China's military leader Zhang Xueliang seized national leader Chiang Kai-shek. The Nationalist Army commandeered Hiram and his DC-2 aircraft. Hiram flew many dignitaries to and from various locations during the incident that changed the course of China's history. In early 1937, with the Japanese occupying ever widening stretches of China and close to taking Peking, one of Hiram's final CNAC flights was to evacuate Madame Sun Yat-sen, widow of the first provisional president of non-imperial China from Peking to Nanking.

Hiram Broiles left China in March of 1937 after his contract with CNAC expired and began flying the DC-3 and DC-4 for United Airlines in June of 1937. Hiram left United Airlines and returned to the Army Air Forces May 30, 1942 for World War II after remaining in the Army Reserves the prior decade. Hiram was awarded the Air Medal for his early days in the war flying the South Atlantic run in a C-87 from Natal to Dakar, refueling in Ascension. Hiram also flew the lead ship for President Roosevelt's secret service party to the Casablanca Conference. By far Hiram's most significant war contribution, which resulted in his return to China, was flying a B-24 named "Peeping Tom." This B-24 was highly modified and reengineered during its conversion into a photography aircraft. Hiram covered the entire globe 12 times during a period of three years from 1943 to 1945, while photographing every route and airfield the allies would use during the war. Hiram fondly remembers returning to China while charting and photographing the "Hump," flying from India over the Himalayas. Hiram was awarded the Distinguished Flying Cross for his part in the longest running mission in the history of the Air Force.

After World War II, Hiram Broiles worked for the Civil Aeronautics Administration, now the FAA, as an Air Carrier Inspector in San Francisco and returned to Air Force Reserve service. Hiram was active duty again with the Air Force for the Korean War from 1951 to 1953 flying missions in C-124A aircraft to the Korean peninsula from Hong Kong, Shanghai and Japan. Hiram retired from the Air Force Reserves as a Lieutenant Colonel July 31, 1960 after being a Squadron Commander and flying the T-33A and F-80C at Hamilton AFB in California. With the FAA, Hiram was the Air Carrier Inspector in charge of the International Field Office in Paris from 1956 until he and the office moved to Rome in 1959. After a year in Rome, Hiram returned to the states as the Principal Operations Inspector for United Airlines in Denver from 1960 to 1965. Hiram retired from the FAA December 30, 1966 and moved to his home in Pebble Beach with wife Elaine.

Hiram Broiles is still alive and loves to talk about his adventures in airplanes. Hiram dedicated 36 years of his long life contributing to the advancement of aviation during his concurrent military and government service careers. His civilian aviation days at United Airlines and particularly CNAC, he regards with the utmost fondness. Hiram influenced other family members into aviation careers. A son-in-law was a pilot at United Airlines 1966-1999 and retired after being a 747 Captain. A grandson is a pilot currently flying F-16's for the Air National Guard while also a pilot and instructor for United Airlines flying 767's. A granddaughter is a flight attendant at United Airlines.

This is a short excerpt from Hiram Broiles aviation biography. More detailed descriptions, particularly of his post CNAC years, exist at the National Air and Space Museum, Washington D.C. This excerpt and Hiram Broiles complete biography compiled and written by Gregory Young, Hiram Broiles grandson.

Biography excerpts and photographs Copyright © 2001 by Gregory Young. All rights reserved.

---
This link is to an Aviation History Magazine article, in the March 2001 issue, featuring Hiram Broiles and the Loening Amphibian during his early days with CNAC.
http://www.thehistorynet.com/ahi/blloening/
Aviation History Magazine also featured Hiram Broiles and his World War II exploits in "Peeping Tom" for their People and Planes department of the November 2000 issue.

---
August 9, 2001
The following story comes from Michelle Stringham, Hiram's granddaughter:

"My name is Michelle Stringham and I am one of Hiram's grandchildren currently living in Salem, Oregon. I want to add a little bit of history to Grandpa's aviation story. Myself, my three sisters, our mother and father moved to Benghazi, Libya in the later 1950's due to my father's occupation as a petroleum geologist. I was 6 years old when we moved there. Our villa was situated in fairly remote area outside of the "city" of Benghazi. Our parents would let us know to begin looking for grandpa's airplane which they were expecting to arrive. We were told that he would attempt to buzz our villa in order to let us know that he, my grandmother and Aunt were arriving and would we pick them up at the runway situated outside of Benghazi. We had no telephones. Sure enough, the day would come when the little airplane that he flew from Rome would be buzzing our villa and us girls would run inside to let our parents know that they had arrived. I remember waiting with great expectations for Grandpa to arrive. They came several times to Benghazi. It is such a great memory. I will always be thankful that he was able to find us and get to us despite the distances and the possibilities. Even in Libya, we were able to have a great time with our grandparents.



If you would like to share any information about Hiram Broiles
or would like to be added to the CNAC e-mail distribution list,
please let the CNAC Web Editor, Tom Moore, know.
Thanks!