GLENN H. CARROLL (1915-1993)
(Pilot)
(CNAC December 1943 - April 1945)
(Captain - ???)
(Hump Flights - XXX)


In the 1943-45 log book of Don McBride, Charles listed his home address as: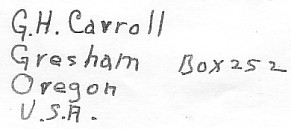 G.H. Carroll
Gresham Box 252
Oregon
U.S.A.
---
November 4, 2000
From Jim Dalby:
"On March 11, 1944 Glenn Carroll (my room mate) landed #86 in a river at night. It's an interesting story for some other time. Art Pendergast took some mechanics and helpers to the landing site. The nose of the aircraft was out of the water on a sand bar. Using elephants to carry new propellers, tools and gasoline etc. Prendergast repaired the airplane towed it to a 800 foot sandy strip cut out of the jungle where Billy McDonald and he took off successfully."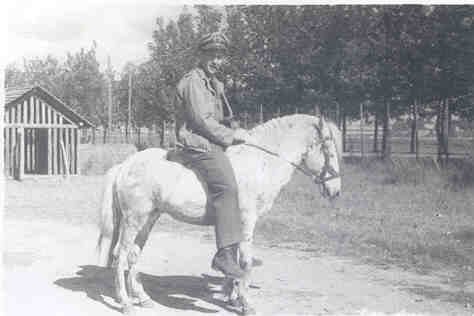 Glenn Carroll
Kunming - November 1944
Glenn and I shared quarters from December 1943 until April 1945
(Photo Courtesy of Jim Dalby)


May 1, 2001 (Lei Day in Hawaii)
From Jim Dalby:
"Tom

Glenn & Shirley were living in Hillsburough, south of SFO and west of San Mateo, CA.

Glenn was born in Gresham, Oregon. His father and brother ran a funeral home in Gresham. Glenn graduated from George Washington University where he went on an athletic scholorship. After graduation he joined the Army Air Corps as an Aviation Cadet, graduating in Class 40-C. On graduation he was given a reserve comission and sent to Panagra in Lima Peru. He flew with Panagra until 1943 when he joined CNAC He came home on the Gripsholm, arriving in NY in July 1945.

In 1946 he went to Venezuela and flew for TACA de Venezuela until early 1950.

In 1951 he went into the oil business in St. Helens, OR. About 1953 he started flying for FTL for a short time and then flew for Seaboard and Western for a short time.

Next he worked as a salesman up and down the west coast selling industrial equipment. He was very good at this enjoyed it and made a lot of money. He did this untill his death from liver cancer age 77. Glenn and Shirley were my youngest son's Godparents.

Jim"






If you would like to share any information about Glenn or Shirley,
or would like to be added to the CNAC e-mail distribution list
please let the CNAC Web Editor, Tom Moore, know.
Thanks!


Background music to this
page can be controlled here.
"At Last" by Glenn Miller