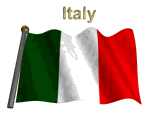 MR. CAVALIERI
(CNAC 1933 - 19??)


An Italian postal commissioner, Mr. Cavalieri was a real "Mr. Fixit". He lived in Chengtu and became CNAC's "Pro Bono Mechanic" - in other words he did it for no pay. Please see Wings for an Embattled China by W. Langhorne Bond pages 80 & 81 for more details.






If you would like to share any information about Mr. Cavalieri, please let the CNAC Web Editor know.
Thanks!


Background music to this
page can be controlled here.
"National Anthem of Italy"