I received the following information about the Cutburth children, Johnny and Jamie, from Valerie Parish Kendrick.


"Jamie and Johnny Cutburth were my "buds...buddies. We were "spirted" children."



| | |
| --- | --- |
| Johnny Cutburth - Must be the owner! | Valerie Parish |
| Jamie Cutburth - The Cowboy | Valerie Parish - The Cowgirl. |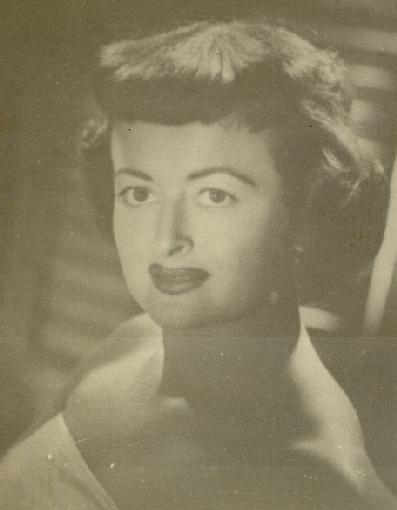 Sheila Cutburth -- Moe's wife
(Now we know where Bette Davis got those eyes.)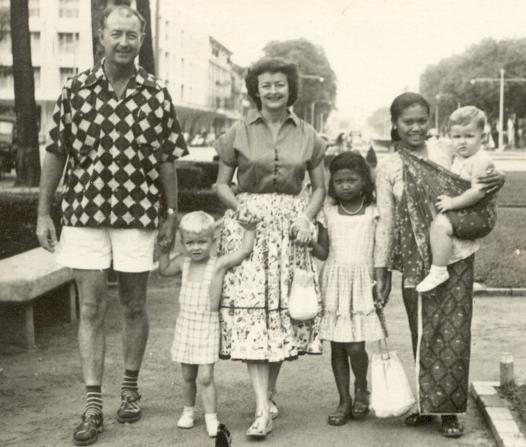 From Valerie Parish Kendrick:
"This picture was taken in Saigon.
August (?) 1953
Left to right
Moe, Jamie, Sheila, little girl-daughter of bahboo, and bahboo carrying Johnny.
I don't remember the little girls name or her mother."
Both of the following news clippings are from Valerie Parish Kendrick:
"I found this old newspaper clipping dated about July 26, 1954. Moe gave a statement to the newspapers. In it he tells a little about himself. He went overseas for CNAC in 1944. Aviation International was a subsidiary of CAMCO."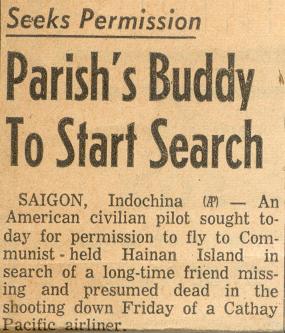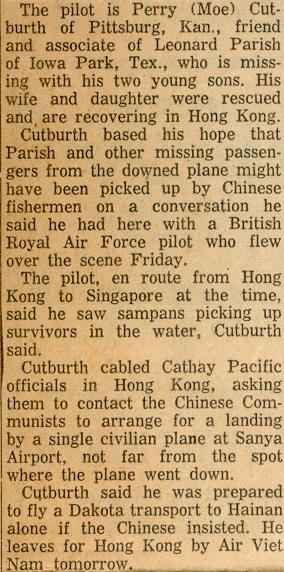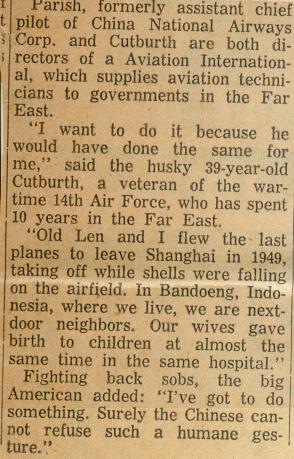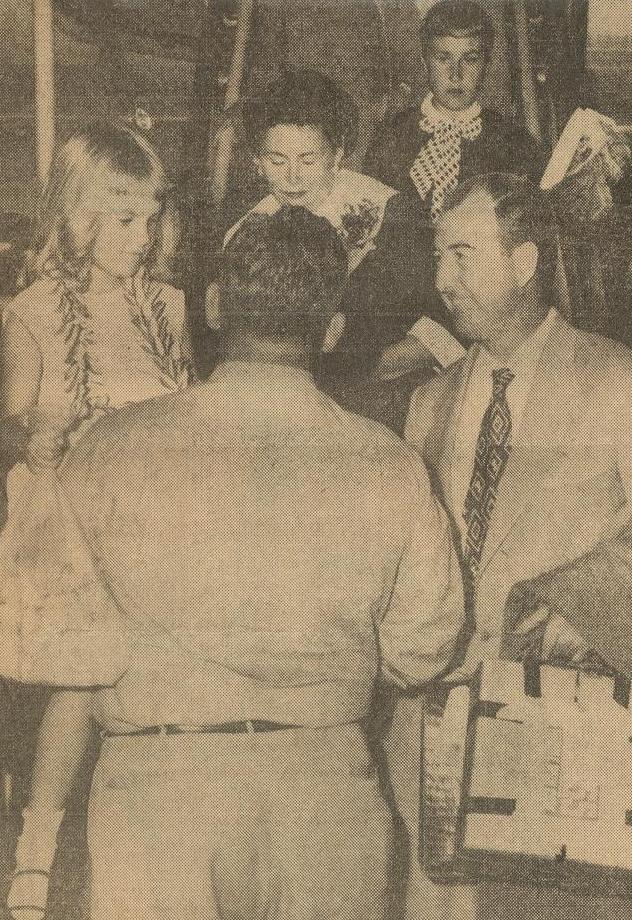 Los Angeles Times, August 17,1954
Moe on the right. The fellow with his back to us is my Uncle Russell Parish.
The picture was taken in Los Angeles.

(All photos and news clippings courtesy of Valerie Parish Kendrick)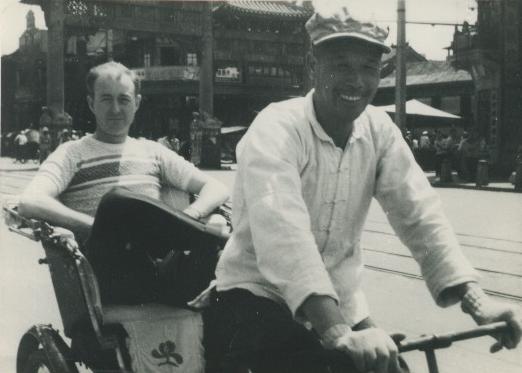 Perry Briggs Cutburth
"Moe"
(Photo Courtesy of Wally Hash)



From other sources, I was told that in addition to working for CNAC, Moe worked for Boeing in sales -- did a lot of work in the Persian Gulf area. Moe was born August 18, 1914. 08-18-1914. He died October 1980 (possibly 1990?), while in Bahrain as a Boeing sales rep.

---
Sheila Stapler Cutburth
Born 06-30-1914. Died May 19, 1999.



Sheila Stapler Cutburth, 84, died Wednesday, May 19, 1999 at St. John's Regional Medical Center, Joplin, Mo.

She was born June 30, 1914, at Grass Valley, Calif., to James and Violet Stapler. She was a graduate of the Pasadena Playhouse of Hollywood. She was first married to Byron Barr, also known as Gig Young. She then married Perry Briggs "Moe" Cutburth at Macow, China. He preceded her in death.

The couple traveled extensively throughout the world, living in Indonesia, Nigeria, the Philippines, Bahrain, Saudi Arabia, California and Pittsburg, where they owned a farm south of town.

As a member of St. Peter's Episcopal Church of Pittsburg, she completed her degree from University of the South, Sewanee, Tenn., in theological studies. Other church ministries included Altar Guild, Episcopal Church Women, chalice bearer, lay minister/reader and vestry.

She is survived by two sons, Jamie Cutburth of Portland, Ore., and John Cutburth of Webb City, Mo.; a sister, Jody Norton, of La Jolla, Calif.; seven grandchildren; two great-grandchildren; and many nieces and nephews.

She also was preceded in death by two brothers, Richard and Jim Stapler.

Services will be 1 p.m. Saturday at Crossroads Baptist Church, Carthage, Mo. Fr. Wayne Pontious will officiate at graveside services at 4 p.m. at Byrd Cemetery, south of Pittsburg, across from the family farm on Highway 69.

---
P.S. For Johnny and Jamie Cutburth from the CNAC Web Editor, Tom Moore.
There are more cute pictures of children on this site. Like Me!

If you can share any information regarding Perry Cutburth, his family
or would like to be added to the CNAC e-mail distribution list,
please let the CNAC Web Editor, Tom Moore, know.
Thanks!