Lee pronounced Cherymisin like "Shermison".
Lee's sister pronounced it like "CherryMeesin".

---
Gerald Lee Cherymisin was born in Los Angeles, California on February 16, 1912 and died June 25, 1979 in San Bernardino, CA.

His address in March of 1952 was:
1045 Ramona Avenue
Alta Loma, California
(NOTE: August 8, 2004 -- Mary Flanagan says, "This is the home they grew-up in and Grandpa sold it in the 60's. In fact, mom and I went by it and actually got to go in it".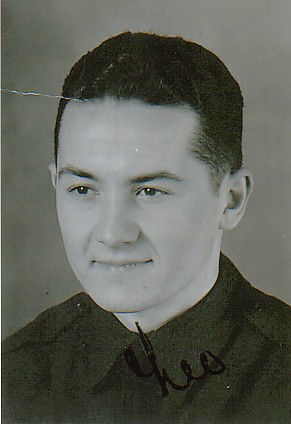 Lee Cherymisin
1943)
(Unless specified all photos are courtesy of Garry Duff)
---
Garry Duff has provided the following short bio on Lee Cherymisin:

Lee married Mary Ellen Pratt (also known as "Dolly") in the Canal Zone, 8-25-1941. They were divorced 7-12-1950 -- Divorce decree by the Superior Court of San Bernardino, California. Lee and Mary Ellen had one daughter, Diana Gail Cherymisin.

---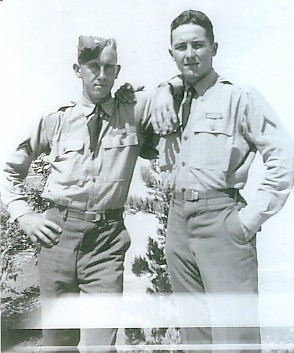 Gerald L. Cherymisin on the right as an enlisted PFC prior to being selected for flight school.
Unknown corporal on the left.
1934(?)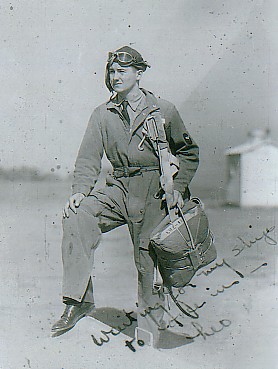 Selected for March 1, 1934 Cadet Class, Randolph Field, Texas
Goes to Kelly Field October 15, 1934
Graduates February 20, 1935
Proceeds to Langley Filed effective March 2, 1935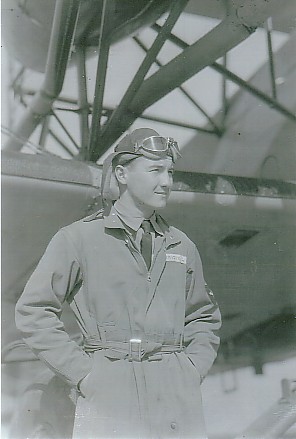 Definately at Langely
Keystone Bomber
Probably 1935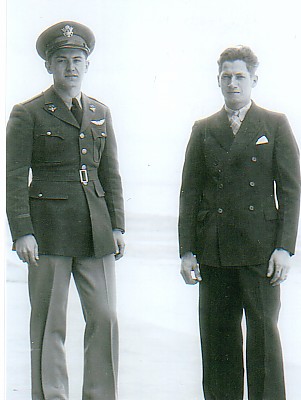 (Guessing)
Wings Graduation February 20, 1935
The man on the right is unknown.
---
August 2004
I have been hearing from Leo's niece, Mary Flanagan. Here is some of the Cherymisin Family History. Thanks Mary.

If you find a Cherymisin, it is our family. I do not know if it is because of the way that Grandpa spelled it when he came here? Also I have seen my cousin, Diana Cherymisin's name in a school in Brazil – that's where she went to High School. Mom said that uncle Leo heard of another Cherymisin when he was in the south pacific and tried to locate him but never could.

As far as we know, all of our family died in the revolution. My grandmother's family were exiled to Siberia and by Grandfather's family joined the early Bolsheviks and all starved to death. My grandparents lived on adjoining wheat farms from families of 12 each and were apparently wealthy. Grandpa came in 1910 and Grandma came in 1911 – could not speak a word of English and came through Ellis Island and across the country on a train and got married at the train station in LA. Uncle Leo born in 1912 and my Mom in 1913. They ended up in Alta Loma (near Ontario) I believe around 1920.

Oh and I also have a letter from President Hoover? The bank president in Alta Loma knew him and got him to write a letter to request Uncle Leo's acceptance at Kelly Field? I hope I am telling the story right.

Add anything you feel is approproate. In the mean time, I will double check with my sister on some of the details. My mother and I were very close and I always was very proud of my family and my heritage. My grandmother died before I was born ( I am named after her) but my grandpa LOVED this country. He worked until his late 70's (so did my mom) and then retired with a trailer at the river and one in Big Bear. He never dreamed that he would be able to retire and fish everyday and watch the Dodgers. When anyone complains of paying taxes – he would always say – that's what we pay to live in this wonderful country of ours! Of course, I say the same thing when I hear people complain of taxes! Grandpa's family did not want him to leave the country – so he had to sneak out and go to Germany and work for 6 months to pay for the fair for the ship crossing. He had to have an additional $10.00 on him in order to get on the ship. He borrowed it from someone getting on the ship and gave it right back to him. He was on his way to Iowa and someone talked him into L.A. He was in LA for maybe 5 or 6 years and someone wanted to hire him to run an Citrus Orchard in Rancho Cucamonga – Alta Loma. There was also a Russian community there. Anyway, he worked hard and saved and bought an orchard for himself also. I actually have a little table from their home in my living room. Oh, my daughters sleep on the bed that grandpa bought for her when she was 7 (she was born in 1913). I have to have it fixed. Oh, and neither Mom nor Uncle Leo could speak a word of English until they started school. No bi-lingual classes for them! My grandmother spoke only broken English. My mom said a little French girl took her by the hand and she was speaking like a native in a month. Needless to say, my mother and uncle Leo learned languages quickly.

The picture on the site that he signed then, was either sent to Mom or Grandpa.

Will talk to you soon!

Mary
macflanagan@earthlink.net


---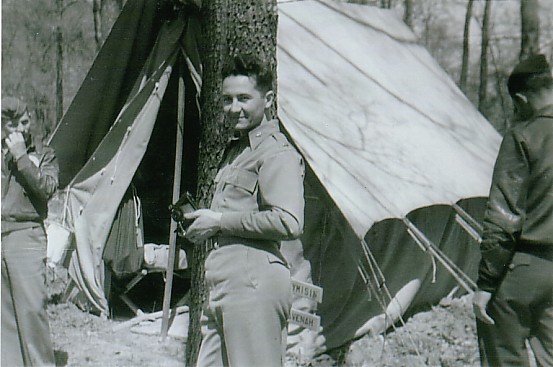 (Guessing)
Now a 2nd Lt
Perhaps practicing redeployment (?)
Some aircraft were moved to New Hampshire for Winter Trials
Are you one of the men on either side of Lee?
---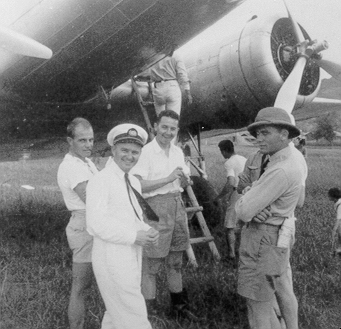 Liu Chow - 1938
Chuck Sharp in white uniform in front of his CNAC DC-2.
Bob Angle in shorts at left, Lee Cherymisin center with shorts,
and Emil "Scotty" Scott in pith helmet.
(Photo Courtesy of Scotty's nephew, Tom Moore)
---
Lee's contract with the Chinese Aviation School expired October 12, 1939. He agreed to stay until October 26, 1939 (not fired as rumored).

June 1940 to August 1941 -- Avianca (PanAm) Pilot out of Bogota, Columbia.

October 1941 to March 1942 -- Neth. East Indies Air Force in Bangoeng, Java.

1942, from "Way of a Fighter" by Claire Chennault, Bill Cherymisin, who escaped the Japanese in 1942, flying a Boeing Flying Fortress, overloaded with refugees from the Dutch East Indies, to Australia on three engines.

March 1942 to September 1946 -- Active duty USAF (Lt Col), 5th AF, B-17's,

---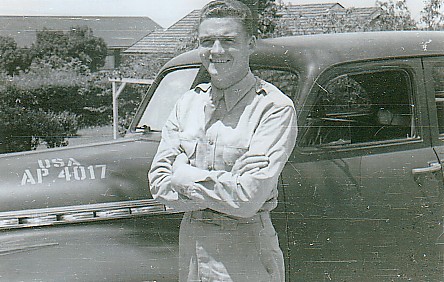 Somewhere in Asia or 5th Pacific
Car is a right-hand drive Buick Special DeLuxe
1941 Model Straight 8 Engine - Made in Australia
So, maybe this photo is taken in Townsville or Darwin in 1942.
Note trunks of large palm trees behind head.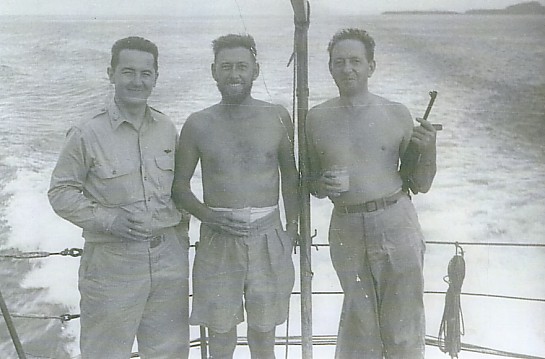 Unknown vessel or location
Acquantance appears to be carrying an M-1 Carbine, which was to replace side arms.
Probably 1944
Is that an Oak Leaf on Lee's collar?


---
January 1950 to September 1950 -- California National Guard.

---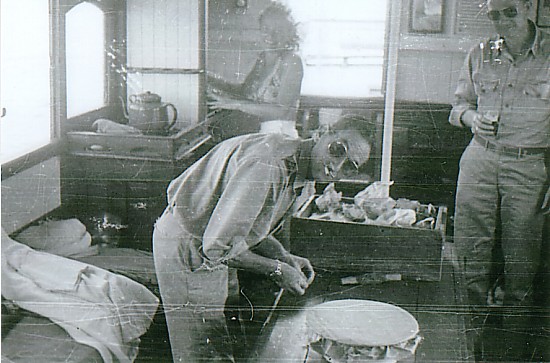 If this is Lee in the center he appears to be about 45.
The sun glasses are among his personal effects.
This might be his place in Upland, CA in 1952
---
So, Anyone know what happened to this man between February 1912 and 1934, and between March 1952 and June 1979?? We would love to be able to contact his daughter, Diana Gail Cherymisin -- can you help??

---
The following obituary is for Lee's sister:

Daily Independent newspaper Ridgecrest Ca Kern County
November 12, 1993

LUBA CHERYMISIN FLANAGAN

Luba (Cherry) Cherymisin Flanagan, former wife of Dr. Thomas A. Drummond died Sept. 4 of complications from aplastic anemia. Born in Los Angeles to Russian immigrants John and Mary Cherymisin, Luba and her older brother Leo grew up in Alta Loma. She graduated from Chaffey Union High School, Chaffey Junior College and in 1935 from Our Queen of Angels College of Nursing. She received her registered nursing license and went on to complete post graduate training in surgery at Los Angeles County general Hospital. Shortly afterward she took a position in the high desert with her soon to be husband. Dr. Drummond and she worked together for 12 years founding the Drummond Medical Center in Ridgecrest.

Divorced in 1948 she moved to San Bernardino. She continued her nursing career in area hospitals holding supervisory positions at St. Bernardine, Laurel, Kaiser Fontana and Waterman Convalescent. Most recently she was director of nurses at Del Rosa convalescent Hospital where she worked for over 20 years. Her warm smile, selflessness and commitment to the care of others eased the burden of many and inspired all who knew her.

Luba was fluent in Russian. She loved gardening, cooking, playing the piano, traveling and the excitement of flying biplanes which she did as a licensed pilot in her early thirties.

She is survived by her daughter Carol (Drummond) Peterson of Concord and from a second marriage her son Patrick Frances Flanagan and daughter Mary Alexis Flanagan, both of Colton. Her first child, Thomas A. Drummon Jr. died in infancy.

Donations in her name to help fight against aplastic anemia may be made so Regent of UC, In Memory of Luba Flannagan, UCLA Departmet of Medicine, Division of Hematology-Oncology, Factor Bldg., Room 11934 Los Angeles CA 90024-1678.


---

January 6, 2005

Hello…

I have some obscure notes that Gerald Lee Cherymisin piloted a B-17E out of Java to Port Hedland, Western Australia on the night of 4/5 March 1942. There were, altogether nineteen people in the plane, including his Dutch wife.

COMSOUWESPAC (Commander, U. S. Naval Forces Southwest Pacific), VADM William A. Glassford, USN, in submarine tender HOLLAND at Perth, sent a message late on 5 March 1942 to seaplane tender CHILDS at Shark Bay on the Australian coast directing them to send a PBY of Patrol Wing TEN to Port Hedland to pick up a "command party of nineteen." CHILDS dispatched PBY #46, Lieutenant John J. Hyland, USN, and the lift was made, taking the people to Perth, Australia.

Circumstantially, these two events appear to interlock. Can you add anything at all?

Cheers and Happy New Year… Lou

L. B. Dorny, Commander, USN (ret.), Seattle

E-mail NPO21@msn.com



If you would like to share any information about Gerald Lee Cherymisin,
please let me, Tom Moore, know.
Thanks!