JAMES RAMSEY FOX, JR. (1919-1943)
"Jim"
(CNAC October 1942 - March 11, 1943)
(Captain - February 1, 1943)
(Hump Flights - XXX)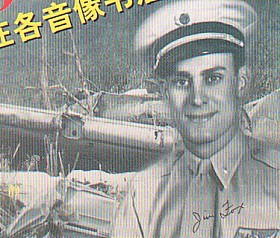 Jim Fox was killed on a flight over the hump, March 11, 1943.
---
October 1, 2002

Greetings, Editor

Jim Fox was my step-uncle -- his mother married my grandfather and I grew up with stories about "Uncle Jim" and his lost flight #53.

Following is biographical information about him. I also have photos and other materials if you are interested.

Best regards,

Pamela Jaye Smith
pjs@pamelajayesmith.com
www.mythworks.net
Telephone 323-874-6447


---



JAMES RAMSEY FOX, JR.


Son of Bertha Dell Hartman Fox and James Ramsey Fox, Sr.

Date of Birth: March 16, 1919

Place of Birth: Dalhart, Texas, USA

Attended Wentworth Military Academy.

Attended Dalhart High School. Graduated in 1936.

President of Junior and Senior classes at Dalhart High School.

Learned to fly as a teenager in Dalhart, TX

Studied Diplomacy in Mexico City for two years.

Attended college at Berkeley, CA and got a degree in Liberal Arts

Cannonball Run was his route from the US. Miami to South America, across the Atlantic to Africa, then hop-scothing across to Calcutta.

When came to China: October 1942

Crash date: March 11, 1943

Discharged from U.S. Air Force 14 August 1945 -- awarded posthumously in 1997

Air Force Award of Asiatic Campaign Medal, American Campaign Medal, World War II Victory Medal -- awarded posthumously, 21 November 1997

[Jim's mother married my grandfather Joe L. Smith, Sr. in 1967. Bert and Joe raised my brother Steve Smith and me for a number of years.]






If you would like to share any information about Jim Fox
or would like to be added to the CNAC e-mail distribution list,
please let the CNAC Web Editor, Tom Moore, know.
Thanks!



Background music to this
page can be controlled here.
"Tuxedo Junction"