JOHN D. GABLE (1915-1993)
(Pilot and Chief Link Instructor)
(CNAC 1945 - 1949)


In the 1943-45 log book of Don McBride, John listed his home address as: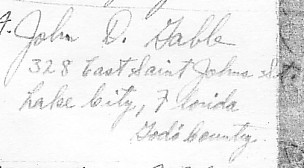 John D. Gable
328 East Saint Johns St.
Lake City, Florida
God's Country
---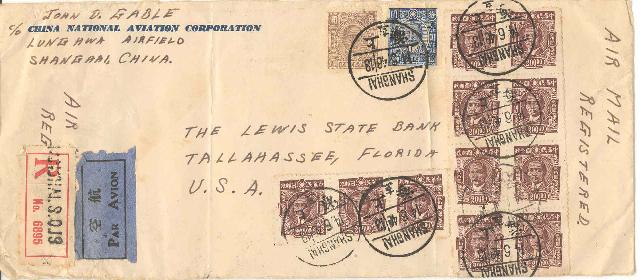 The cover is franked with a strip of 3 and block of 8 of the $200.00 brown violet Sun Yat Sen and singles of the $10 blue Sun Yat Sen and $50 light brown Sun Yat Sen stamp. The stamps are tied by bilingual Shanghai 14.6.48.13 cds cancels with a bilingual airmail etiquette and a registration etiquette h/s SHANGHAI. S.O. 19. The cover has a Los Angeles, July 2nd, 1946 and Tallahassee, July 4th, 1946 b/s.
Mailing folds affecting the $10 stamp but colourful and an attractive $2,260.00 rate.
---
From a 1960's CNAC address list:
Gable, John and Letitia
(no address, just the names)

From the 1964 CNAC mailing list:
John Gable
Ethiopian Airlines
Addis Ababa
Ethiopia

From the 1965 CNAC mailing list:
John Gable
Ret - 2/64

---
January 30, 2001
Ced Mah remembers John as one of the Link Instructors in Calcutta.






If you would like to share any information about John Gable
or would like to be added the the CNAC e-mail distribution list,
please let me, the CNAC Web Editor, Tom Moore, know.
Thanks!


Background music to this
page can be controlled here.
"When You Wish Upon A Star"