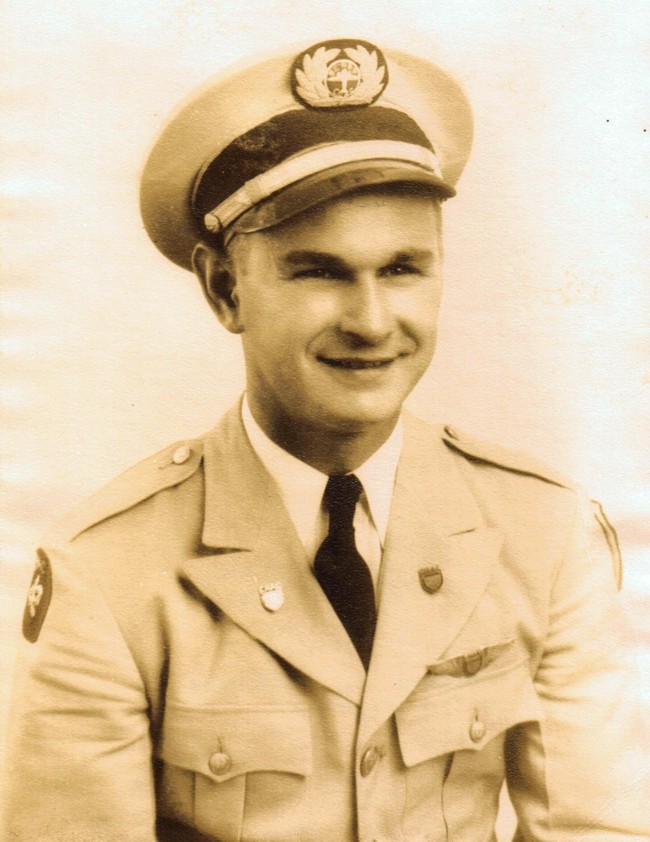 Charles Ridgley Hammell
(Courtesy of great-nephew Bill McGlinn)
---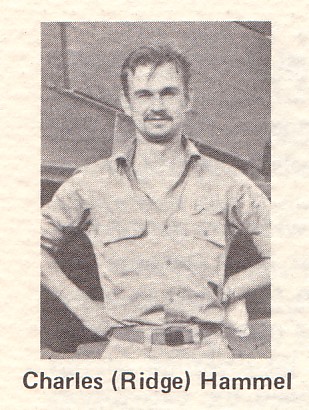 (from "Wings Over Asia" Volume II)
---
In the 1943-45 log book of Don McBride, I found the following sign-in by "Ridge":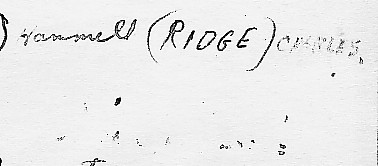 ---
Ridge survived a very serious crash, April 7, 1943.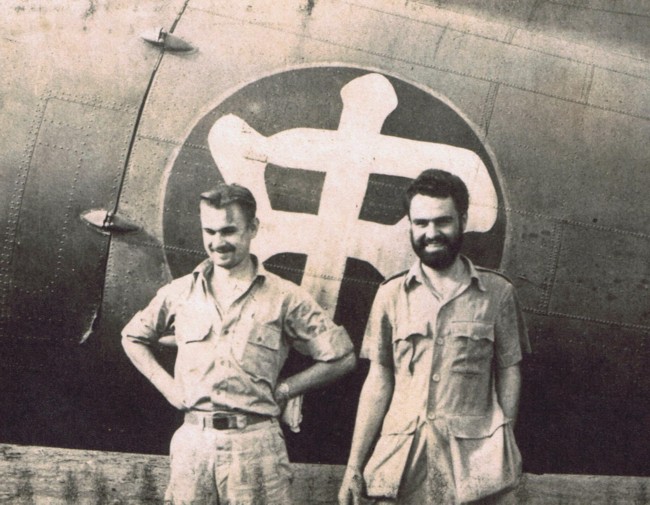 Ridge and Joe Rosbert
(Courtesy of Hammel's great-nephew, Bill McGlinn)
---
Ridge was killed in a plane crash, May 9, 1945.

---
January 5, 2006

Dear Mr. Moore,

I stumbled upon your CNAC website when I happened to Google "Ridge" Hammell -- the name of my paternal grandfather's brother. I'm afraid that I don't have much other information about him. I can confirm the spelling of his surname, though, as "Hammell" with two m's and two l's. His middle name was Ridgley (I think that's the right spelling), so "Ridge" isn't just a catchy nickname.

I think that my father has a few clippings about Ridge (discussing the two crashes described on your website, the miraculous one and the fatal one) taken from the local newspaper in Collingswood, NJ, where Ridge (and my grandfather Bill) were from. I can try to get you copies or scans of the articles, if you like.

Best wishes,

William Hammell
E-mail wmhammell@yahoo.com


---
January 9, 2006

Saw your web page. My wife is the niece of CR Hammell. He was born in Phila (Germantown) in 1919 and graduated from Germantown High School in 1937.

The correct spelling was Charles Ridgley Hammell.

Let me know if you need any other information.

Bill McGlinn
E-Mail bmcgl99@hotmail.com

---
Courtesy of Bill McGlinn. Thanks Bill.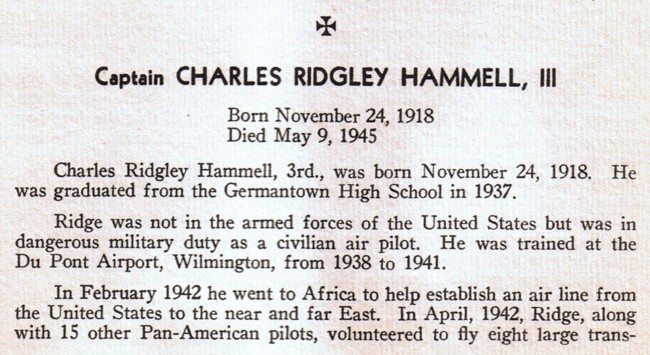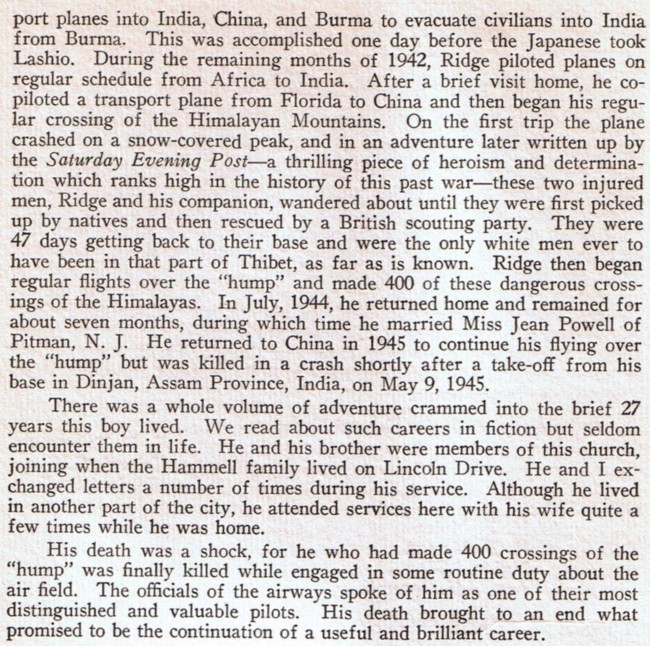 ---
January 14, 2006

I believe he was born in phila., but not positive about that. He graduated from Germantown High School, which is in Phila. (a Unique coincidence since I was also born and raised in Germantowm) no copy of the birth certificate, will work on that. Parents were Helen (Sharp) and Charles Ridgley Hammell, Jr. Looks as though the family lived in Phila at least from the period from 1937 (when Ridge Graduated from HS) through when Barb's mom graduated (she also graduated from Germantown HS) in 1946 (I think). During that time they lived on Dorsett St in Phila., then at 1000 Cedargrove in Wynnewood (outside Phila). I know that ridge's mother was born in Haddonfield, and CR Jr. was born in Camden. I beleive that Helen moved back to Haddonfield at some point after the death of CR Jr. in 1953. Not sure when that was though.

I am not sure Ridge ever lived in NJ. I guess they chose Harleigh due to their roots there.

Ridge's wife is still alive and Barb has a request in to Ridge's brother's (Jack) wife to get her contact info. Will pass that along if we can get it. No children we are aware of.

Church where the intial memorial service was held is Summit Presbyterian Church in Phila. Reinterment in 1948 was handled by the Richard Reiley funeral home, also in Germantown. The Hammell plot is in Harleigh Cemetery in Camden (same as Walt Whitman) and includes Barbs mother Mary, Helen and CR Jr., Ridge, and several other family members.

Bill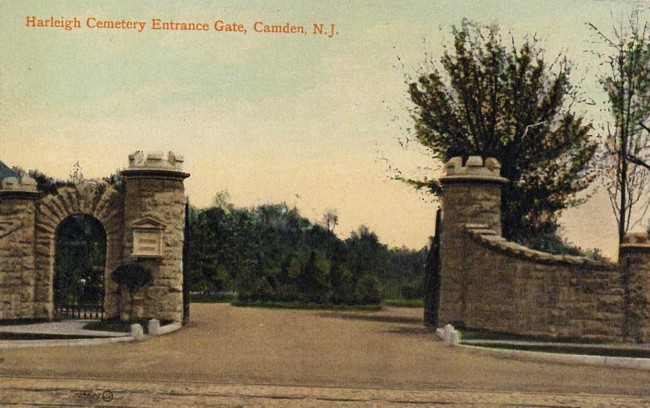 ---
These two photos were provided by Sandy Grear of the Haddon Township Historical Society.
Thanks Sandy.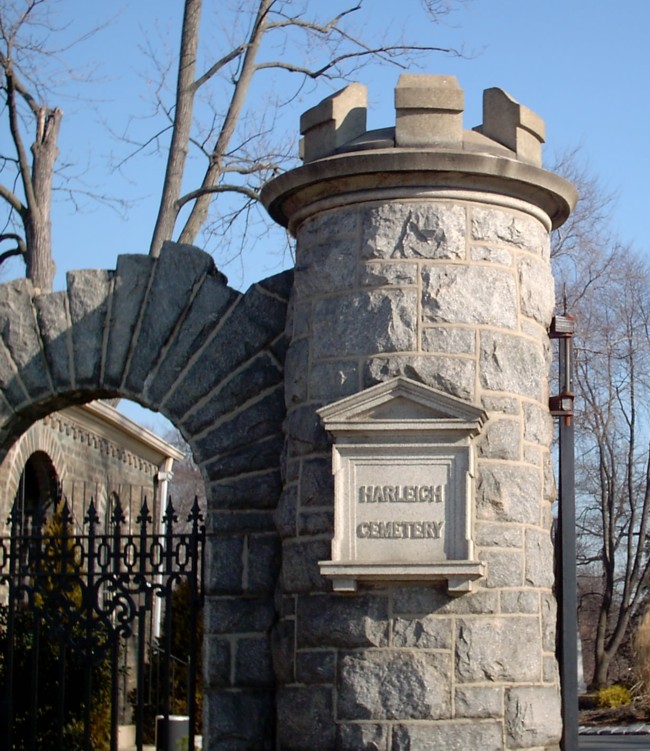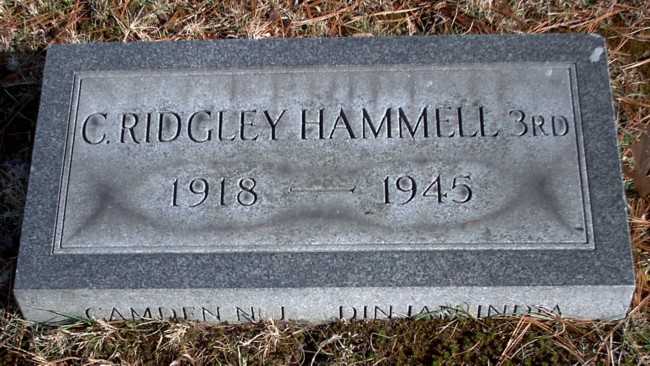 If you would like to share any information about Charles Hammell
or would like to be added to the CNAC e-mail distribution list,
please let the CNAC Web Editor, Tom Moore, know.
Thanks!