Jimmy Hayden and his wife, Eloise, traveled with Ray Ott to China in 1929.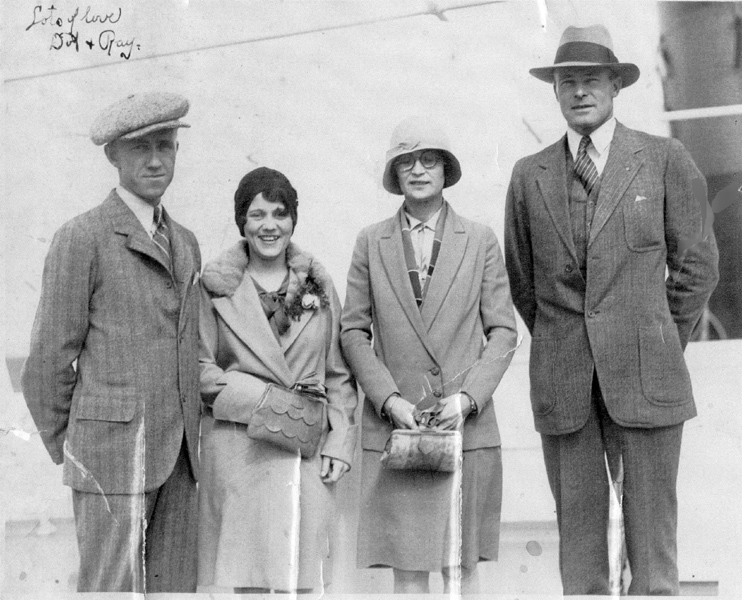 left to right: Jimmy and Eloise Hayden, Dot and Ray Ott
(Photo courtesy of Pat Garthwaite)
---
Jimmy was a mechanic and on CNAC's inaugural flight, October 19, 1929.


This envelope appeared for sale on eBay - probably the same flight as the one mentioned on October 19th.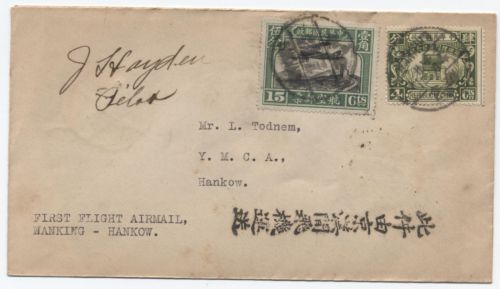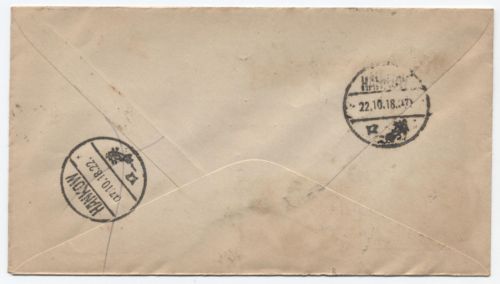 ---
June 13, 2003 - I received the following message from the granddaughter of Jimmy and Eloise Hayden.

Hi,

Jimmy Hayden (James Francis Hayden) was my grandfather. He traveled to China probably in 1927 or 1928, with my grandmother, Eloise Horn Hayden. They returned to the US in 1932, shortly before the birth of my father, James Stuart Hayden, in 1933. He was a mechanic, although he had been a pilot previously in Florida. He operated a small airfield in Florida prior to traveling to China. He died during World War II in Terrell, Texas, probably of brain cancer, where he was serving as a mechanic at a US Air Field where RAF pilots were being trained. I have a number of mementos from my grandparents time there!

Best

Rose Hayden-Smith wbsmith@sbcglobal.net
Ventura CA

and later that same day...

This website is great. I am in tears: the photo provided by Pat Grathwaite(?) is the Otts with my grandparents, Eloise and Jimmy. I have never seen this photo before, and I am sure that my father has not, either. My father lost his father as a young boy, and will celebrate his 70th bday in a few weeks. I know that this would be wonderful for him to see.

By the way, your work is wonderful. If you ever need sleuthing help, holler. I'm a PhD student in US/Public History at UC Santa Barbara, and I live for this kind of stuff.

Thanks for making my day!

and on June 14, 2003

Eloise died in 1991 after a long and adventurous life full of experience. She made the most of even bad situations, like the early death of Jimmy, which left her a single mom with two young sons. I still miss her, and think of her every day.



If you would like to share any information about James Hayden,
or would like to be added to the CNAC e-mail distribution list,
please let the CNAC Web Editor, Tom Moore, know.
Thanks!