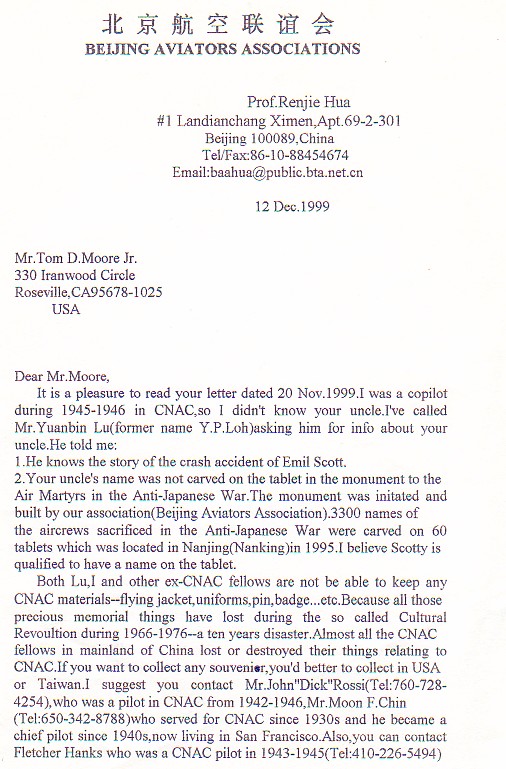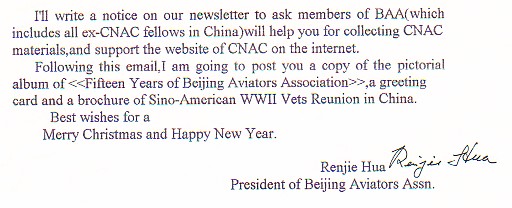 ---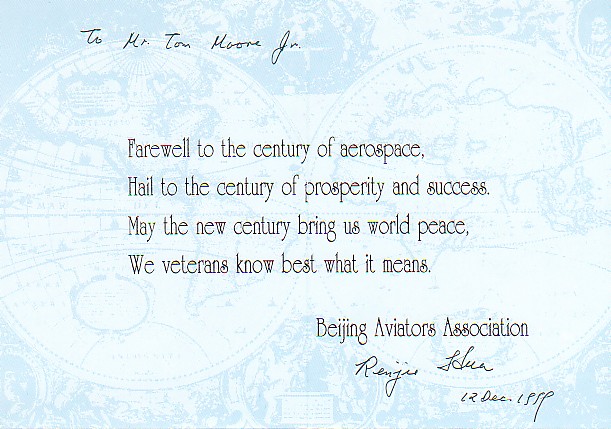 ---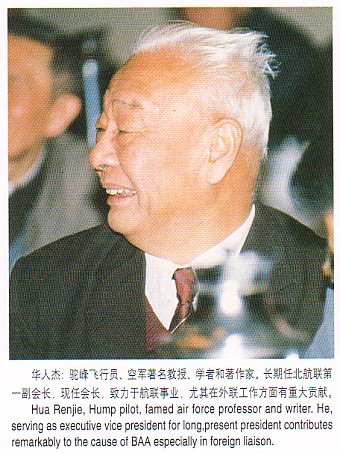 1999
---
The following e-mail from Renjie Hua came on December 13, 1999.

Dear Mr. Moore Jr.,

It is a pleasure to read your letter dated 20 Nov.1999. I was a copilot during 1945-1946 in CNAC, so I didn't know your uncle. I've called Mr.Yuanbin Lu (former name Y.P. Loh) asking him for info about your uncle. He told me:

1. He knows the story of the crash accident of Emil Scott.
2. Your uncle's name was not carved on the tablet in the monument to the Air Martyrs in the Anti-Japanese War. The monument was initated and built by our association (Beijing Aviators Association). 3300 names of the aircrews sacrificed in the Anti-Japanese War were carved on 60 tablets which was located in Nanjing (Nanking) in 1995. I believe Scotty is qualified to have a name on the tablet.

Both Lu, I and other ex-CNAC fellows are not be able to keep any CNAC materials--flying jacket, uniforms, pin, badge, etc. Because all those precious memorial things have lost during the so called Cultural Revoultion during 1966-1976--a ten years disaster. Almost all the CNAC fellows in mainland of China lost or destroyed their things relating to CNAC. If you want to collect any souvenir, you'd better to collect in USA or Taiwan. I suggest you contact Mr. John "Dick" Rossi (Tel:760-728-4254), who was a pilot in CNAC from 1942-1946, Mr. Moon F. Chin (Tel:650-342-8788) who served for CNAC since 1930s and he became a chief pilot since 1940s, now living in San Francisco. Also, you can contact Fletcher Hanks who was a CNAC pilot in 1943-1945 (Tel:410-226-5494)

I'll write a notice on our newsletter to ask members of BAA (which includes all ex-CNAC fellows in China) will help you for collecting CNAC materials, and support the website of CNAC on the internet.

Following this email, I am going to post you a copy of the pictorial album of "Fifteen Years of Beijing Aviators Association", a greeting card and a brochure of Sino-American WWII Vets Reunion in China.



Best wishes for a
Merry Christmas and Happy New Year.

Renjie Hua President of Beijing Aviators Assn.



---
I received another e-mail from Renjie Hua on March 31, 2000.

Dear Tom,
Your emails of 27 Mar, and 29 Mar. reached me, I do appreciate your effort on the CNAC Web Site.

I was a Hump Pilot in CNAC during 1945-1946. In the past years I've contacted with Robert Rengo who handled the CNAC/CATC Association.We lost connection several years ago, so this time when I organize the WWII Vets Reunion 2000 in China. I didn't inform him. Now we have 400 participants from HPA, 14AFA, CBIVA and FTA to join the reunion, another 100 from Taiwain, Hongkong and Mainland China. I guess you've known about the event.

I got an email yesterday from a CNAC captain, Mr. Gifford Bull who likes to join our Reunion in Apr. 23-28 in Kunming. Although the deadline is over, I still make a special arrangement for him to join us. I think he'll support the CNAC Web Site.

BEST REGARDS TO YOU!

SINCERELY YOURS,
Renjie Hua (President of Beijing Aviators Assn. email: baahua@public.bta.net.com)
libao@libao-tour.com.cn



If you would like to share any information about Renjie Hua, please let the CNAC Web Editor know.
Thanks!