STANLEY JOSEPH HUSTER (1919 - 2001)
(Flight Engineer or possibly a mechanic?)
(CNAC 194? - 194?)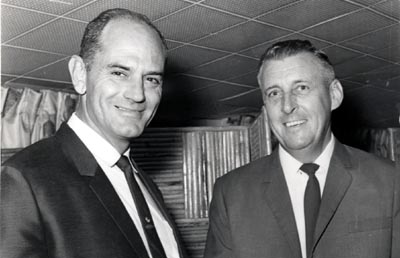 Stan Huster and unknown man
sometime between 1960 and 1975
Courtesy of the Special Collections Department
McDermott Library
The University of Texas at Dallas
---

Address from a 1965 CNAC Personel List:
Stanley Huster
CAT
Taipeh, Formosa

---

From a 1964 CNAC Personel List:
Stanley Huster
CAT
Taipeh, Formosa


---

December 27, 2009

Tom,

Stanley Joseph Huster was born on 26 December 1919 in Illinois, possibly Lake View, to German immigrant, H.B. Huster, and his wife Mildred. Stanley had four years of high school and was working as a clerk when, on 11 December 1941, four days after the attack on Pearl Harbour, he enlisted as a private at Camp Grant, IL. At some point, he married Dorothy A. Strouse, also an Illinois native. In the late 1970s, he was CAT's director of marketing. Stanley Huster died 25 November 2001 in an Asheville, NC, nursing home.

Patti






If you would like to share any information on Stanley Huster
or would like to be added to the CNAC e-mail distribution list,
please let the CNAC Web Editor, Tom Moore, know.
Thanks!


Background music to this page can be controlled here.
While sailing to China this was a popular sing-a-long tune heard on deck.
"By The Light of the Silvery Moon"