From Gene Banning's list of 8/31/00:
"... killed on Hump crossing, 11/17/42, plane #60."

---
John Dean also served with the AVG as Flight Leader in the 1st Squadron, know as the "Adam and Eve" Squadron. While with the AVG, Dean was credited with 3.27 Japanese planes downed.


---
May 11, 2007

Tom:

Got me going again - here's some information on John Joseph Dean, who died with Jim Browne on November 17, 1942:

Dean was a graduate of the naval aviation school at Pensacola and served in the Navy for one year and two months as an ensign with Fighting Squadron 3. He was born December, 22, 1916 and was married when he joined the AVG . He was from St. Peter, MN, and learned to fly first at Jellison Flying Service in Kalispell, Montana, but managed to spend 3 years at Minnesota University and two years at Boeing School studying Mechanical and Aeronautical Engineering. He appeared to join the AVG after resigning from the Navy in October 1941 and arrived in Burma on November 25, 1941, flying in the First Squadron as a Wingman, with pay of $600 a month.

He served until the AVG was disbanded July 4, 1942, then joined CNAC in China after a short trip home. With the AVG he was credited with 3.27 kills, paid $1,637.33 in the complex bonus system in effect. His first claim was on December 18, 1942 in the AVG's first action, when he was credited with shooting down four bombers, but shared credit with fourteen other AVG pilots, netting him $137.33. On January 29, 1942 he shot down a fighter over Rangoon, then on June 12 he shot down a bomber and a fighter. He and Bill Bartling were promoted to Flight Leaders on May 11, 1942, earning salary increases.

He was cited by General Chennault on April 27, 1942 for his January 29th kill and later decorated by the Chinese with the Air Force 1 star medal with 6th Grade Cloud Decoration.

Dean had been with CNAC only a few months when he disappeared on a flight from Kunming to Dinjan on November 17, 1942.

Here's a photo taken from the Flying Tiger Reunion Brochure May 2001.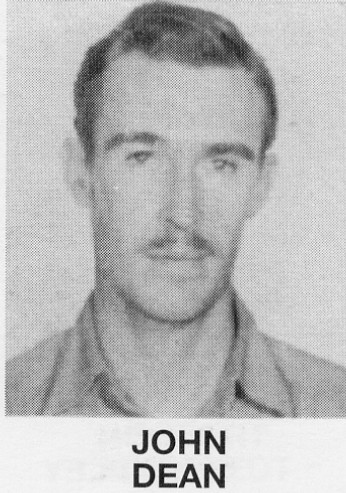 Regards,

Bob
willettr@bellsouth.net


---
(From the jing bao JOURNAL, February-March 1999)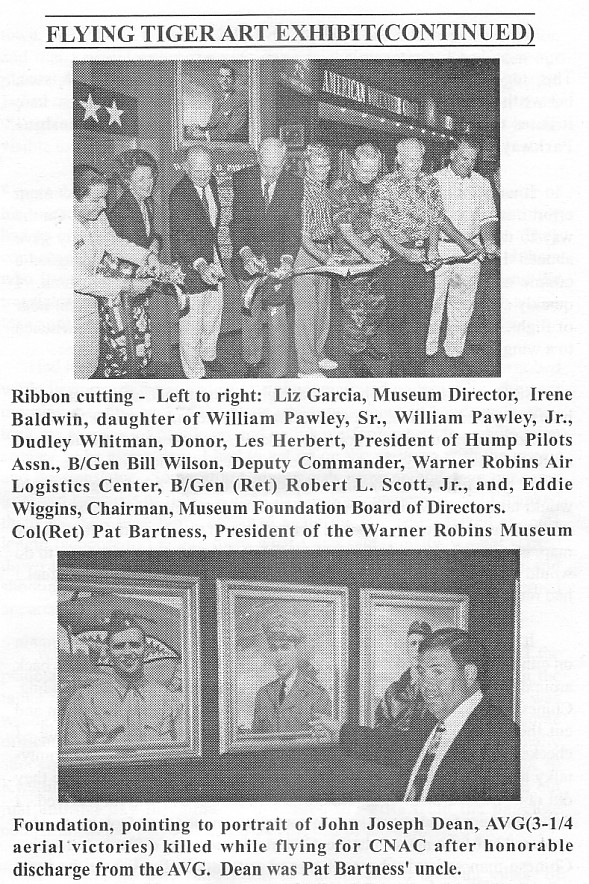 If you would like to share any information about John Dean
or would like to be added to the CNAC e-mail distribution list,
please let the CNAC Web Editor, Tom Moore, know.
Thanks!