From the 1930 California Census for part of South Pasadena Township (Oneonta Military Academy), Los Angeles County. Robert (age 22, born in New York) and probably his wife, Ina P. (age 18, born in California), are listed on line numbers 31 and 32.


---
August 8, 2005

As for Bob Kashower, he was with China National after I left in 1946 after the war. I did not meet him personally but ran into his adopted daughter. No information coming about his flying in CNAC China. He was from Ottawa and was in the war surplus business. He built the Airport Inn at the municipal Airport in Edmonton and I undertand he bought a share in Edmonton's Associated Airways. He committed suicide with a gun sometimes at the end of the fifties in Ottawa. I do not remembers his daughter's name. All for now. I did not meet the gentlemen but I met his daughter. Since he is now deceased she was to get back to me with more details. I haven't seen her since.

All for now.

CEDric Mah
E-mail cnac44@telus.net


---
July 8, 2007

Hello Tom,

Hope you are well!

From the little I've been able to learn, Robert K. Kashower appears to have been a wild and crazy guy -- generous, rash, open-handed, impulsive, fun-loving, and memorable. He was probably born in California, but I know nothing else about his origins or his death.

Before Kashower left for China, he lived in Los Angeles where he worked as an aircraft distributor, but he made headlines when he became involved in a couple of tragic accidents. In 1937, he flew a 22-year-old woman from Kansas City to LA for a job interview. It was windy when they landed so he asked the young woman to get out and hold onto the wing to prevent the small plane from toppling while he turned it around, but she walked in front of the aircraft and forgot about the propeller. It severed her right arm. In August 1941, he was playing a game of "aerial tag" with a couple of young men in another aircraft when the two planes collided. The two other fellows, aged 22 and 23, died in the subsequent crash.

After Pearl Harbor, Kashower joined Ferry Command and flew aircraft to Europe, and then he went to China to fly cargo planes over the Hump. Following his stint in the Far East, he came to Canada in 1946 and settled at Oshawa, Ontario. He lived in a trailer at the city airport while he converted war surplus aircraft to models appropriate for civilian use, and operated a small charter service. Kashower Aviation had its offices in Oshawa?s air traffic control tower.

In 1949, he moved to Edmonton, Alberta, where he transformed an old RCAF barracks into an airport inn known as the Airporter Hotel. It was a lucrative move at a time when Edmonton was a gateway to the developing northern territories.

Kashower was a legendary fan of the Canadian Football League (CFL) and a keen supporter of his home team, the Edmonton Eskimos. In 1953, after the Eskimos lost their chance to play for the Grey Cup in the East vs. West final showdown, Kashower temporarily transferred his support to the Western winners, the Winnipeg Blue Bombers, by financing a pre-game steak dinner for the entire team. The next year, his beloved Eskimos were in the running for the Grey Cup, and Kashower was ecstatic. He bet heavily on their winning the game. Fortunately, they did, and he used a chunk of his substantial winnings to charter a plane and fly the victorious players from Toronto to Montreal for an unforgettable celebratory blow-out.

I have attached a couple of news items, but that's all I have for now.

I've made my reservations for the reunion, but I'm not sure if I'll be able to make it.

Patti (Gully)
E-mail itsahit@istar.ca



Lethbridge Herald, 22 February 1950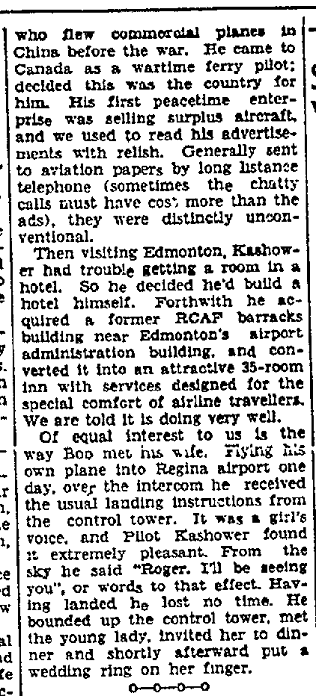 Los Angeles Times, 7 October 1955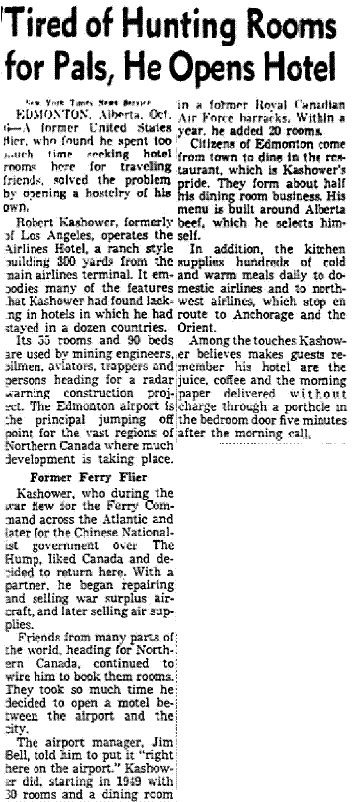 If you would like to share any information about Robert K. Kashower
or would like to be added to the CNAC e-mail distribution list,
please let the CNAC Web Editor, Tom Moore, know.
Thanks!