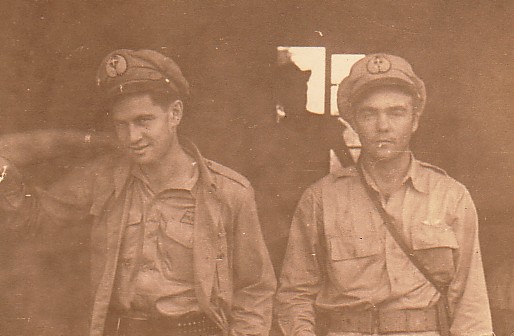 Kirkpatrick and York
India - 1943
---
From Gene Banning's list of 8/31/00:
"... 11/42 (PAA-Africa) minor injuries from crash on takeoff at Dinjan (Kunming), 10/23/43, plane #61; left CNAC at end of 1948. (Believe was hired as copilot in SFO.)

---
In the 1943-45 log book of Don McBride, Hank listed his address as:


E.L. Kirkpatrick
221 Main Street
Latrobe, Penna.
---
Last address from a 1971 CNAC Mailing List was:
E.C. Kirkpatrick
Route #5 Box 337
Latrobe, PA 15650

---
Received the following e-mail June 3, 2002:

"Hello:
I was a good friend of "Kirk" and worked with him while he was with CAT (Civil Air Transport) started by Gen. Chennualt and subsequently bought by the CIA and became Air America. "Kirk" started working for CAT in the early 50s and retired in 1966 to Latrobe about 18 miles from my Home at Irwin Pa.. I was with CAT/Air America from 1957 until 1973 as Deputy Legal Counsel. We spent many days and evenings together reliving our days in the Far East after I retired in 1984 and in between when I was home from various jobs in Washington and Italy in the 70sand 80s. "Kirk" also visited me in Washington to attend CAT reunions.

He died on April 15, 1998 after a "medical event" two years earlier in the hospital (St. Margaret's in Pittsburgh) which left him somewhat incapacitated and vision impaired. "Kirk" held the record for flights over the Hump and had a letter from CNAC stating he had flown 302 & 1/2 trips. He was a member, although not active in his last years, of the "Hump Association and in touch with some of those people. After his eyesight went south, I helped him to submit and get his Air Force discharge and medals, including the Air Medal which had been arranged for with the Air Force by some of the Hump Pilots Association members. Kirk was in addition to being an employee of PAA Africa also prior to that an employee of Pan Am Ferries and prior to that flew on the China Clippers from San Francisco to the Far East. He was a real Old China Hand.

I assisted him in the last years of his life and toward the end read to him from the chapters of a book I was publishing about a mutual friend Max Springweiler, a German, who wrote an autobiography in German now published in English ("Pioneer Aviator in China") that covered Max's flying in China from 1931 (I was 6 years old) until he left CAT and Air America in the 60's (I was 40 something then) several years before "Kirk" retired. That book is available from the Air America Archives at the University of Texas at Dallas for $30 (25 of which goes to support the Archives) http://www.utdallas.edu/library/special/aviation/utdcat.html The Book was translated from the German by Dr. Larry Sall at that time Head of the History of Aviation Collection at the McDermott Library at the University of Texas at Dallas. Details of the material in the CAT/Air America Archives are also at that web site. You can also read about Air America at their Website http://www.air-america.org/. "Kirk" gave a large collection (about 80 some boxes) of books, pictures and other material to the Air America Archives, including his log books which detailed many of the CNAC accidents, aircraft, personnel and causes. He also donated his model airplane collection, about 600 scale models from all vintages to the "Frontiers of Flight Museum" in Fort Worth at Love Field through the auspices of the Air America archive administrators.

All in all "Kirk" was one great guy with a lot of great experiences in the field of aviation and in China. I never met anyone who knew him that didn't like him. Among his accomplishments was helping to run the CAT effort at Din Bien Phu in support of the French before the end of the French Indo China War. He also played a part in the very early activities that preceded the Vietnam war. Some of the history of that period is covered in Professor William Leary's book, "Perilous Missions - Civil Air Transport and CIA covert operations in Asia", The true story of the CIA's secret "Air Force", published by The University of Alabama Press. The Preface acknowledges the assistance provided to Dr. Leary by "Kirk". I for one never tired talking of the early days of CAT/Air America with my good friend "Kirk".

Ciao,

Jerry Fink



If you would like to share any information about Enos C. Kirkpatrick
or would like to be added to the CNAC e-mail distribution list,
please let the CNAC Web Editor, Tom Moore, know.
Thanks!