RONALD I. KLIENE
(Control Tower Operator)
(CNAC December 1, 1946 - April 14, 1947)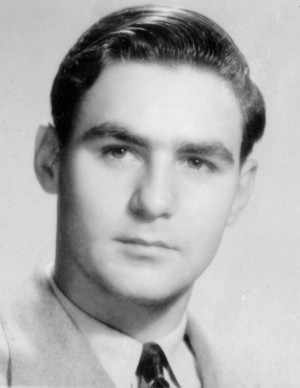 Ron Kliene
Nanking - 1946


February 16, 2006

Hello Tom,

That was a very rapid response. I am pleased that you found my account to be of interest.

My time with CNAC was quite short. I joined the company directly from the USAAF China staff (Control Tower operator at Kiangwan and Nanking) on 1st. December 1946 and resigned in order to leave the country on 14th April 1947.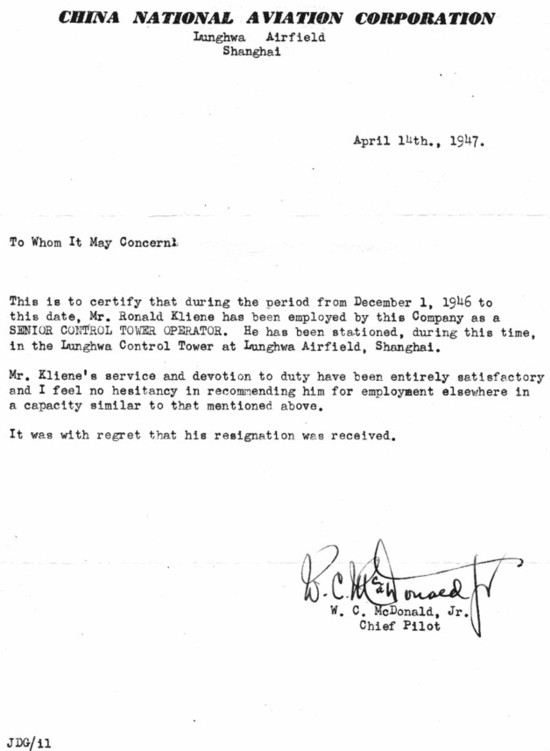 These were the CNAC Control Tower Operators at Lunghwa (also spelt Lunghua)

Ronald I. Kliene -- Senior Tower Operator
Richard N. Manley -- Senior Tower Operator
Edward Silva -- Senior Tower Operator
O.K. Watt -- Asst. Tower Operator
H.Y. Hsu -- Asst. Tower Operator
D. Pao -- Asst. Tower Operator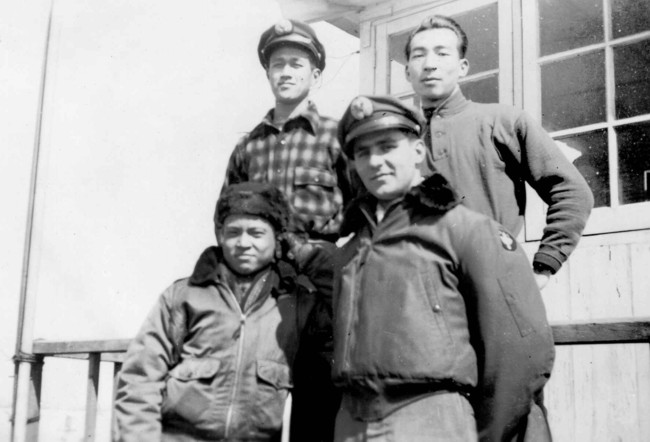 l-r top row, Ed Silva and H.Y. Hsu
l-r bottom row, O.K. Watt and Ron Kliene
On the balcony outside the Lunghwa Control Tower, 1946
D. Pao and Ron Kliene on the same balcony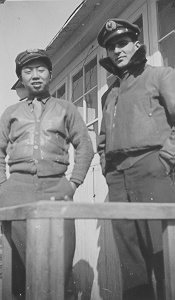 I have photos of all these people. Richard Manley worked with me in Nanking at the Ta Chia Chiang military airfield and we joined CNAC at the same time. He eventually settled in Hong Kong where he married and raised his family. His daughter, Alexandra, married Jaochim, Prince of Denmark following their meeting at a social function. He then moved to Denmark where I last heard he was living in one of the Royal family's palaces. I lost touch with Ric Manley and Ed Silva when I left China.

Glenn Miller was a huge hit at the time both in China and elsewhere. I have a collection of old 78 records in which he features. He was a major wartime 'musical' hero in this part of Britain, stationed just two miles from our house, here in Bedfordshire, for most of the war. In fact he made his last flight from the airfield on the other side of the road from our village. There are many of his records that are relevant, but without words the most obvious has to be "Moonlight Serenade". Incidentally, there is a Glenn Miller Museum about three miles from here and a plaque at the Town Hall to his memory. Every September we have a Glenn Miller Festival and there are a least five Glenn Miller sounding orchestras playing here and in many UK cities. If "Moonlight Serenade" is not already spoken for I would like it.

I was 19 when I joined CNAC 60 years ago. That makes me 79 this year. Originally of Danish descent I became British by naturalisation in 1954. My wife and I are both reasonably well considering our age. I have two older brothers, both US citizens living in California. I was not allowed immediate entry to the U.S. in 1947 because I was born in China. The immigration quota for those born in China was limited. I was placed on a waiting list which took 10 years before my number came up. Of course I could not wait and applied for entry to the UK where I was accepted. I studied polymer chemistry (plastics) and after a period in research formed my own company from which I retired in 1997. I qualified for my private pilots licence in 1961 which I held for about 20 years. Most of the time I flew a Dehavilland Tiger Moth.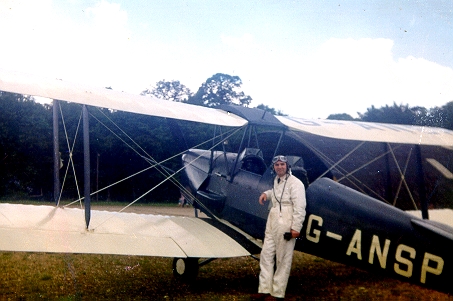 Ron and his Tiger Moth


I have several hobbies, genealogy being one and history another. Uppermost is perhaps the violin. I collect violins and have also performed in a number of concerts. (Currently preparing for another this summer) Apart from our rural home in Bedfordshire we have a villa in southern Spain. We have one son and two grandsons. Our son John, continued the company business and has enlarged it somewhat over the years. He is now 50 with similar interests including the history of England, archaeology, and geology.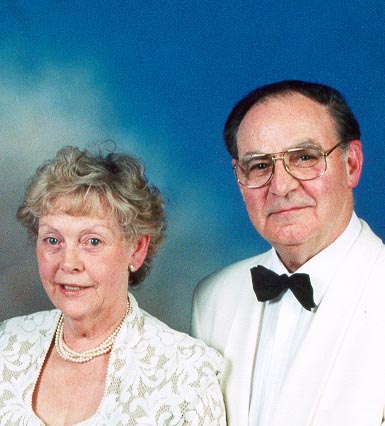 Joy and Ron
54th Wedding Anniversary


That's a potted history. More later if you wish.

Best wishes to you and yours.

Ron
E-mail ronkliene@talktalk.net






If you would like to share any information about Ronald I. Kliene
or would like to be added to the CNAC e-mail distribution list,
please let the CNAC Web Editor, Tom Moore, know.
Thanks!



At Ron's request, here is "Moonlight Serenade