In the 1943-45 log book of Don McBride, Hank listed his address as:



Henry D. Lambert
3216 22nd St. N.E.
Washington, D.C.
Phone Dupont 2834

From the 1960/1962. 1964 and 1965 CNAC Mailing Lists:
Lambert, Hank p (NOTE: "p" stands for pilot)
Trans Arabian Pipeline
PO Box 1348
Beirut, Leb.

From the 1976, 1979 and February 1, 1981 CNAC Mailing Lists:
Henry D Lambert
Box 2133-Aramco
Dhahran Saudia
Arabia


---
July 31, 2000. From John Kenehan:
"We had some pilots who came over and saw what we flew over and just quit and went home. We may have had one or two that never checked out. I remember one that I instructed once on the old Stinson Gulwing in Calcutta named "Lambert" who I don't believe ever checked out."

---
November 6, 2000. From Jim Dalby:
"For some reason Hank didn't check out on the hump so they made him an instrument instructor in Calcutta. I don't remember how long he stayed out there--probably into 1945. Much later I heard that he was based in Lebonon and then died. Pete Goutiere might know more as Pete was in that part of the world about the same.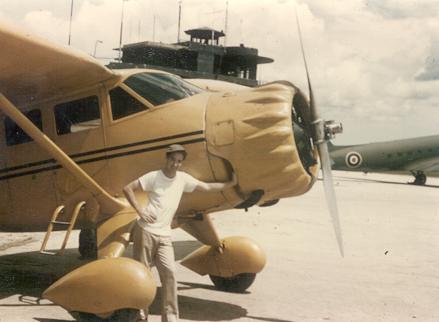 Hank Lambert and Gull-Wing Stinson, Model #SR-77
Dum Dum Aerodrome, Calcutta - late 1944
In service from 19??-194?
(Photo Courtesy of Jim Dalby)


July 14, 2001, from Pete Goutiere
"Re: Hank Lambert and wife Mary.
Hank joined CNAC, I think, early '44. He made a few trips and said that was enough. McDonald took him off the Hump and made an instructor out of him in Calcutta. He gave proficiency checks locally.

I later ran into Hank at Was. Nat. Airport, I think he was flying private (corp.) plane? Not long after that he joined ARAMCO in Dhahran, S.Arabia. He flew DC-3s for them locally. He later was based with ARAMCO in Beirut, Lebanon, still flying 3s from there along the oil "pipe-line to Dhahran. By 1955/56/57 there were a lot of CNAC guys based in Beirut, including myself. I have a few photos of our group having a local CNAK reunion with Hank and Mary there. Hank finished his flying career in Beirut. He possibly wound up with more DC-3 time than anyone else; around 18,000hrs! It should be written up in the book of records!!

Hank and Mary retired in Aspen, Colo. He died there about ten years ago. I guess Mary is still there.



If you would like to share any information about Henry Lambert
or would like to be added to the CNAC e-mail distribution list,
please let the CNAC Web Editor, Tom Moore, know.
Thanks!