The CNAC Web Editor would like to thank Peggy McCleskey of Miramar, Florida, for providing the following narrative about her husband, "Mac".

James Ray McCleskey, V, was born February 11, 1907 in Blakely, Georgia. Descended from Robert Lamar. U.S. Treasurer 18--? 17--? Prep school in NYC. College at University of Arizona. Fraternity, Sigma Chi in 1928. A candidate, unsuccessful for President of the U.S. was a housemate. Went to school for 2 years. The Depression came along and Mac had to go to work. He tried selling stocks, but his circle of friends and their families were pretty cautious about buying. He was interested in flying, so he joined the Army Air Corps and March, then Kelly Fields and became a 2nd Lt. After 1 year the Government said it couldn't afford to pay them any longer, and furloughed his entire class. So, he was unemployed. He finally got a job making rubber tires for Goodyear. That was hands-on work. He smelled like hot rubber from about 20 or 30 feet away. He switched to the job of helping the Goodyear Blimp get up and pull it down by ropes and tie it down for the night. That's where the scouts of CNAC found him.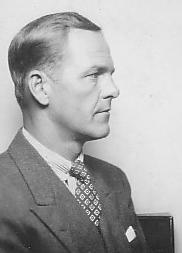 193? - James "Mac" McCleskey
(Photo Courtesy of Peggy McCleskey)


Married Margaret Hearn in October 1933 in Shanghai, China. Had one daughter, Judith born Shanghai 1936 and a son J.R. the VI in Cristobal Panama in 1938.

J.R.M. hired to CNAC and went by Danish freighter to China in January 1933. Our mothers had got together and talked us into waiting until it looked as if that "brand-new airline on the other side of the world would survive. Pan Am is very new and how about the country of China? Japan attacked China a couple of years ago, and is behaving belligerently toward the U.S.A." They were correct of course, but it took 4 years before they were proven to be right. (Incidentally: Mac was never called James, or Jim because of the confusion with being Junior. His relatives and friends all called him Ray. I didn't like that name, so I called him Honey (his favorite song), after the popular song of the times. We addressed each other that way until his death of kidney failure parted us in 1975. But he'll be Mac for the rest of this too-long biography.)

His voyage to China took 10 or so days, with stops in Hawaii and Japan.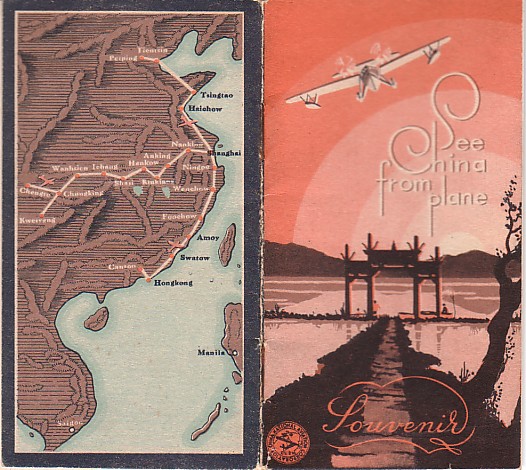 This is the front and back of a small booklet that was given CNAC passengers in the 1930s.
The booklet has many pages to it, so click here to see the entire booklet.
(Booklet Courtesy of Peggy McCleskey)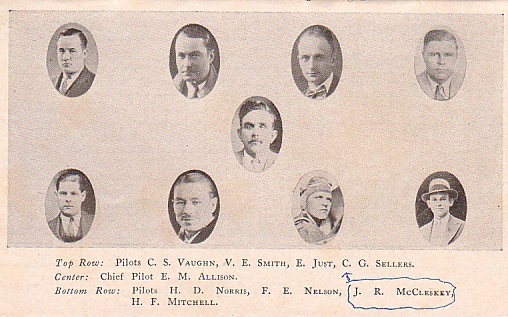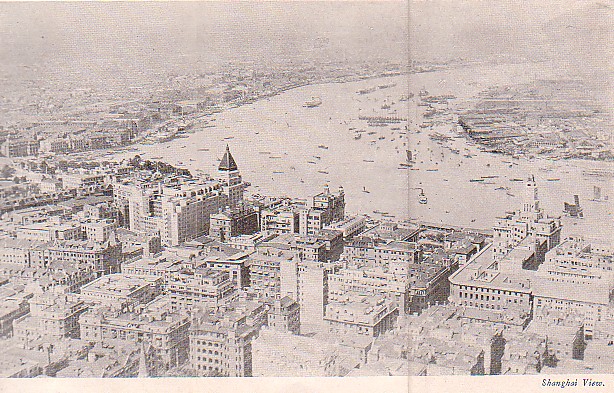 His first flight in the Loening Amphibian took place the morning after arrival in Shanghai with Chief Pilot Allison in the left seat. Mac was co-pilot every day after that for a full month of training on the equipment and the route West to Hankow via Ichang and Fengtu and later to Chunking and Chengtu. (From Grover Loening's book, "Amphibian":) 200 miles of the Yangtze Gorges, one of the scenic wonders of the world, were flown right through the Gorges. They had become a tourist magnet, and special and sightseeing flights were made. The sharp curves that accompanied 1000-foot-deep canyons were indeed a scary challenge. When the weather was low-ceiling, the thick cloud cover would literally become the roof of a tunnel, with the mountains as walls. It could be as limited as 300 ft. in height as well as 200 wide. Add to this in the curves of the river, and necessity for keeping over the river for emergency landing, the skill, daring and knowledge called for from the pilots were at a level rarely equaled in the history of aviation. Their ability to negotiate sharp turns at a slow enough speed without stalling, let them execute these bottlenecks.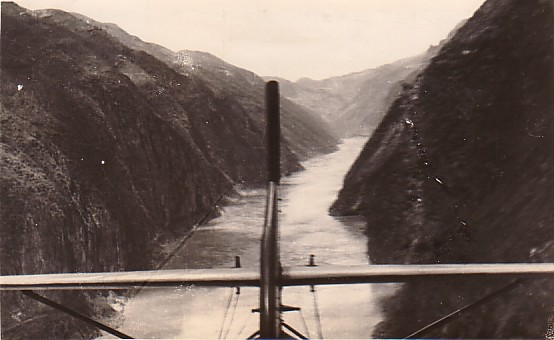 1934
Tail of a Loening
Yangtze Gorges between Ichang and Wanshien
(Photo Courtesy of Peggy McCleskey)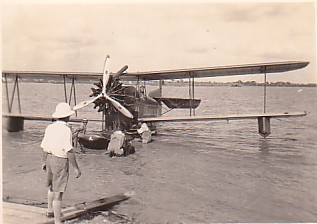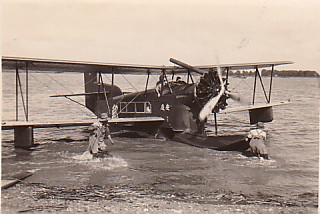 1934 - Rescuring the Loening on the Yangtze River at Hankow, after a sever storm.
(Photos Courtesy of Peggy McCleskey)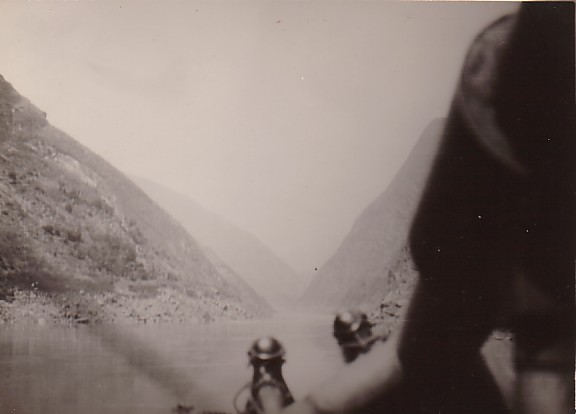 1934 or 1935
Yangtze Gorges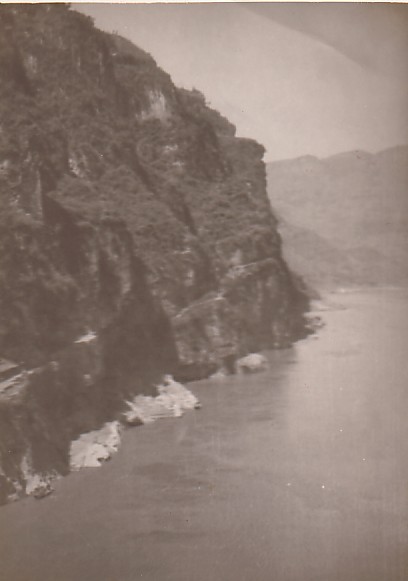 "Another shot of the gorges. The river runs thru them for about 100 miles. At the time this was taken the river here was 120 odd feet higher than when I glew up 3 months ago. You can see the path for towing junks upstream.
(Photos Courtesy of Peggy McCleskey)


Along the gorges were 100's of telephone cables stretched across the river, and the pilots had become familiar with them as to whether to fly over or under them. Sometimes after heavy rains, the tides in the Yangtze would vary as much as 100 feet.

On one trip McCleskey, near Fengtu on the way to Hankow, suddenly felt a heavy drag on the plane's progress, and turning, could see he had picked up wires. But he was still flying - slowed up but workable - landed on the water - removed the wires --- took off - continued to Hankow, where he landed. What if the wires had been power lines? The damage was only one bent strut?!

When the weather closed in, the pilots couldn't land in the water and taxi on, because of whirlpools, junks and hidden rocks.

After a year of operations, it was decided that the wheels were not needed: the Loening could land on rice paddies and mud flats. The amphibians had become flying boats and also could carry more payloads.

On another trip, Mac was getting ready to take off when a couple of bandits attempted, at gunpoint, to hijack the plane and crew and passengers. At this fortuitous moment a Chinese gunboat rounded the bend in the river and trained cannons on the Loening. The bandits sheepishly handed over their weapons, the ship's captain invited Mac and all its people to come aboard his boat. The bandits were chained and jailed in the hold. The chef appeared a bit after dark to inform the Captain and his guests in Chinese and Pidgin English, "Have got 14-man chow.20-man-chow no have got. Have got candies." While Mac and his passengers were busy thanking but no-thanking, a pair of kitchen helpers were busy producing cans of peas, corn, etc. After Dan - the chauffeur in Hankow - had been advised by radio that Mac, the plane, et al were all safe and would be back a.s.a.p., they were returned to the Loening and flown to home base - Hankow. Since Mac was the only Authority there, he and Dan had arranged that Dan would wire the good news to headquarters in Shanghai if and when necessary. (Soldinski was based at Hankow would do the radio bit.)

In his "Amphibian" book, Loening says there was only one record of an accident in CNAC with a Loening. He didn't count Mac's little mishap with the bent strut. The accident he describes was fatal. The pilot was a WWI pilot who took off from the Whang Pu River with a tail wind, ending up colliding with a jink and going to the bottom All were lost.

It was an act of God that caused the other harm to a Loening. A typhoon struck it and sank it to the bottom of the Yangtze, still moored to the pontoon. Mac and (it must have been) Zed Soldinski who commandeered a hong of coolies, perhaps so many as 30 men? Anyhow they were a big bunch. Wish I could remember how many days it took them to haul the plane to the surface and empty it of water. Then it had to be refurbished inside. Mac got a "well done" from the higher ups.

The typhoon brought flood waters that covered miles and lingered for at least a week before withdrawing. The only meat available was froglegs. Even fish were swept away.

When times were tranquil, we enjoyed living in Hankow. The British operated the best country club you'd ever want to see. It had an 18-hole golf course, and a race course surrounding a 9-hole golf course. One side of the clubhouse furnished bleachers for watching the thoroughbred horses. There were grass tennis courts, a bowling green, a polo field and a cricket field on which our Yankee man folk were allowed to play baseball on the 4th of July. Indoors was an Olympic-size swimming pool, a dance floor in the dining room and barroom. No ladies allowed. That was OK - we ordered cocktails to be served in the cardroom. All that grass outdoors was clipped by several water-buffalo, reputed to dislike foreigners .

The Brits did not admit non-whites into membership in their club, but the Young Marshal Chang Hsueh Liang offered to give them a tractor, and they welcomed him. Mac played golf with him and I partnered him at bridge a few times. He brought 2 or 3 concubines to the bridge room to kibitz, one at a time.

Our social life consisted of different Nationals: British, French, Chinese, German, one Russian rumored to be a Communist spy; Russian refugees, and a Eurasian girl of a German father and Japanese mother. One of our CNAC pilots asked her to marry him when he returned after some months' "home-leave" in the U.S. She never heard from him. A true Madame Butterfly.

After two years in Hankow, Mac was called back to Shanghai. We were both sorry to leave our Hankow friends, but - que sera.

Judy was born in Shanghai, and we sought larger quarters than we had lived in formerly. Mac sketched a 4-bedroom home like the Chinese four-winged ones with a roofless patio in the center. He added more windows and an extra exit through the kitchen and servants' quarters. We planned to remain in China, and visit our families or invite them to come see us frequently. But the Japs changed those plans.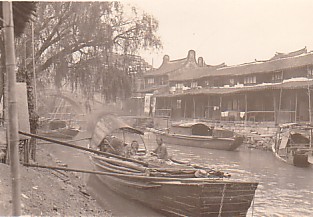 Ichang or Chasi
(Photo Courtesy of Peggy McCleskey)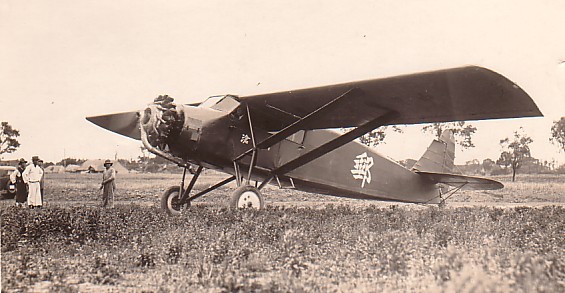 Stinson Detroiter
(Photo Courtesy of Peggy McCleskey)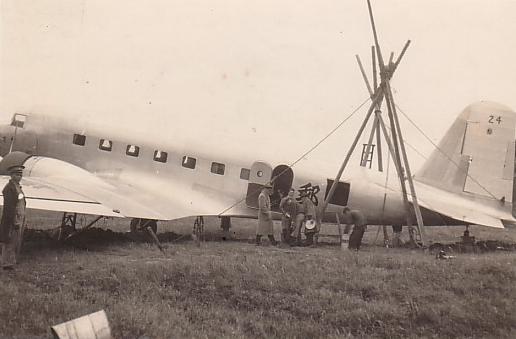 DC-2 - Kinkiang(?) - December 1935
"We're stuck in the mud here & broke the tail wheel. Hence this piece of engineering.
(Photo Courtesy of Peggy McCleskey)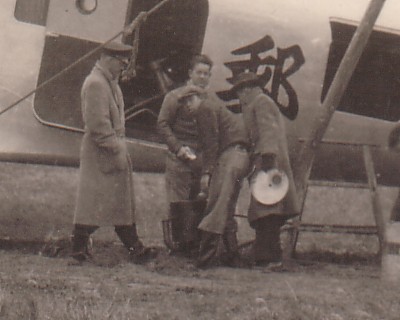 Here's a blowup of the photo above. Does anyone look familiar?
If you recognize anyone please let the CNAC Web Editor know.
Thanks!!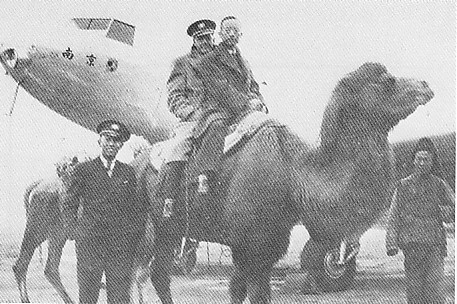 How cargo was brought from the Gobi desert: Peking, 1935
J.R. McCleskey and the station manager are astride the camel.
Anyone know the pilot(?) standing at left or the station manager's names?
If you know their names please let the CNAC Web Editor know.
Thanks!!
(Photo Courtesy of William M. Leary, Jr.'s The Dragon's Wings)


Pan American lured Mac away from CNAC, and he flew one round-trip to Hongkong and Macao for PAA. The very next day the Japanese attacked Shanghai. All the CNAC bachelors elected to go with those who moved to Hongkong. The men with wives and families were invited to join them were offered employment by 3 airlines, Dutch and (I forget) and Pangra. Mac chose the latter and we ended up in Panama.

(More copied from Amphibian)
"CNAC flew entirely by visual contact - radio aids came later in the 5 years of operating thru the Gorges. Hankow to Chunking. When under PanAm's management in 1933 CNAC was flying 50,000 miles a month of scheduled operation. By 1935 the amphibians were flying almost 700,000 miles a year. The line had been extended far west to Chengtu, but a great deal with other equipment as overland routes, as fields were constructed.

Then as the war years approached the U.S. Air Corps joined operations with CNAC, and flew over the Himalayas. It fed cargo into China and war planes to Chennault's brave Flying Tigers. Factories were built in China, then in India under Wm. Pawley's management. The overwhelming of the coast of China by the Japs and the National retreat from the Communists in West China brought on the end of the organized Amphibian operations. There is no clear record of how much longer the Japanese (who seized them) or the Commies, continued to use the Loenings.

For the stirring decade during which this air transport line endured, it proved to be a lifeline for China's existence and earned acclaim the world over."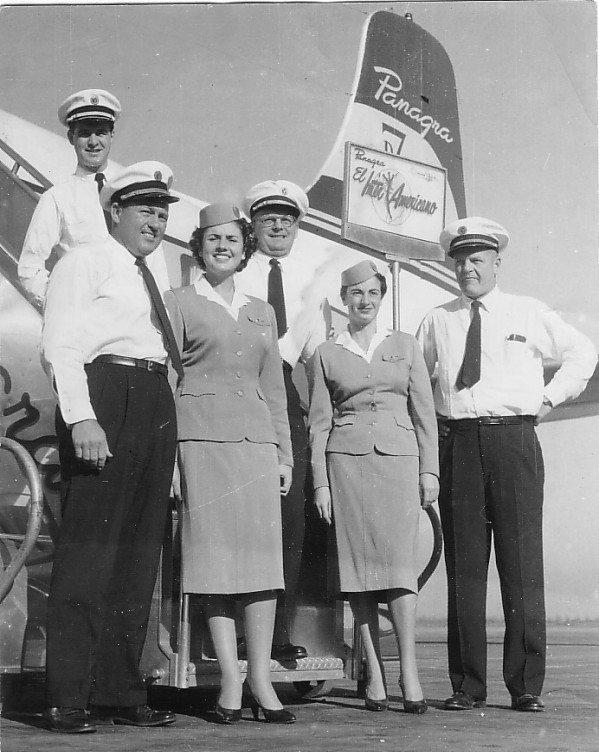 1950s or 60s - Flying for Panagra (PAG), DC-6
Mac on the far right
Far left is a radio guy from Argentina.
Front row, next, is Rex Youngquist who must have been deadheading on that flight as he is a pilot.
The two stewardi are Argentine.
The 3rd man was Bill Howell. I think he ws a meeter/greeter - a Brit.
(Photo Courtesy of Peggy McCleskey)
(Can anyone identify the others in this picture or the airport location?)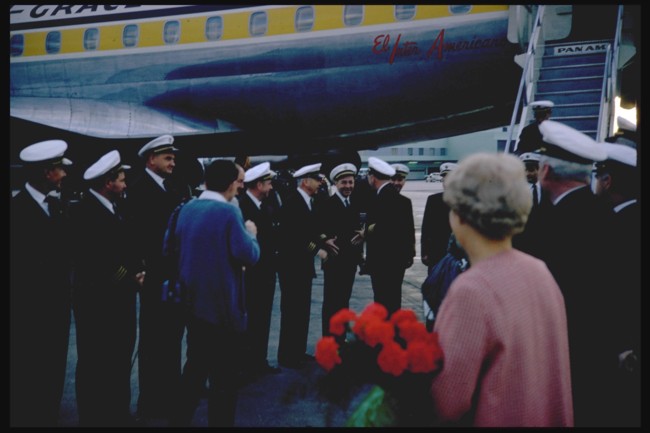 Panagra's last flight
Peggy has the roses and the pilots are shaking Mac's hand.
(Photo Courtesy of Justin at www.dc8cockpit.catisp.com)


Dear Tom (that's me, your CNAC Web Editor) - I think I warned you on the phone that once started writing, I'm unable to stop. My apologies. Please feel free to use your Editor's privilege and do a lot of deleting.

Yours,

Peggy

(Editor's note: What you see above is exactly what Peggy sent me. It is a great story of the very early days of CNAC. I hope Peggy will write more.)

To be continued...???

Here's more...
September 28, 2000

In 1967, at age 60, when all airline pilots had to retire by Gov't. decree, Mac resigned from Braniff. But, not from aviation. For awhile he was involved with the Link trainers just "to keep my hands and feet in"; then for a few more years he got jobs captaining charter flights for foreign airlines. I remember Luxembourgh, Iceland and Greenland.

When Braniff bought a Jumbo Jet, it almost broke his heart. It was so near his 60th birthday. Never in the left seat.

Mac died of kidney & heart failure in Jan. 1975 in Coral Gablee Florida; in the Miami Heart Institute, watching the Rose Bowl Game on TV.

---
Margaret Hearn McCleskey McCLESKEY, MARGARET HEARN, (Peggy/Shag/Granny): on October 9 at the age of 91 at her home. She was born in Washington, D.C., on November 2, 1911, to Col. Clint Calvin Hearn and Laura Overaker Hearn. In 1933, Peggy married James Ray McCleskey VI (Mac), an airline captain. Peggy and Mac traveled the world, raising their two children, Judy and Jerry, in China, Panama, and Peru, finally settling in Coconut Grove in 1948. Peggy was a loving and devoted wife, mother, grandmother, great-grandmother and friend, a self- taught pianist, and a Life Master at bridge. In 1976, a year after Mac died, Peggy moved to Las Vegas, where she enjoyed playing the horses from her favorite race book, and was loved by all who met her. Peggy returned to South Florida in 1996 to be closer to her family. Granny is survived by her daughter, Judy Ferguson, her grandchildren, David, Margaret (Peggy), and Douglas Utter, and two great-granddaughters, Jennifer Utter and Isabel Utter. Jerry, Peggy and Mac's beloved son, passed away in 1996. Shag will also be missed by her many nieces and nephews.

Published in the Miami Herald on 11/5/2003. To visit this Guest Book Online, go to http://www.herald.com/obituaries.



If you would like to share any information about James McCleskey
or would like to be added to the CNAC e-mail distribution list,
please let the CNAC Web Editor, Tom Moore, know.
Thanks!