Valerie Parish Kendrick sent me this e-mail, May 13, 2000, about some of her early recolections about her father and a CNAC Reunion.

"Hello Tom, You are correct in your assumption about my father's name

LEONARD LEE "LEN" PARISH
aka CC PARRISH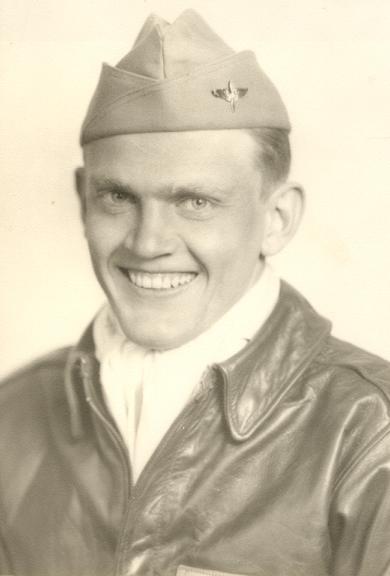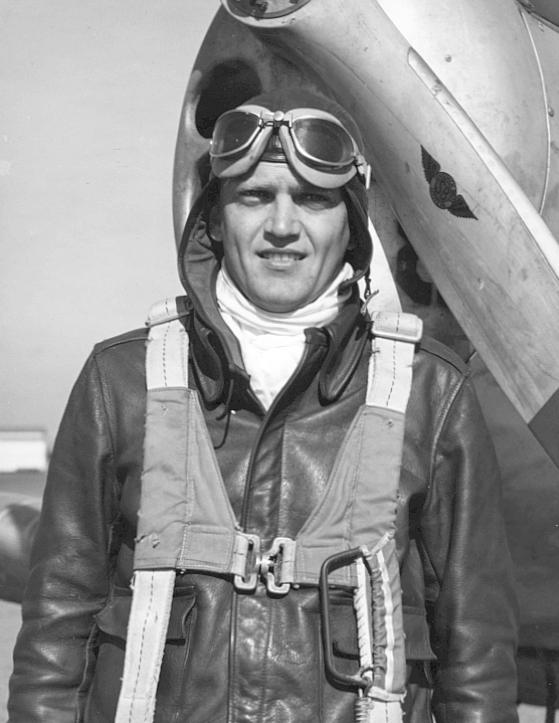 Leonard Lee Parish
(Ed: I think the plane is a PT-26)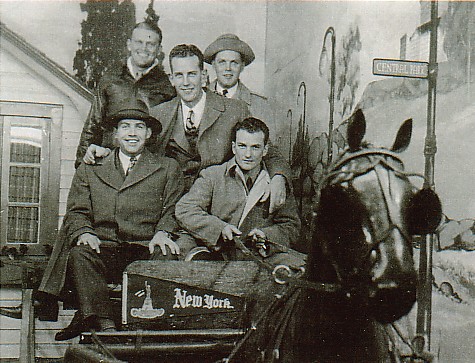 left to right, top to bottom
Len Parish and Bob Rengo
Joe Hall in the middle
Bill Maher and Tud Tarbart
From Bill Maher, "(the picture) was taken in New York just prior to our embarkation in February 1945."
(Photo Courtesy of Valerie Parish Kendrick)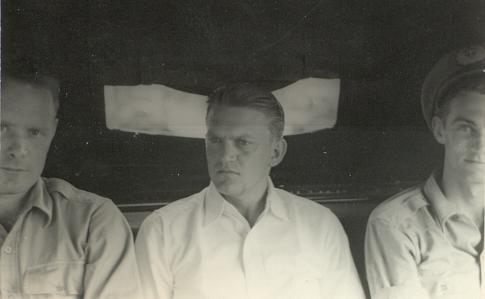 Felix "The Cat" Smith, Len Parish and Carey Bowles
Probably Calcutta or Dinjan in the crew bus (truck)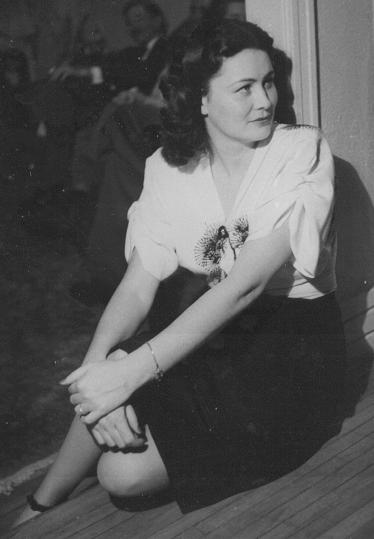 Len's wife Fran Parish
Shanghai - 1947


From Valerie, "I would guess the date to be around 1946-47. My Mom and Pam (my sister) sailed for China May 19, 1946 to join my Dad who had been there for some 14 months as assistant flight director for CNAC. Mother's full name was Emma Frances Pringle Parish. She went by Fran or Frances."

I asked Valerie if I could use her Mom's full name just once. Fran disliked her first name of "Emma". Valerie said, "OKAY, BUT REMEMBER, THERE ARE CRACKS IN THE FLOORS OF HEAVEN AND SHE'S WATCHING !!!

Unfortunately, Len amd Fran's daughter, Pam, died of smallpox, May 18, 1947. Click here to read the letter that Len wrote to his parents about Pam's death.

Many have spelled the last name with two RR's, which is incorrect with respect to our family. There seems to be more families with that last name that spell it with two RR's. My grandfather was one of 17!! My grandmother said that anyone who spelled their last name with one "r" was "more than likely related". When I was growing up, on many occasions, my last name was spelled incorrectly -- Just one of those things.

As for the CC Parrish, my mother and I went to a reunion in Ojai, California, in about 1965-66, I was still in high school. This was the only one she ever attended. There was a man there interviewing people. I am assuming it was Dr. Leary. A man, again I am assuming it was Dr. Leary, was doing oral interviews and taping the conversations on a reel to reel recorder. This man smoked a pipe, was tall, with silver hair and blue eyes, and was very articulate.

A man came up and started talking to my mother, we were in a large meeting room surrounded by lots of people milling about, I was introduced to him. His name was Pappy Quinn, he was the treasurer, lived in New York and ran/had a restaurant. My parents knew him in China. He had a bad scar that went across his forehead. He called my Dad "CC"( he said for CnaC) instead of "Len". Later my mother told me about the circumstances on how he got the scar. She said that he was in a jeep accident while rushing to get to the airfield and that she had butterflied the wound with tape. Pappy is the only one I ever heard call Daddy CC, however, he also called Daddy "Len". My mother always called him Len except that one particular time when talking with Pappy. Pappy, as I understood it was in China before my parents were there and left sometime after they arrived. The reunion, for me, was a bit overwhelming. Lots of people, some I knew, some I didn't have a clue as to who they were, but they knew me. Trying not to be rude, I smiled allot and said nice to meet you. I had a hard time trying to understand what was going on and how they all fit in. While at the the SF reunion, I found out that AVG, the Tigers, and CNAC use to have their reunions all together and that Bell Helicopter use to host them -- they were big affairs. Matter of fact I had forgotten that I had been at the Ojai reunion until Peg Watson said she remembered Mother and I being there. We started talking, then my memory banks opened up.

Valerie"