PENNY LING
(CNAC 1942/3 - 194?)


February 23, 2005

Mr. Moore,

I came across your CNAC website quite by chance and I am reminded of my father who was in New Delhi and Calcutta 1944 - 1946, having been posted by the Chinese Ministry of Transport. I am not sure what his position was, but in general, he worked with the US effort to move supplies over the hump. He had recently graduated from the Wharton School at the Univ of Pennsylvania and returned to China to join the war effort. I was born in New Delhi. After the war, he returned to Shanghai to work for CNAC as, I believe, some sort of director in what we would call today "human resources". I remember him telling about how sad it was to often lose aircrews he knew well to accidents. Our family left Shanghai on one of the last flights out (final evacuation of CNAC personnel) in 1949, and I seem to still vaguely remember the scene with many people trying to get on a flight. It was a DC-3 or C46 with a single row of canvas seats on each side and we flew to Tainan via somewhere in Foochow. My brother and I were terribly airsick.

I wonder if anyone still remembers my Father who went by the name of Tse-iung Ling (or Tse-Ying Ling) and Raymond Ling.

I was also very excited to come across the picture of CNAC stewardesses from 1947. I believe my aunt might be one of the unidenfied ones as she was a stewardess during that time and the tall one in the back looks just like her. I will try to confirm with her. She went by the name Penny Ling (or similar) and someone might remember.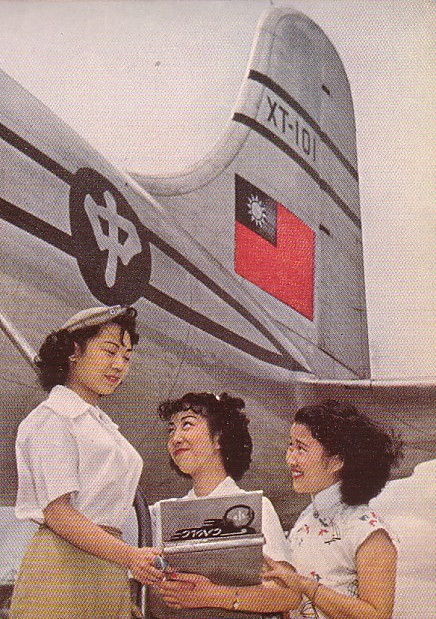 left to right
Katherine Woo, Penny Ling and Irene Tsou (ground hostess?)
Taipei - 1947(?)
(HELP - Do I have the names correct?)
(Anyone have a clearer copy of this photo?)


This is very exciting and I hope there is still someone out there who remembers my Father or Aunt and their days with CNAC or in India. I would like to be in touch.

Best regards,

Victor Ling
650-225-8219
South San Francisco, CA
E-mail ling.victor@gene.com






If you would like to share any information about Penny Ling
or would like to be added to the CNAC e-mail distribution list,
please let the CNAC Web Editor, Tom Moore, know.
Thanks!



Background music to this
page can be controlled here.
"You're The Top"