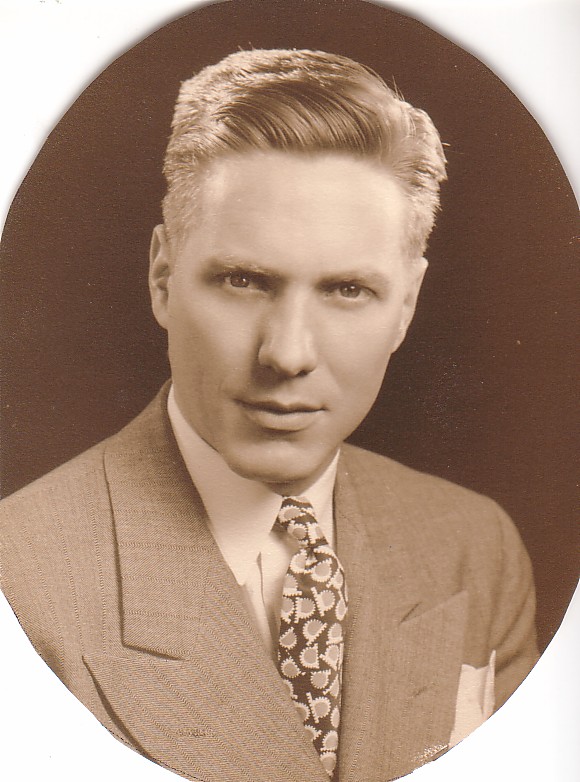 W.D. Price - 1947
(Courtesy of Paul and Linda Barner)


William Price was the Superintendent of the Communications Department and a radio engineer.
Price was in Hong Kong when it was attacked in December 1941.


---
August 13, 2005

Tom:

I can add a bit about Price, gleaned from an article he wrote New Horizons, Pan Am's magazine. In the April 1942 issue he wrote about his experiences in the first hours of the Hong Kong bombing December 8, 1941."Then the first bomb hit on the hill in back of our compound. Scotty (pilot Emil Scott) ran outside and lay down alongside our building. The second bomb hit about 30 feet from my bedroom and the third across the street. They were aiming at the hospital, but with typical Japanese accuracy had missed." There is a picture of Price in his bomb shelter in Hong Kong in that issue, but my copy is bad. The article is in the Pan Am collection at Richter Library, U of Miami, Box 218, folder 1.

Pan Am Capt Ralph, the Hong Kong Clipper pilot wrote about Price as he was being evacuated as the Clipper burned in the harbor, "Then Radio Superintendent Price had been telling co-pilot De Kantzon to stop the fooling when when three bombs landed in back of 154 Argyle about 50 feet from him. He did an excellent dive over a 2-foot porch rail into an asphalt lined gutter preceded by Capt. Scott who had been watching the planes while standing on the railing." same collection Box 261 folder 9

Regards,

Bob Willett
E-mail willettr@bellsouth.net


---
November 24, 2006

My name is Paul Barner and I am married to Linda D. Price who is Bill's daughter. Linda and I have discovered a scrap book and many pictures Bill had collected while in China and India. The book contains many pictures of the CNAC aircraft, personnel and of the damage they suffered from Japanese attacks. Also, we found the book Wings Over Asia which lead me to google and the ability to contact you thru the Association web site.

Bill was W. D. Price Jr. (William Douglas) and he passed away at the age of eighty in 1997 in Dallas, Texas. Because of a bad leg which was injured in a sledding accident when he was young he was called "Gimpie". This should seal up the missing info on the web site bio. I had several 8x10 photos he took that I donated several years ago to the Confederate Air Force Museum in Midland, Texas, and we would like these photos we discovered to be shared with the CNAC.

Please contact us and let us know what other information you might want and how to get you Bill's scrapbook.

Thanks, Paul and Linda Barner
Farmers Branch, Texas
E-mail LPBarner2@aol.com

and

November 30, 2006

You are welcome to add the information and our e-mail address. We will find a picture of Bill that would be suitable for you to post and will get the album off with it asap. Thank's for the reply. We both were impressed with the super job that you have done on the web site. It is only thru efforts such as yours that such important and wonderful history will survive. Bill never spoke of any of his travels or involvement with the CNAC. This is all great history and we will pass it along to the grand children.

Thanks, Paul

and

December 21, 2006

I had some time off here near Christmas so I have finally found time to send the scrapbook that Bill had. I also enclosed a picture of Bill that you may be able to use when you update the bio on him. It was taken 55 years or so ago and mosts reflects him in his younger years. Also is some information on his business, I enclosed the orginial 1960 article. He was quite remarkable for a self taught man.

When he left China and returned to the US in 1943 he went to work for Bendix Corp in their avionics division. After 5 years he changed jobs and became head of communications at Pioneer Airlines and stayed with them until 1955. He then founded his own company and you can fill in the blanks there from the newspaper article. As is the case with so many smaller companies he was overtaken by the giants of the aircraft industry and sold out to buy a Marina on Lake Whitney, Texas. He owned and operated it from 1982 until his death. Bill was born on Christmas day 12/25/1916 and passed away in his sleep on April 11th 1997.

He kept his love of aircraft, boats, cars and anything with an engine that went up or across his entire life. Upon his buying the Marina ( Juniper Cove Marina and Campgrounds) he begin to design and build from scratch an awesome 54 foot houseboat, "THE HOME OFFICE". That houseboat was the flagship of the lake for many years and he loved being on her. He also owned a great 27' Sea Ray that went everywhere in Texas. He drove for many years Thunderbird convertables as fast and as hard as they could go! At age 80 he was still driving the same way in a Mazda Miata convertable given to him by his wife, French Racing Blue with the top down as much as possible!

Any other information you want to use we can try and provide. As I said earlier he spoke very little about his experience India and China.

I will mail the scrapbook today or tomorrow.
(NOTE: I received the scrapbook January 4, 2007 and it has some great photos that can be seen here.)

Have a Merry Christmas and Happy New Year, Paul and Linda Barner




Here's that newspaper article.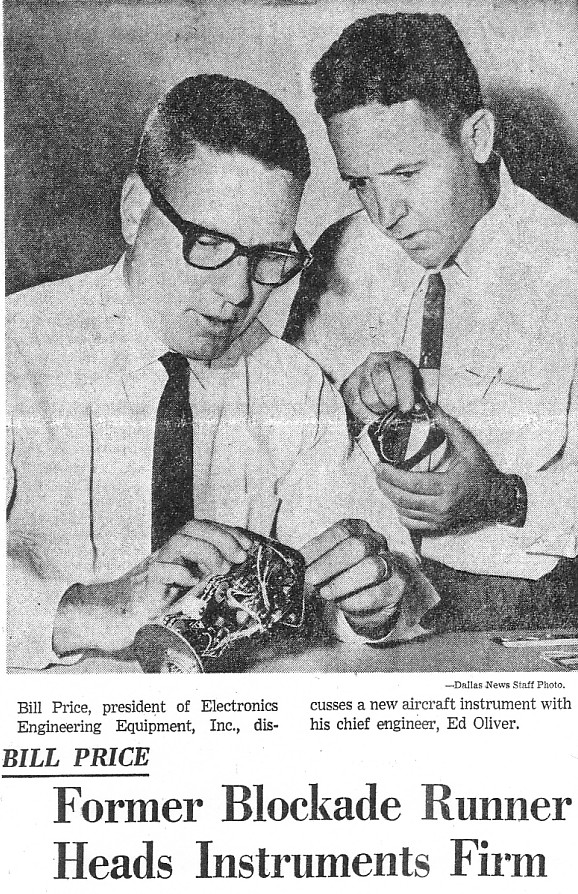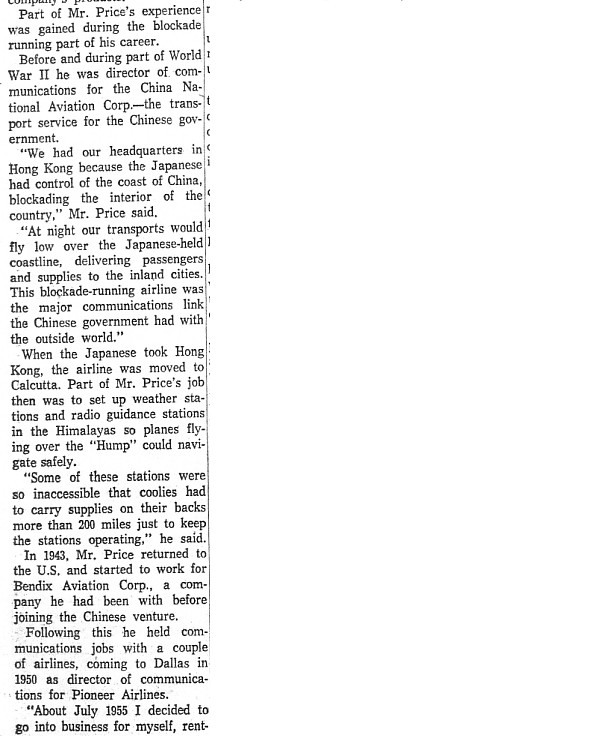 ---
January 16, 2007

Thank you so much. This will be a great thing for my son born 8/27/2002 who is his name sake Price Wayne Griggs. Yes, please add me to the list.

Amy E. Griggs
E-mail amyegriggs@yahoo.com
(Amy is the granddaughter of W.D. Price)



If you would like to share any information about William Price
or would like to be added to the CNAC e-mail distribution list,
please let the CNAC Web Editor, Tom Moore, know.
Thanks!