CHARLES LOUIS SCHAFER (1916 - 1995)
"Chuck"
(Traffic Agent)
(PAA/CNAC 1941 - 1949)


On December 10, 1941, Bond left on the last plane, leaving traffic manager Charles Shafer and station manager Max Lessner in charge.

As described earlier, Hong Kong was attacked on 8 December (Eastern Hemisphere time), and by the 18th, Japan controlled the entire Crown Colony. Max Lessner and Charles Shafer were captured by the Japanese on 25 December, and assigned to work in a medical unit, hauling wood and supplies. In June 1942, Shafer was allowed to leave on the Asam Maru for Laurenco Marques, then boarded the S.S. Gripsholm for the U.S. (in the first prisoner of war exchange). Lessner was allowed to go to Macau in March, and later worked his way to India, where he became Pan American's first airport manager at New Delhi. (Airlines of Pan American Since 1927 by Gene Banning)


---
A great letter was posted in the March 1981 Cannon Ball. Here is that letter.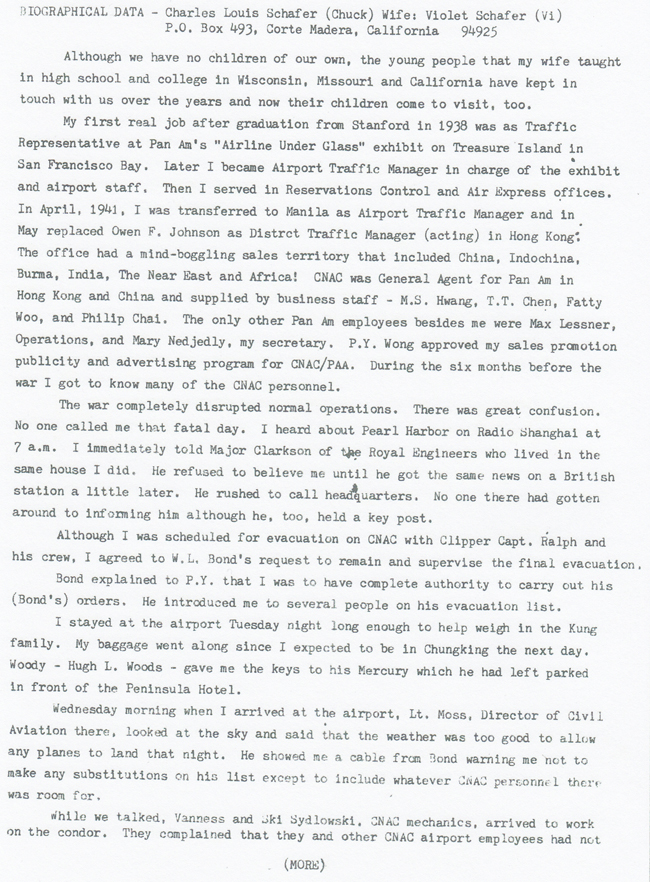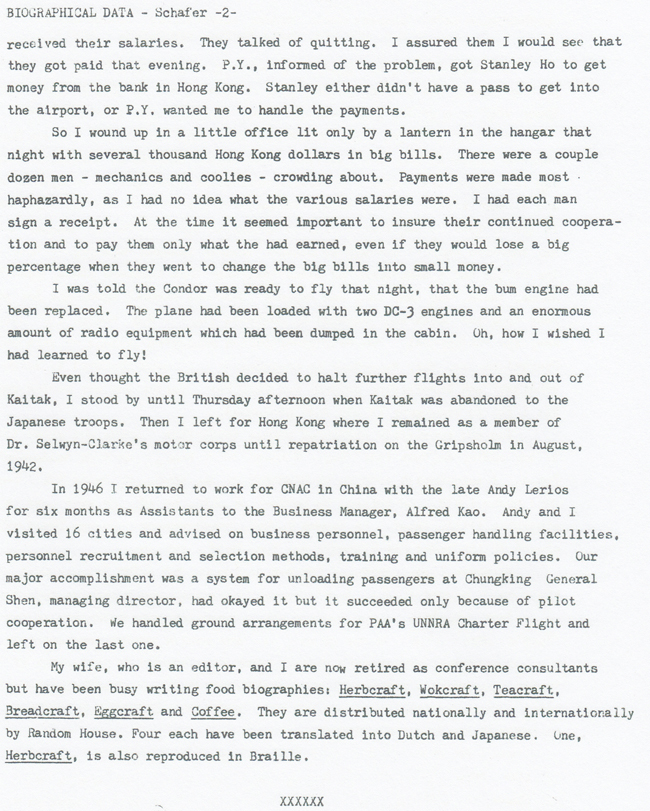 ---

In 1981 Chuck and his wife Violet (Vi) were living in Corte Madera, California 94925. Their mail went to P.O. Box 493. Violet was born in 1910 and passed away in 2001.

---

From Greg Crouch
February 28, 2005

Charles Schafer was the PAA traffic agent. He volunteered to stay in HK to coordinate the evacuation from that end (Bond, Sharp, Woods and others went to Chungking on the second night - Tuesday). But the Brits closed the airport on Wednesday and he was stuck and didn't get out. He was captured and repatriated in the summer of 1942. He wrote a 15 page report on the whole affair that I copied in Miami. It's excellent. Most of the stuff is after CNAC's evacuation and not relevant to me, but that doesn't make it any less fascinating or any less fabulous as a primary document.

Bond mentions him in his Hong Kong letter to Bixby of 12/17/41.

I'm having a great time with this HK episode. And then I'll work backwards through the HK era from there.

Thanks for the Gloucester confirmation.

GC






If you would like to share any information about Charles Louis Schafer
or would like to be on the CNAC e-mail distribution list,
please let the CNAC Web Editor, Tom Moore, know.
Thanks!



Background music to this
page can be controlled here.
"We'll Meet Again"