C.R. SCHOFIELD (1921 - 2005)
"Bob"
(CNAC 1945 - 1945)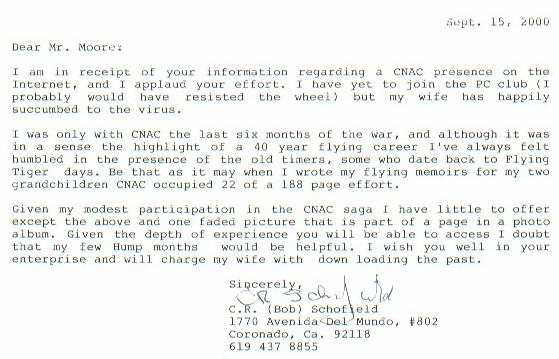 ---
Passing of Bob Schofield


C.R. (Bob) Schofield was a man of great intellectual curiosity and discipline. A loyal friend and ardent outdoor enthusiast, he died December 19 of complications from Parkinson's disease at the age of 84. An airline pilot until his mandatory retirement at 60, Bob began his flying career during WWII, flying the "Hump" in China and serving as a civilian flight instructor to the Chinese in their efforts as allies to the United States. A pilot for Pacific Northwest Airlines, Western Airlines and Delta, Bob was known as a superb, conscientious pilot.

His self discipline infused his passion for piano, the study of Spanish and firm commitment to physical fitness. He enjoyed spending time with friends, whether on the tennis court, the ski slopes, or over cocktails. Though he began dancing lessons late in his life, he gamely continued to bring his beloved wife Roberta out on the dance floor until he was physically impossible for him to participate. Roberta was the love of his life and constant companion for thirty seven years, fishing, hiking, camping and sailing. Whatever his interest, she was by his side.

Bob had a quick wit and loved nothing more than a lengthy discussion about politics or the state of the world. He was an articulate writer, spending hours on journal or testing the status quo with letters to the editor. Supremely physically fit throughout his life, he met the challenges of his disease with great courage and dignity. He is survived by his wife Roberta, daughter Romney, granddaughter Jessica and grandson Jared. He was preceded in death by his brother Jack.

Remembrances can be sent to the national Michael J. Fox Foundation (http://www.michaeljfox.org/parkinsons/).






If you would like to share any information about Bob Schofield
or would like to be added to the CNAC e-mail distribution list,
please let the CNAC Web Editor, Tom Moore, know.
Thanks!


Background music to this
page can be controlled here.
"As Time Goes By"