ROGER SHREFFLER (1913-1998)
(Radio Man)
(CNAC 1942 - 194?)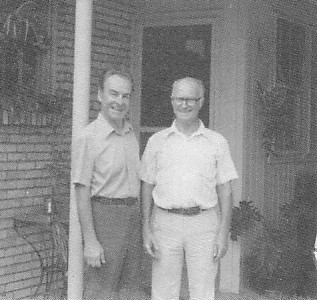 Joe Rosbert and Roger Shreffler
at Roger's home in Nashville
(Photo Courtesy of Joe Rosbert)


Roger was from Nashville, Tennessee. Roger is survived by his wife June of Nashville.

---
April 24, 2001
the following message was received from Cyndy Shreffler
"My friend, Norm Shreffler of Baton Rouge says that Roger Shreffler's dad, Arthur Shreffler served in the Spanish American War. Arthur was the son of Aaron Shreffler, and Aaron was the son of Peter Shreffler. Peter was the son of John Henry Shreffler (called Henry), and Henry was the son of the first immigrant, Johann Heinrich Schreffler (called Heinrich or Henry). I think that is all of the generations of Roger's line. The reason that there are so few generations is that Peter was one of the youngest sons in his family. Aaron's generation was the Civil War generation, and Arthur's generation was the Spanish American War generation (late 1890s).

Through the Veterans Administration, there is a nationwide gravesite locator for people buried in military cemeteries. Note that some are spouses of people who served in military. I found Roger SHREFFLER, who was a radio operator in the CNAC. Roger SHREFFLER was originally from Illiniois, but he moved to Tennessee. He is not a close relative, but I do SHREFFLER genealogy. The last that I knew, his wife, June SHREFFLER still lives in Tennessee. Roger died in 1998.

SHREFFLER, ROGER
ACRM US NAVY
WORLD WAR II
DATE OF BIRTH: 12/24/1913
DATE OF DEATH: 11/22/1998
BURIED AT: SECTION MM SITE 11.19
MIDDLE TENNESSEE STATE VETERANS CEM.
7931 McCRORY LANE NASHVILLE, TN 37221
(615) 532-2238 (phone number of the cemetery)

National Cemetery Administration

Cyndy Shreffler
E-Mail Shreffler2@aol.com

(Ed: Cyndy Shreffler is doing genealogy research and connected the CNAC site to Roger's widow. Ain't the Internet amazing!)






If you would like to share any information about Roger Shreffler
or would like to be added to the CNAC e-mail distribution list,
please let the CNAC Web Editor, Tom Moore, know.
Thanks!


Background music to this
page can be controlled here.
"Boogie Woogie"