First Flight Cover from Chungking to Rangoon
October 30, 1939
Signed by Capt. C.L. Sharp, Pilot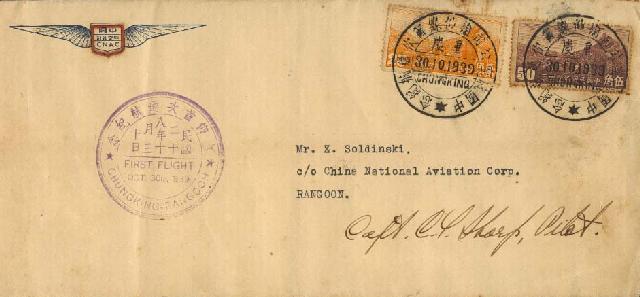 (back of envelope)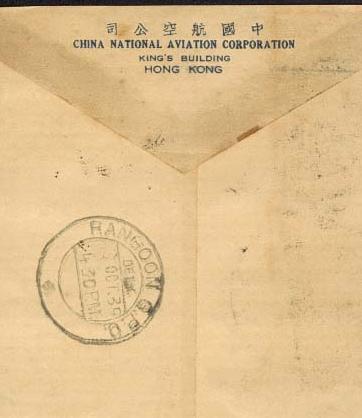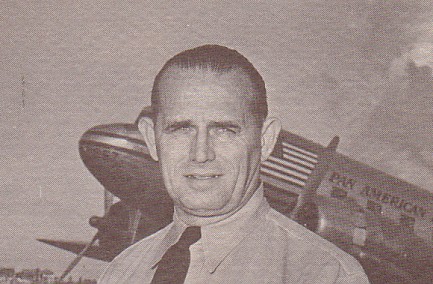 Zygmund Soldinski


For awhile in the late 1950's - early 1960's, the Soldinski's lived at:
Soldinski, Z.
275 E. Verdugo Ave.
Burbank Calif.

From the 1965 Mailing list:
Z. Soldinske (yes someone typed an"e" instead of an "i")
1635 S. Fern
Ontario, Calif.

At his death in 1974, Zed was survived by his wife, Lela, of Ontario, California. They were living at the above address.

Lela's address from the 1971, 1979 and 1995 CNAC Mailing Lists:
Lela Soldinski
P.O. Box 356
Yucca, AZ 86438


---

Lela was born September 8, 1905. She died April 9, 2004. Her last address was in Henderson, Clark county, Nevada. We would like to contact any family or friends of the Soldinski's.

June 23, 2008

Received the following information from a Las Vegas neighbor of Lena's.

When I met Lela, she already was married to Marshall L. (Smoky) Stover. They had rented a house at 425 S. 6th St., Las Vegas, NV 89101, across the alley from my house, about 1993 or 1994. Lela was about 13 years older than Smoky. She told me many stories about her varied previous activities, all of them credible. She was the most amazing person I ever met.

Smoky had retired from his occupation as a welder, and had started a business in Las Vegas called Process Servers, Inc. He sold the business to Marty Drucker (I may have remembered Marty's last name incorrectly) in 1998. The business still exists, in the 200 block of S. 7th St. Smoky died of brain cancer in Dec. 1999.

Lela refused to talk about former husbands. She was married at least 3 times including Smoky, maybe 4 times.

Lela started developing Alzheimer's disease in 1998. By the time of Smoky's death, she was confused most of the time. After Smoky's death, she moved to a nursing home. She no longer was capable of maintaining even a simple conversation. I think she was 93 years old. I lost contact with her then.

Lela is survived by a daughter living somewhere in Southern California. The daughter came to Las Vegas to claim some of Lela's personal property.
TO LELA'S DAUGHTER: If you are reading this, please contact me, Tom Moore, pepperbud@pobox.com , CELL 916-764-9798.

The house Lela and Smoky lived in was demolished. The land now is a parking lot.

Some of Lela's claims:

During WWII she was a coyote for Mexican migrant laborers. She treated them fairly and made sure they saved their earnings.

She owned a store selling pianos or violins, I forget which.

She prospected for a variety of minerals all around the U.S. Southwest and northern Mexico.

She managed a gold mine in Mexico.

She found hidden stolen gold in caves at least twice, but left it undisturbed.

She was an international expert on the price of minerals, and on markets for the minerals. She brokered major sales.

Once she laid out the path for a bulldozed access road to a mine.

When assisting other people searching for gold, she wanted the rare earths.

She investigated many caves over many years, occasionally getting slightly sick. Then she and a man investigated a cave and both got rabies. The man died. She survived, with no permanent afteraffects, probably due to partial immunity acquired from previous caves. That makes her one of only two survivors of rabies, and the only survivor to recover completely.

She participated in founding the Auto Club of Southern Calif.

She had some role in developing Los Angeles' first experimental television station. I never understood clearly just what she did.

Probably there were another half dozen exploits that I cannot remember just now. She considered herself a failure because she never became rich. After I heard some of her stories, I convinced her that she had lived life like few other people, and that I considered her a resounding success.



If you would like to share any information about Zygmund or Lena Soldinski
or would like to be added to the CNAC e-mail distribution list,
please let the CNAC Web Editor, Tom Moore, know.
Thanks!