WILLIAM TRAVER STURGESS (1922 - 2000)
(Flight Engineer)
(CNAC 1946? - 1949?)


Bill Sturgess with the crush hat in the center-right
(Courtesy of Bill's wife, Freda Sturgess)



Lugguage Label
(Also courtesy of Freda Sturgess)
---

From CNAC Mailing Lists of 1964 and 1965:

Wm. T. Sturgess
CAT Taipei, Taiwan

---

March 29, 2010

Moon Chin remembers that when he was living in Taiwan, William and his wife Freda would drive up to have dinners with Moon and his wife, Elsie.

---

March 29, 2010

Tom,

During WWII, Mr Sturgess was a Staff Sergeant in the US Army Air Forces, September 1942 to November 1945 (not sure where), and post-war, 1947-48, he was a regular crew member on CNAC flights, Shanghai-Honolulu-San Francisco, where he served as engineer, attached.

Patti

---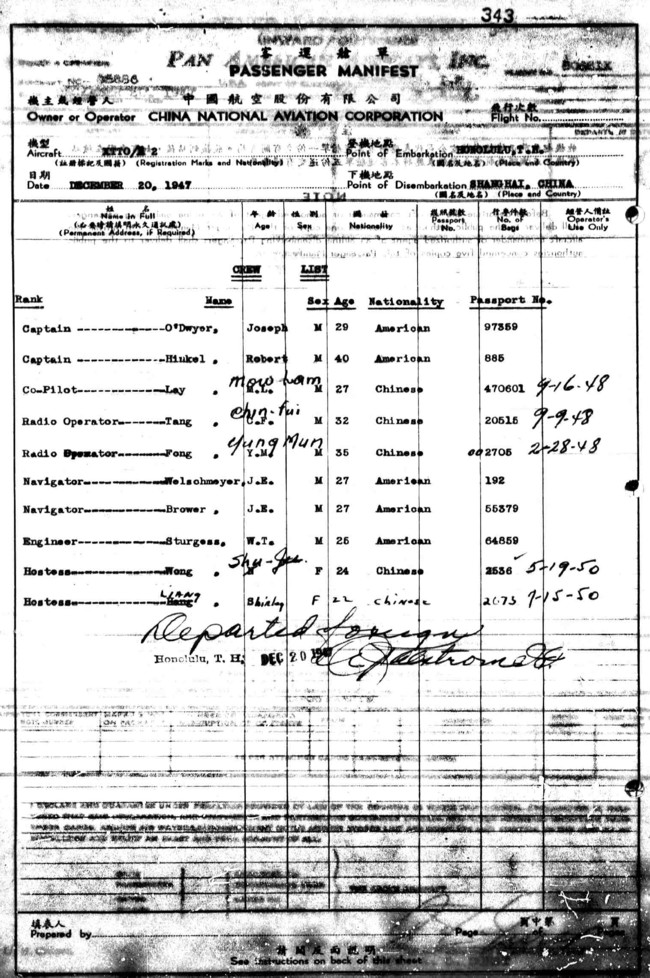 ---




If you would like to share any information about William T. Sturgess
or would like to be added to the CNAC e-mail distribution list,
please let the CNAC Web Editor, Tom Moore, know.
Thanks!


Background music to this
page can be controlled here.
"Begin The Beguine"