WALTER QUINN (1908 - 1973)
"Pappy"
(Hostel Manager)
(CNAC 1941 - 194?)



Walter "Pappy" Quinn
Some time in the 1960's
---
Address from a 1971 CNAC letter:
Walter "Pappy" Quinn
122 So. Munn Avenue
East Orange, N.J. 07018


---
In late 1941 CNAC needed some to manage the CNAC hotel and mess in Lashio, Burma. "Pappy" got the job. He was later moved to Calcutta, and released a short time later.

Pappy was the CNAC Association Treasurer for several years.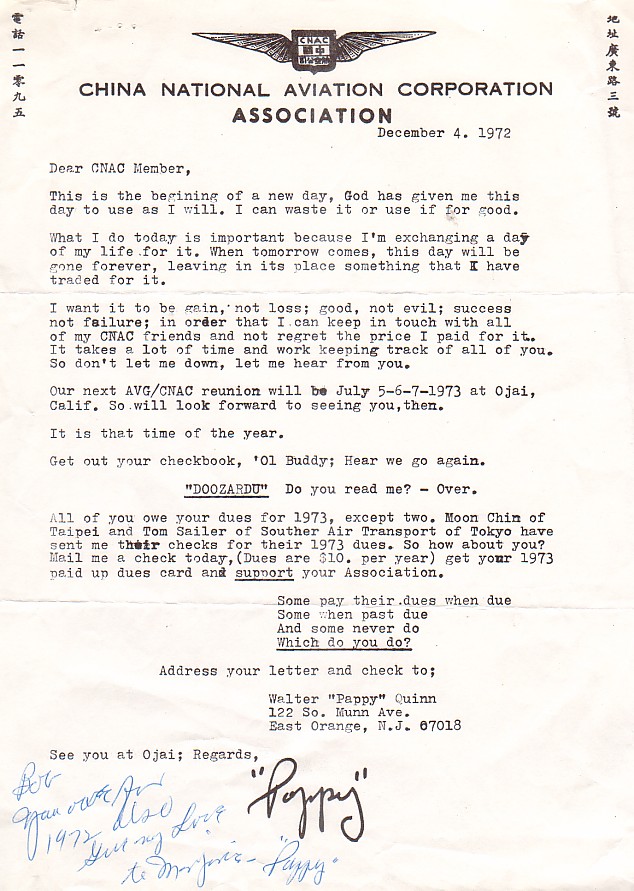 If you would like to share any information about Walter "Pappy" Quinn
or would like to be added to the CNAC e-mail distribution list,
please let the CNAC Web Editor, Tom Moore know.
Thanks!



Background music to this
page can be controlled here.
"Tea For Two"