ORIN WELCH (1906-1943)
(CNAC November 1942 - March 13, 1943)
(Captain - December 25, 1942)
(see Wings Over Asia, Vol V, p. 89)
(Hump Flights - ???)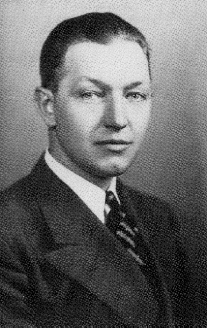 Orin Welch
---
From Gene Banning's list of 8/31/00:
"... 11/42 (PAA-Ferry Div), killed on crash ovr Hump 3/13/43, Plane #49."

---
Visit the Orin Welch Aircraft Company, to learn more about this interesting person.

---
October 11, 2002

Hi Tom,

I was just surfing to look up info about an uncle of mine, Orin Welch. My mother is Drina Welch Abel, maybe you have met her. She started the Aviation Heritage Publishing business with my brother, Alan. they live in Destin FL. I coincidentally live in Lincoln, CA and work in Roseville on Douglas Blvds. Small world huh? Please feel free to give me a call sometime. 772-3700. (I obviously did not know my uncle, but my mother started her publishing business after she wrote the "Welch Airplane Story" as she was raising me and my 6 siblings in Indiana.

I would love the opportunity to talk with you sometime. We could do lunch here in Roseville sometime. Please call me. Thanks!

Gregory J. Abel
greg.abel@kenda.com


---
August 18, 2004

Dear Sir, My uncle, Orin Welch, also flew over the Hump. Have you heard anything about him?

This is Orin Welch's niece. I would be interested in speaking with someone about my uncle's disappearance. Any takers???

Cindy Zeigler
lkozubik@hotmail.com


---
November 11, 2005

Sir,

My name is Brandon Abel, and I am currently an F-15C pilot in the Air Force. My grandmother's brother was Orin Welch. I saw that you had information on him on your website. I, and our family, know little information on him after he started working for CNAC. I was wondering if you had any information on him while he worked for CNAC and of course on his dissaperance during his last flight. Any information would be wonderful. Thank you for your help.

Brandon Abel
E-mail brandon.abel@yahoo.com






If you would like to share any information about Orin Welch
or would like to be added to the CNAC e-mail distribution list,
please let the CNAC Web Editor, Tom Moore, know.
Thanks!



Background music to this
page can be controlled here.
"Those Magnificent Men In Their Flying Machines"