JOSEPH E. WELSCHMEYER (1921-2002)
"Joe"
(Navigator)
(CNAC 194? - 194?)


July 31, 2002
Today I received the following information from a member of Joe's family.

"Mr. Joseph E. Welschmeyer died in the State of California, on May 7, 2002, age 81 years."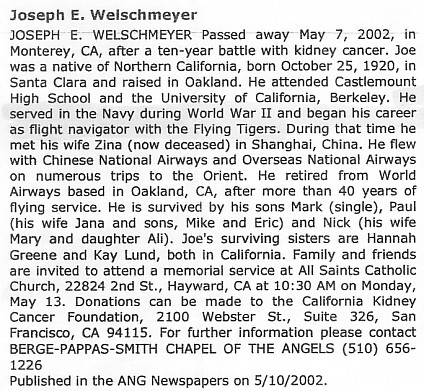 We would love to hear more from the family. A photo of Joe would be great to add to this page.


Can you help?







If you would like to share any information about Joseph "Joe" Welschmeyer
or would like to be added to the CNAC e-mail distribution list,
please let the CNAC Web Editor, Tom Moore, know.
Thanks!



Background music to this
page can be controlled here.
"Tuxedo Junction"