In the 1943-45 log book of Don McBride, Sid listed his address as:
S W Wilson


---
From Gene Banning's list of 8/31/00:
"... flying rice drops in fall, 1944."

---
May 21, 2003
We've heard from Sid's family, with more to follow. Please check back, as photos will be added later.

Hi,

I am Ruth, Sid's wife and would like to share some information about Sid.

He was born March 17, 1918 and died April 20, 2003 (Easter Sunday).

He flew for CNAC from June 1, 1944 to August 16, 1945. Sid flew as copilot 84-20 hours (9 1/2 round trips) and after checking out as captain he flew 859-25 hours (115 round trips) over the "Hump" as first pilot.

He received the Dinstinguished Flying Crosss and the Air Metal.

After he returned to the US he went to work for National Airlines and flew for 32 years.

I will try to find some appropriate pictures and forward them to you.

Will be in touch soon.

Thank you,

Ruth K. Wilson
(NOTE: Ruth passed away January 26, 2006 in Melbourne, Brevard county, Florida.)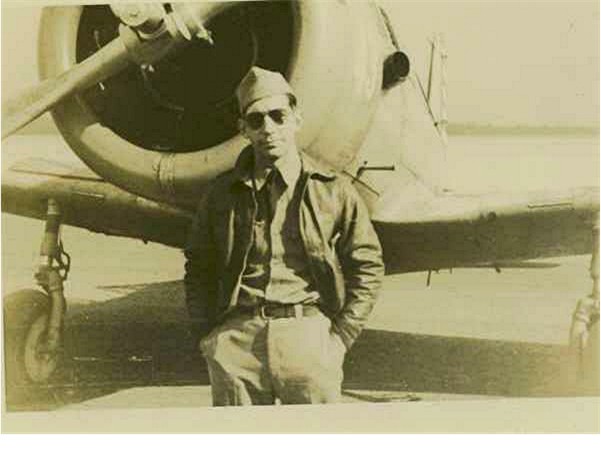 Sid Wilson
(Photo Courtesy of Ruth Wilson)
---

---
April 26, 2003

Sidney W. Wilson passed away in Melbourne, Fla. early on Easter morning of this year. Following his death I did a web search and found him listed on your site.

My wife and I knew Sid Wilson and his wife, Ruth for a number of years. I knew he was a former "Hump" pilot and I enjoyed his stories.

Among the things Sid told me was that he originally learned to fly to impress a girl friend. He also said that the only incident he had while flying the Hump was the carborator icing of his C-46's engines while over a cloud layer over unknown territory. As he was gliding down he saw a tiny hole and spiralled down into a valley where the warmer air melted the carborator ice and his engines returned to normal and he finished the flight. He also said that at one point he was designated as the personal pilot for Madame Chaing Kai Shek during which time he was careful never to be alone with her so as to forstall intrigue rumors. Among the proudest flying recolections was the time, as a National pilot, when he shut down the engines on a 727 over Tampa and glided to a landing at Ft. Lauderdale. His step-son, Michael told me that Sid had a good job as a welder in depression-era Georgia but was fired for skipping work to take flying lessons.

Good luck with your organization. I enjoyed reading the history and material on your site.

Roelof L. Schuiling



If you would like to share any information about Sidney Wilson
or would like to be added to the CNAC e-mail distribution list,
please let the CNAC Web Editor, Tom Moore, know.
Thanks!