JANUARY 7, 1945
CRASHED IN A MOUNTAINSIDE CEMETERY ABOVE THE CITY OF TALI


From Fletcher Hank's, "WHEN AND HOW THE CNAC CRASHES HAPPENED ON THE HUMP AND ITS ENVIRONS DURING WWII" (hand-dated 5/4/02)

Sherwin "Fuzzy" Ball, 01/07/45, C-47 #102.
All 3 crew killed. C/P, H.M. Chu, R/O: C.H. Lam (all were Chinese. Fuzzy left Kunming for Dinjan. Lost an engine over Tali Lake. The plane hit in a mountainside cemetery above the city of Tali. The bodies were found in the wreck. Jim Dalby was the first CNAC man to the wreck.
Source: Jim Dalby.



The following excerpt comes from "The Aluminum Trail" by Chick Marrs Quinn.
See booksetc01.htm for details about this and other related books.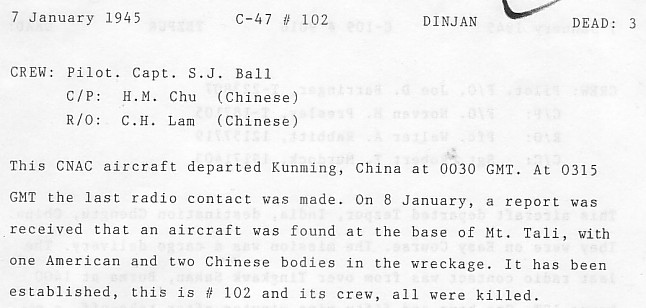 If you can share any information about this accident
or would like to be added to the CNAC e-mail distribution list,
please let the CNAC Web Editor, Tom Moore know.
Thanks!


Background music to this
page can be controlled here.
"Clair de Lune"