ALFRED V. BELSKI (19??-1951)
(CNAC 1946 - 1949)


August 26, 2000. I received the following e-mail:

"Dear Mr. Moore:
I'd just like to let you know that you seem to have left off Flight Engineers from your list of CNAC flyers. My husband, Alfred V. Belski, was a Flight Engineer for CNAC from 1946 until CNAC's demise in 1949 or 1950. If you would like to contact me, you can send an e-mail to me by way of my son-in-law, Bill Keogan, at this address.
Sincerely,
Angela Belski Pandolfo"

(Editor: By this note, readers can see that without help we may never have all the CNAC Family of Employees identified. Thank you Angela, Tom.)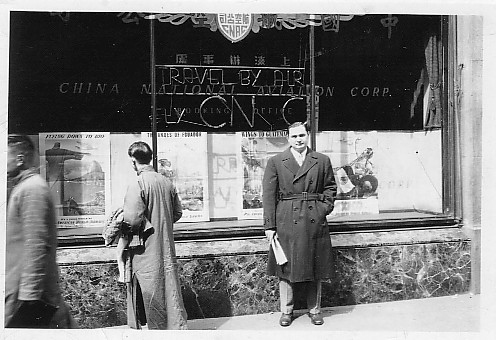 Al Belski
Does anyone know this location or date of this photo?
Best guess so far is the CNAC/Pan American office in the Cathay Hotel in Shanghai.
(Photo Courtesy of Charles Klewin)
---
The following article appeared in the Daily Mirror Monday, March 11, 1951


Far East Plane Crash Kills 24
HONG KONG, March 11 (UP)
A Siamese airliner crashed into a fog shrouded mountain today, killing all 24 aboard. Including three American crew members. The four-engined craft, owned by the Pacific Overseas Airways, plunged into an upper slope of Mt. Parker a few minutes after taking off from Kaitak Air Field about five miles away. It burst into flames. The Americans are John R. Cory, pilot; Al Belski, mechanic; and H.L. Gittins, navigator. Their home addresses were not made available.






If you would like to share any information on Al Belski
or would like to be added to the CNAC e-mail distribution list,
please let the CNAC Web Editor, Tom Moore, know.
Thanks!


Background music to this page can be controlled here.
While sailing to China this was a popular sing-a-long tune heard on deck.
"By The Light of the Silvery Moon"