In the 1943-45 log book of Don McBride, Russ listed his home address as:


Russ Bivens
Brookfield, Missouri
---
2000
The CNAC Web Editor would like to thank Orville Bivens, the brother of Paul Russell Bivens, for providing the following information.

I am Orville Bivens, Paul Russell's older brother. Russ, as we always called him, died from a heart attack in January, 1996 at age 75. I am 82 and a retired Eastern Air Lines captain. Our father, Carl Bivins taught us both to fly. When he received his first license from the Dept of Commerce, it came through from Washington with his name misspelled. Rather than tackle the bureaucratic system to try to get it corrected, he decided to take the easy way out and simply adopted the DOC spelling. From my years of butting heads with the hierarchy of the FAA in Washington as an Air Transport Association representative, I'm sure Dad did the right thing.

I'm attaching a picture of Russ in his CNAC uniform when he was flying a DC-4 between Shanghai and San Francisco.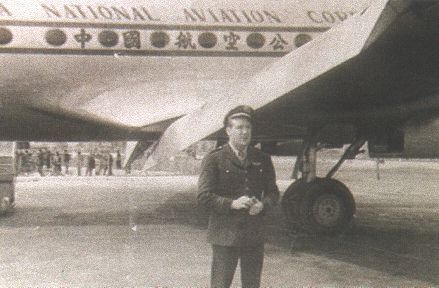 Russ Bivens
Shanghai 1948
CNAC DC-4
(All photo's on this page courtesy of Orville Bivens)


Here's our father with his Waco 10 which you may use if you wish. Russ was 15 when he soloed in that airplane.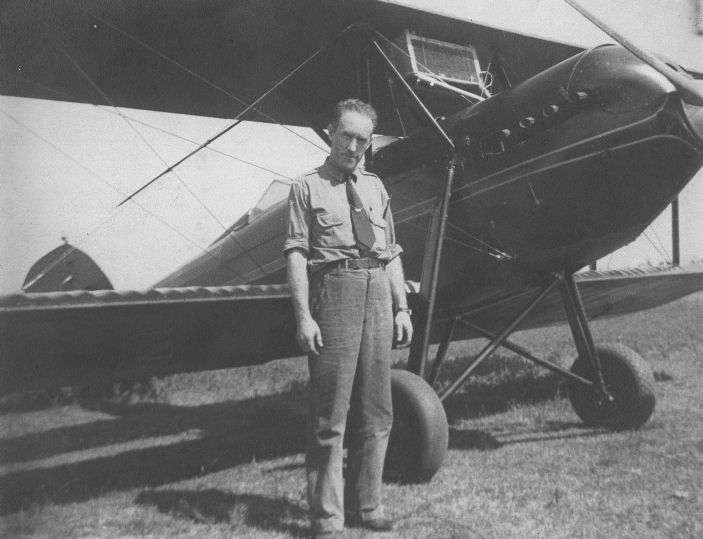 Our Father -- Carl Bivins
Brookfield, Missouri -- 1939


Russ didn't go to work for CNAC until 1943. I went to work for Pan American as a radio operator in 1938 in their flying boats. If I hadn't been a pilot, it would have been a lot easier for me, as I rode through four accidents and I've got the scars to prove it. I left PAA in 1942 and went with EAL. In 35 years, flying everything from DC-3s to Lockheed L-1011s, I never even blew out a tire.

I'm attaching a recent picture of me along with one taken on Dec. 16, 1977 in a Lockheed L1011 when I made my final flight before retirement from EAL.
| | |
| --- | --- |
| Recent Picture | Dec. 16, 1977 in a Lockheed L1011 |

Also, if you are interested, you can see me on the cable TV History Channel sometime in September (2000). I had published an article on flying boats which came to the attention of one of the producers. He came down from Knoxville with a film crew and interviewed me for a piece they're doing on the subject. I'll let you know when they give me a date for it.

As for my brother's career, he made 600 trips across the hump with CNAC, and when the Communists chased him out of China in 1949, he went to work for Thai Airways in Bangkok. A few years later, they got rid of their foreign pilots. They were flying Constellations and giving PAA a lot of competition. PAA sent some advisors in to ostensibly help them improve their operations. The PAA people apparently had a lot of influence and told Thai they should get rid of their new airplanes so that the native pilots could handle the operations. Believe it or not, they did that, but I suspect the U. S. State Department had something to do with it. Russ went to work for the FAA and was soon appointed to the position of Civil Aviation Administrator for the Ryuku Islands in Okinawa. He held that post until the U.S. gave the Islands back to Japan. He came back to the States and retired in 1993, I think it was. At that time, he was head of the Air Carrier FAA office at O'Hare Airport in Chicago.

Dad was killed by a skyjacker in 1939. I was on my way back to Miami from a trip to Rio de Janeiro, and read about it in a newspaper in Port of Spain, Trinidad. But that's another story for another time.

More later.

---
January 9, 2001
Received the following e-mail from Gene Banning
"Tom:
No info on Joseph Lemouse.
You have done a wonderful job with the photos and data you collected, the website is excelllent. I wish we had had such a thing 30 years ago, could have obtained everything then. I was sorry to lose Russ Bivens. I knew him well, he was also active in the OX-5 club here. He started out as a radio officer in PAA about 1938 or so. Hope your holidays were wonderful.
All the best
Gene"


---
May 5, 2005

My wife and I became close friends with Russ and Lisa. They were wonderful people and I sure miss them. Truly people who were part of the "Greatest Generation." It was such an honor to work for Russ. They didn't have any kids and Russ gave me a commemorative coin and a medal that were struck while he was at CNAC. Nothing could have touched me more.

Rick Andrews
E-mail LazyHorseRanch@gmail.com



If you would like to share any information about Paul Russell Bivens or
would like to be added to the CNAC e-mail distribution list,
please let the CNAC Web Editor, Tom Moore, know.
Thanks!