China Trip September 2012
Air China 1-800-882-8122
(in China) 86-10-95583, 86-10-59281588

My travel instructions from Kaiser

---
Here is our itinerary, which we tried real hard to stick with, but "things change to remain the same."

A few of us had business cards in English and Chinese:
Tom's card
Angie's card
Annie's card
Craig's card
Eve's card

September 9, 2012
Ticket stub SFO to PEK(Pu Dong)
We stayed at the Capitol Hotel Beijing
---
September 10, 2012
China Civil Aviation Museum (CCAM)
Tom Moore's donation certificate
Bob Willett's donation certificate
Gregory Crouch's donation certificate
Mike Little's donation certificate
Peggy Maher's donation certificate
Bill Maher's donation certificate
Nancy Wright's and Elisabeth Zuchetto's donation certificate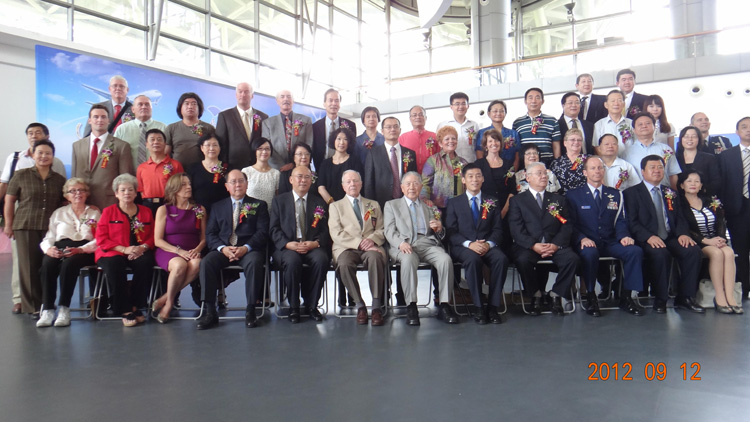 Front Row l-r: Nancy Wright, Susan Ennis, Eve Coulson, Craig Chinn, unknown, Pete Goutiere, Moon Chinn, Jin Yibin Chief Pilot CAAC, Eugene Liu, BG David Stilwell, Han Zengmin Director CCAM, Yuling Ho
Second Row l-r: unknown, unknown, Miles Soboleski, Xv GuoJi (?) CAAC Historian, unknown, (an Ip sister, Wendy Wan?), Ada Ip, Susan Ip, unknown, Valerie Kendrick, Elizabeth Zuchetto, Carol Chinn, Carol Slade, unknown, unknown, unknown, unknown
Back Row l-r: Allen Ennis, Jeff Slade, Liu Xiao Tong, Stephen Loane, Tom Moore, William Zheng, Annie Chen, unknown, unknown, Angie Chen, unknown, unknown unknown, unknown, Col. Cameron Torrens
And the two on the very top right are Bruce Liu and Paul Liu
And here's the big version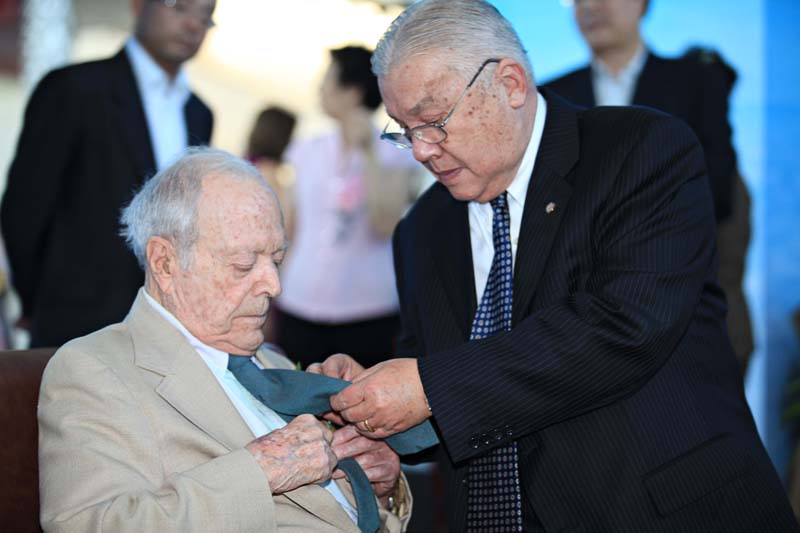 Eugene Liu, son of C.Y. Liu, helping Peter and Moon with lapel pins given by CCAM.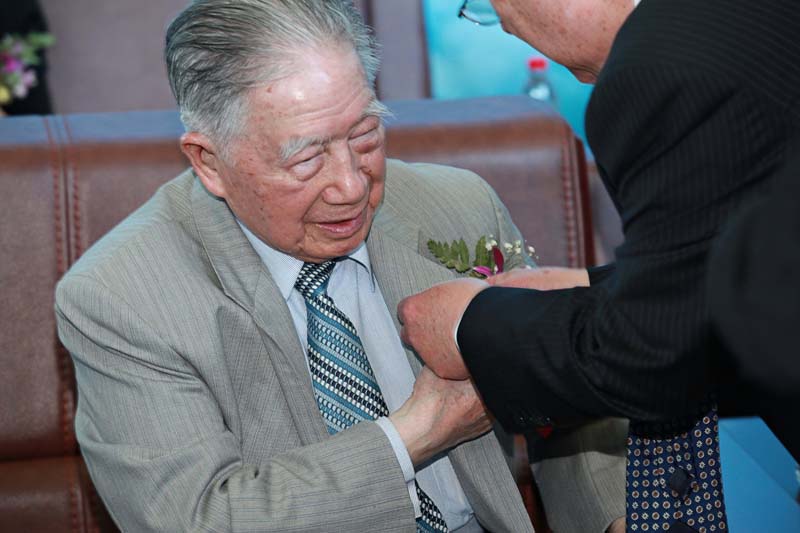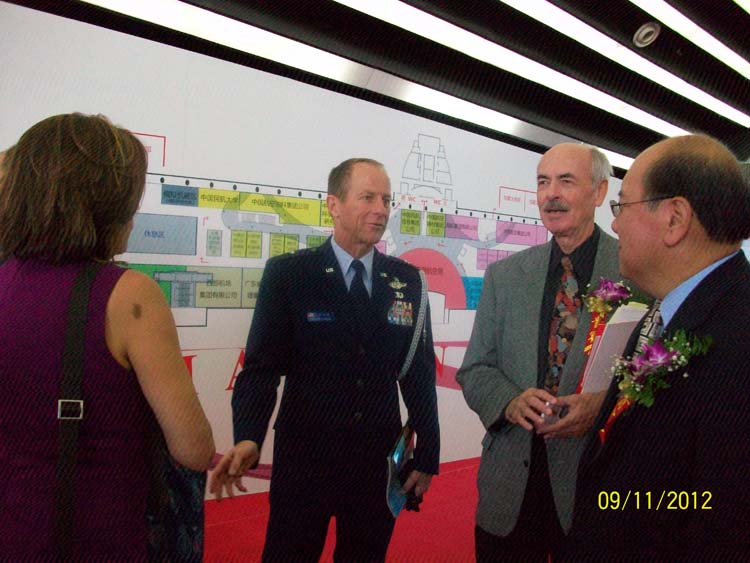 Eve Coulson, BG David Stilwell, Tom Moore and Craig Chinn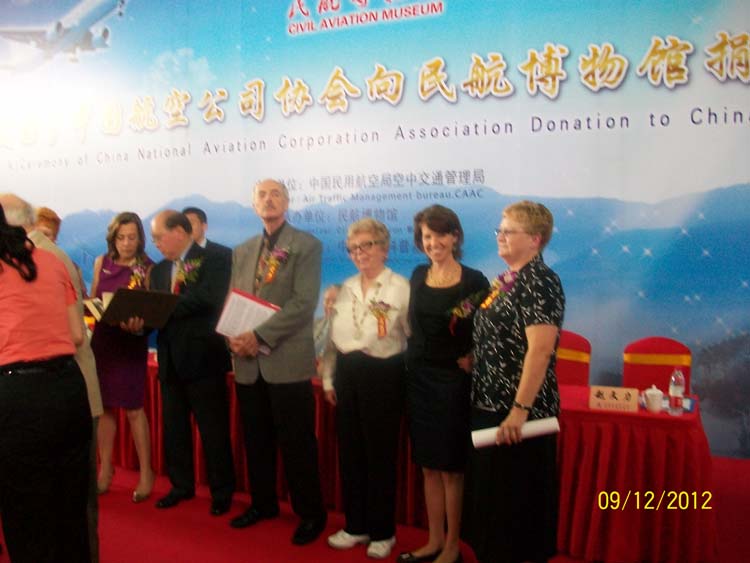 Getting ready to make our presentations to Mr. Han Zengmin, Director for CCAM
Eve Coulson,Craig Chinn, Tom Moore, Nancy Wright, Elizabeth (Allison) Zuchetto and Carol Slade.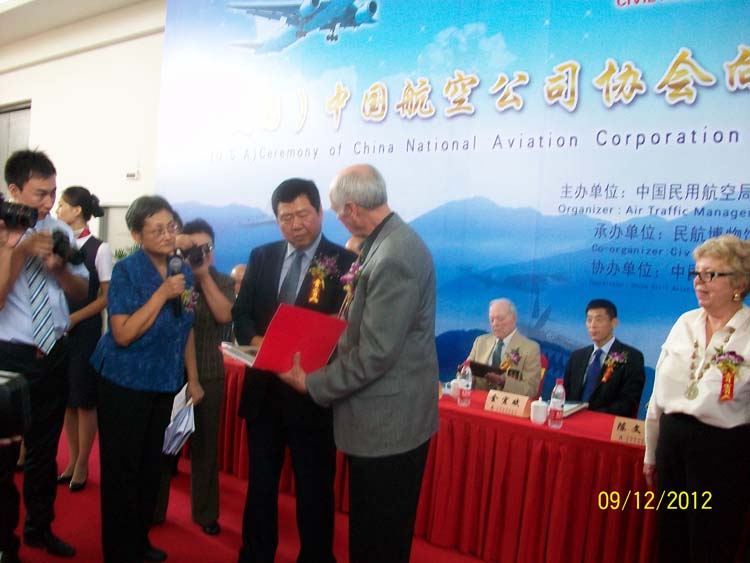 Angie Chen acts as our translater, Mr. Han, Tom Moore with Nancy Wright next.

The CCAM (http://www.caacmuseum.cn) gave all of us a souvinor Handbook
---
September 11, 2012
We sent a letter of introduction to Ambassador Gary Locke and he gave us one addressed to CCAM via CAAM.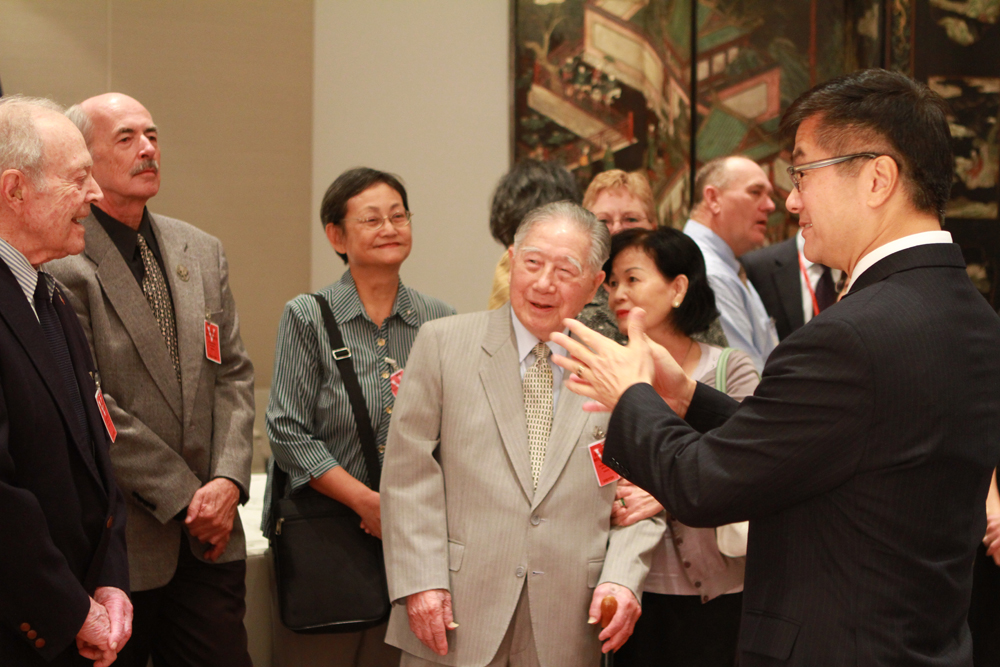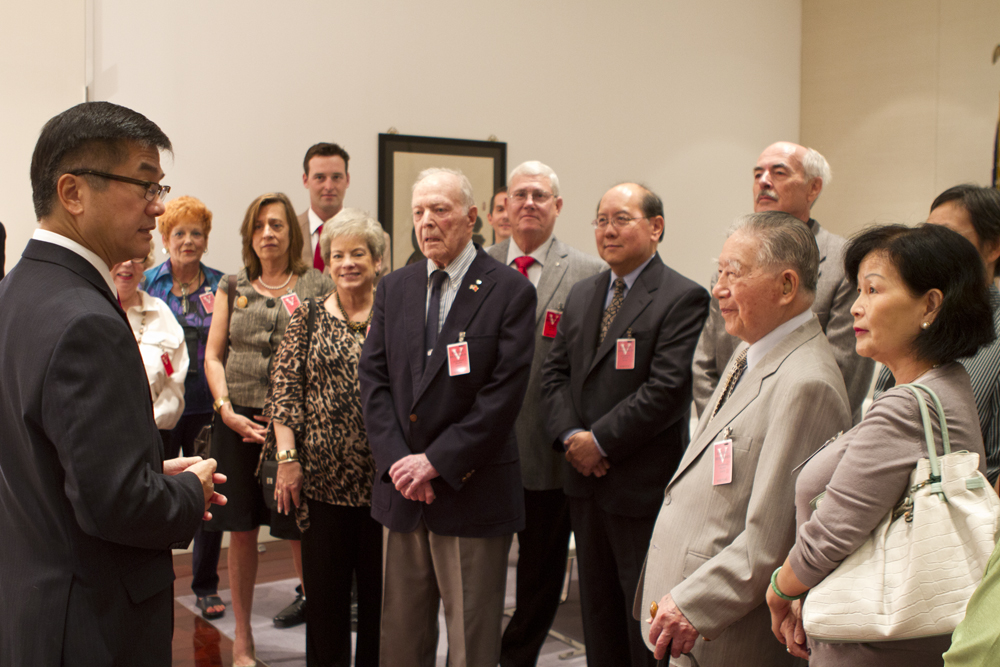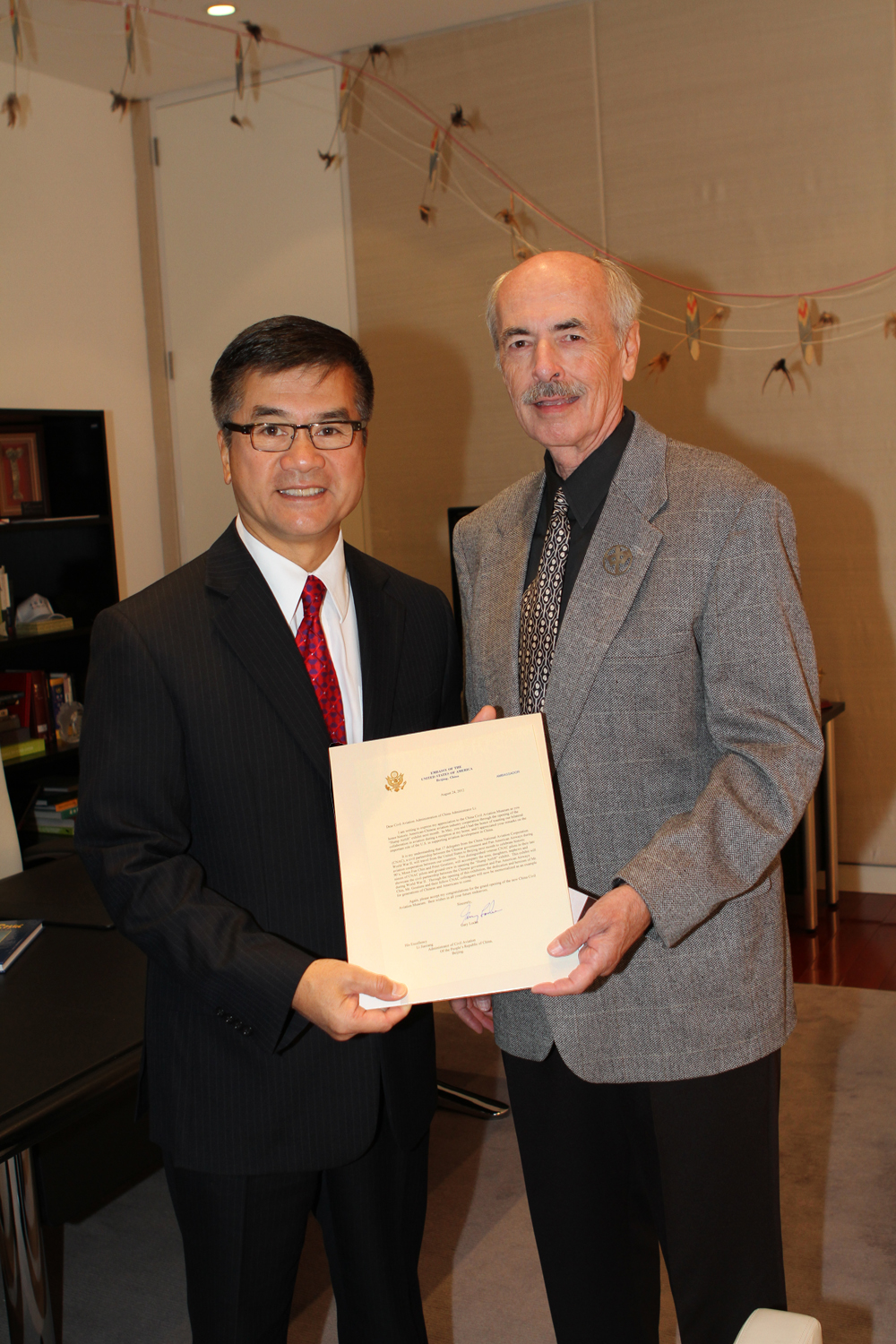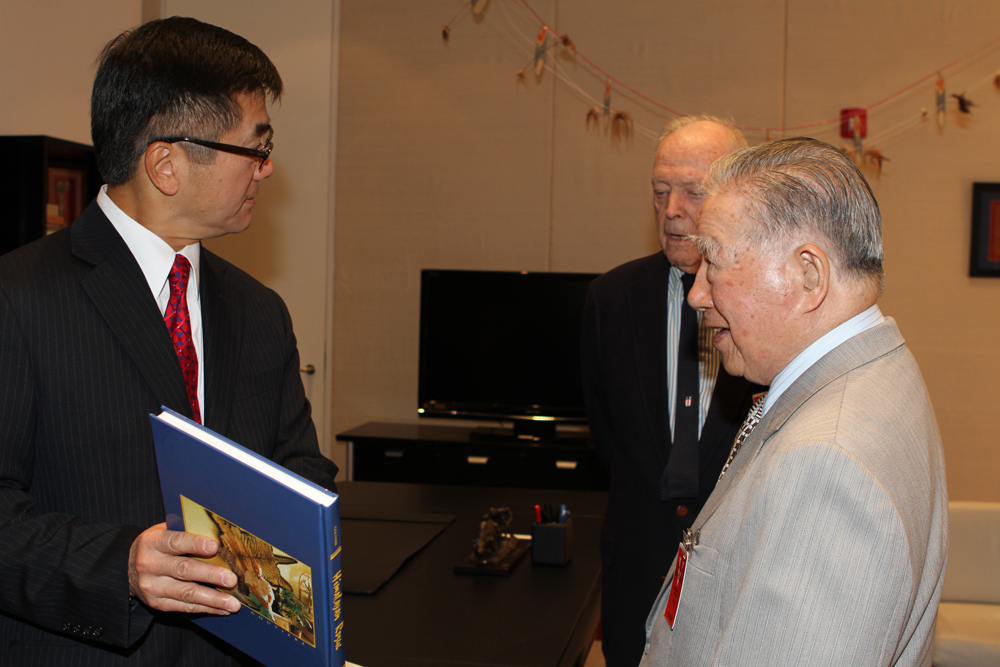 Ambassador Gary Locke, Moon Chin and Peter Goutiere
Pete giving the Ambassador a copy of his book, Himalayan Rogue.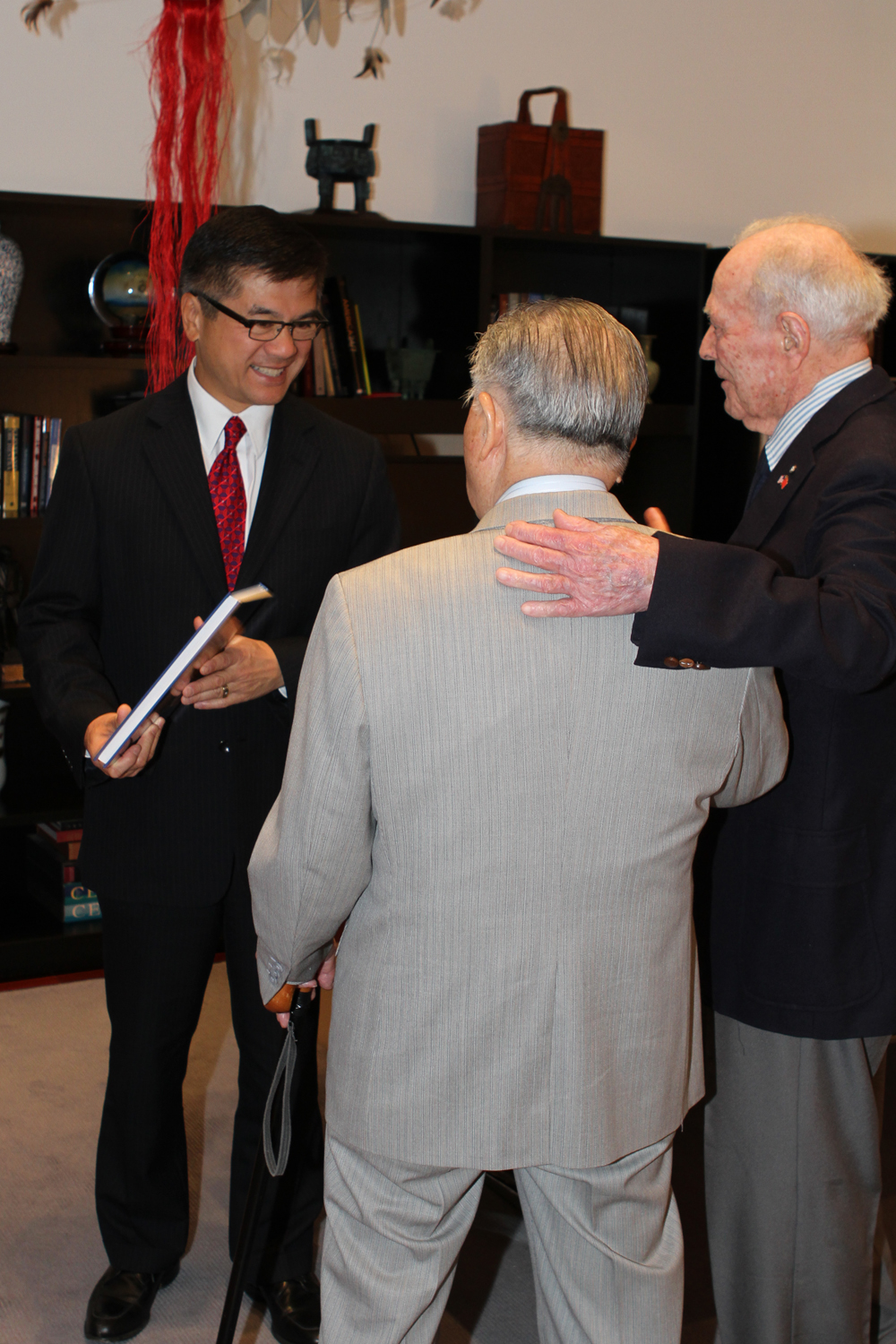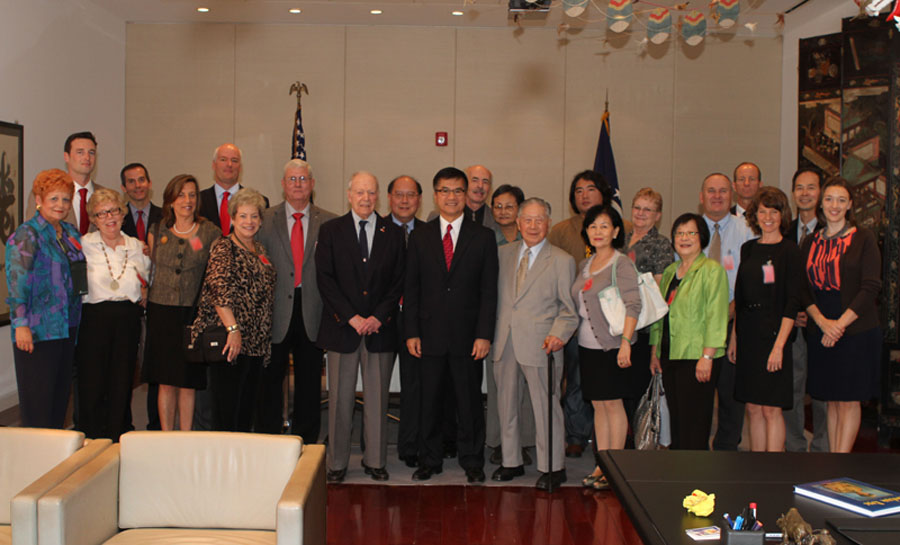 Click here for the big picture.

"Our Little Band of Travelers" in front of the American Embassy in Beijing after meeting with Ambassador Locke and Staff.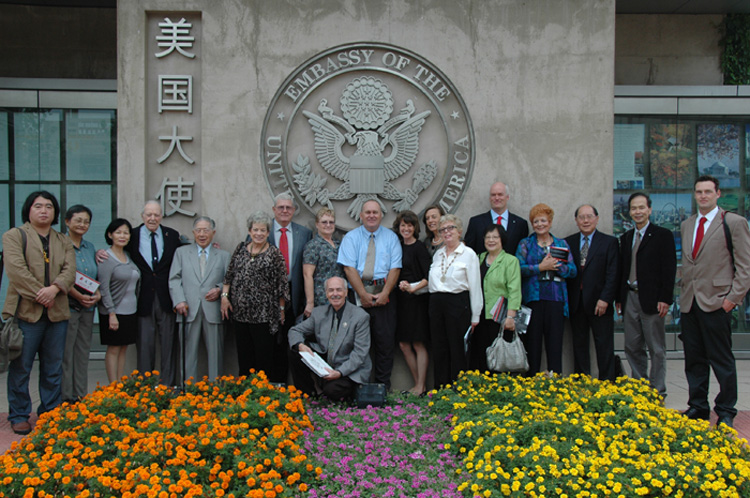 Here's the big version
---
September 12, 2012
---
September 13, 2012
---
September 14, 2012
---
We stayed at the Tibet Hotel Chengdu
---
September 16, 2012

Maybe this is the deeper reason why we lived on the bus yesterday (the 15th)

(from Rueters)
Police headed off a crowd of at least 2,000 protesters who were trying to charge the U.S. consulate in the southwestern city of Chengdu.
Protesters said they wanted the United States "to listen to their voices".
"Do you realize what the Japanese are doing? Why are you beating your fellow Chinese?"
Chengdu protesters shouted at the police after some of their number were roughed up.

Panda's Plus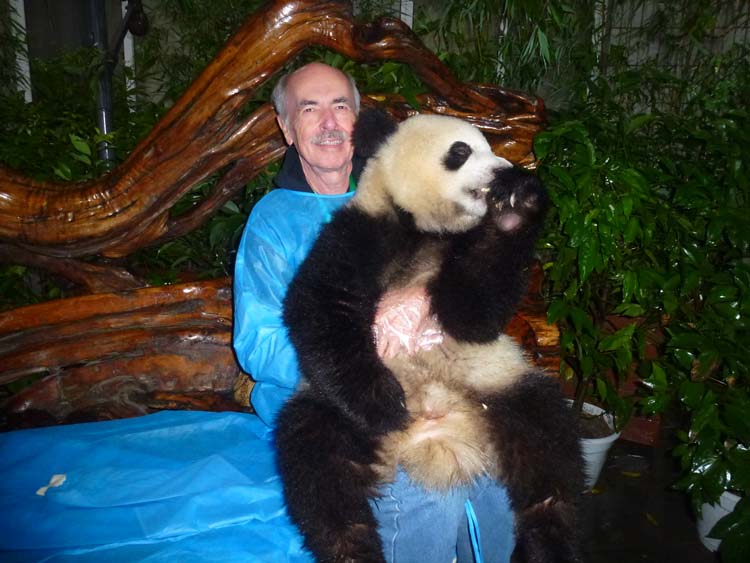 Tom's Panda

Watch Steve Loane with his Panda.

Jinli Old Town


---
September 17, 2012

Xijin Airport and Flight University of Chengdu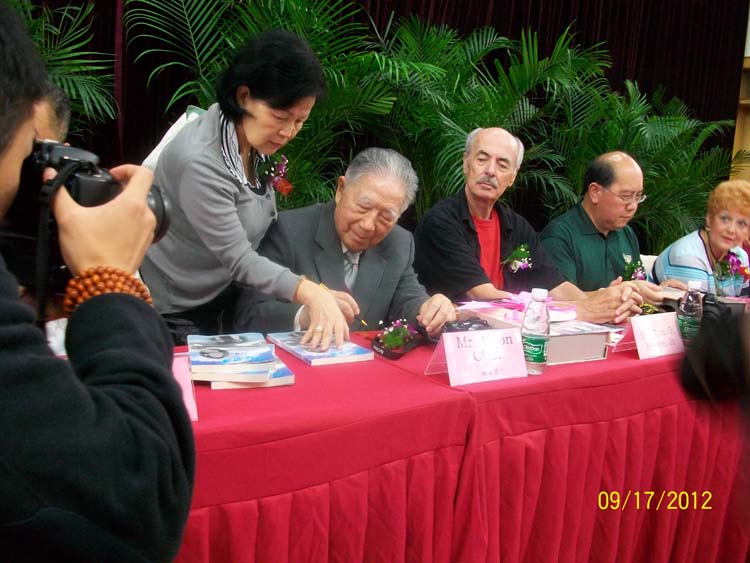 Flight University of Chengdu
Yuling Ho, Moon Chin, Tom Moore, Craig Chinn and Valerie Kendrick


September 18, 2012

Dujiangyan Irrigation System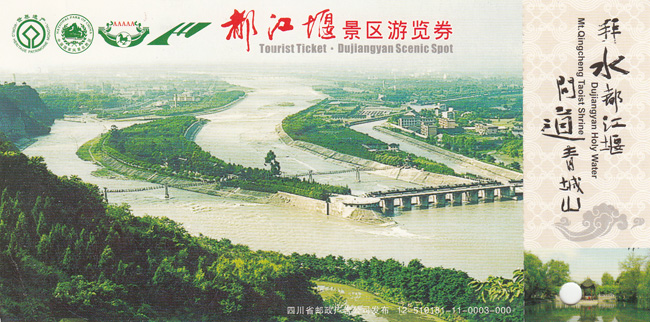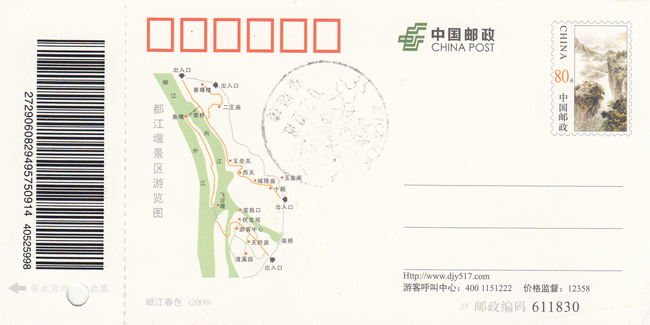 Meeting with the U.S. Consul General and Vice Counsul, Peter M. Haymond and P. Daniel O'Hara
at our hotel the Tibet Hotel Chengdu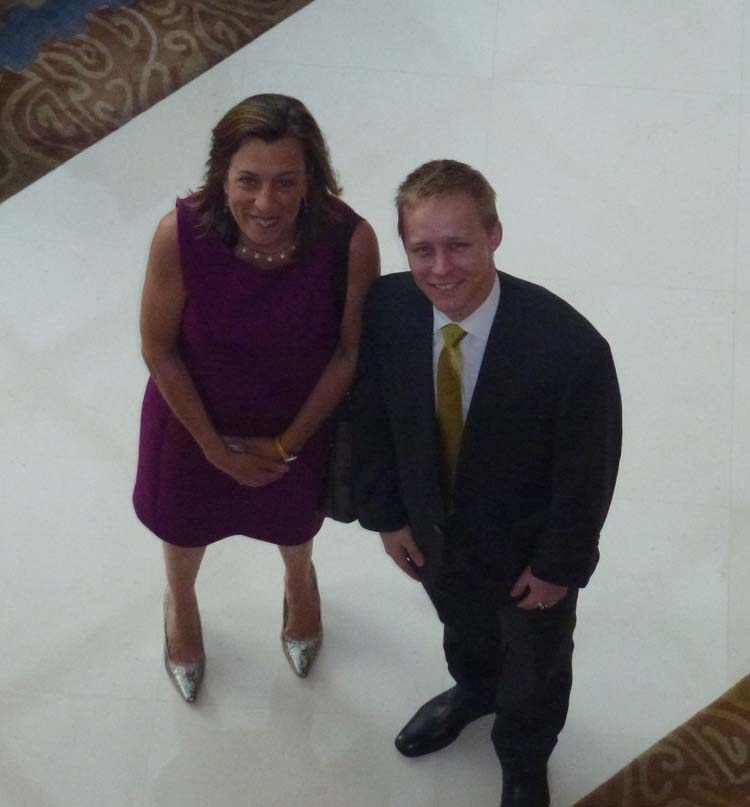 Eve Coulson and Dan O'Hara in the loby of our hotel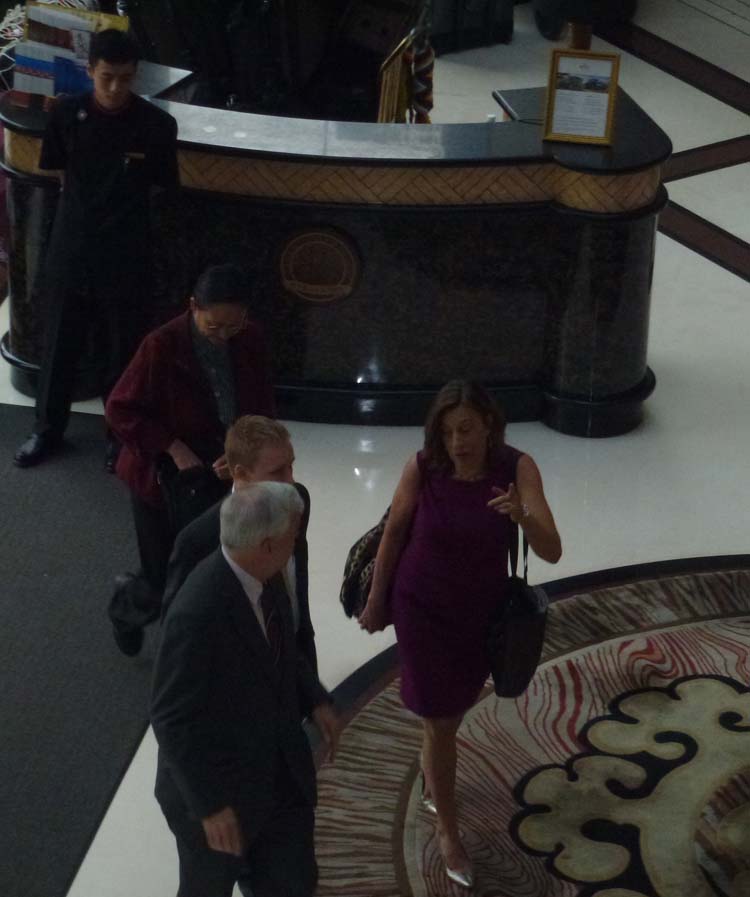 Peter Haymond, Dan O'Hara, Angie Chen and Eve Coulson


---
September 19, 2012
Ticket stub Chengdu to Shanghai (Pu Dong)
Stayed at the Shanghai Howard Johnson
Breakfast Voucher
---
September 20, 2012
Shanghai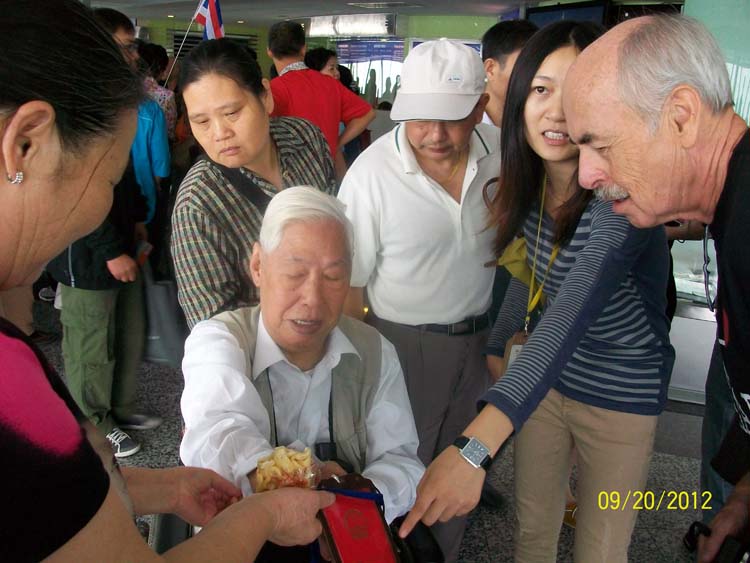 We met this WW II vet and his family; there were excited to meet us, too!
The vet was showing his arm injury - now missing part of the bone.
Our guide, Evie (blue and gray stripes) was translating for us.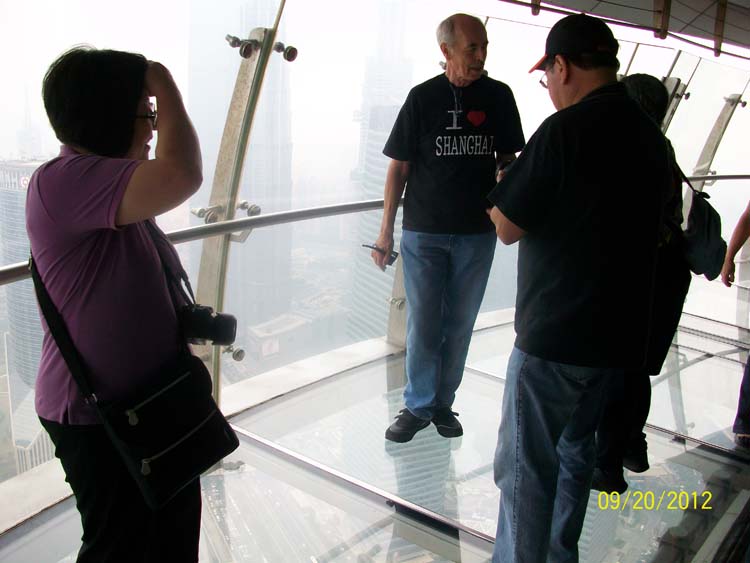 Up in that very tall tower from Olympic days.
Carol Chinn, Tom Moore and Craig Chinn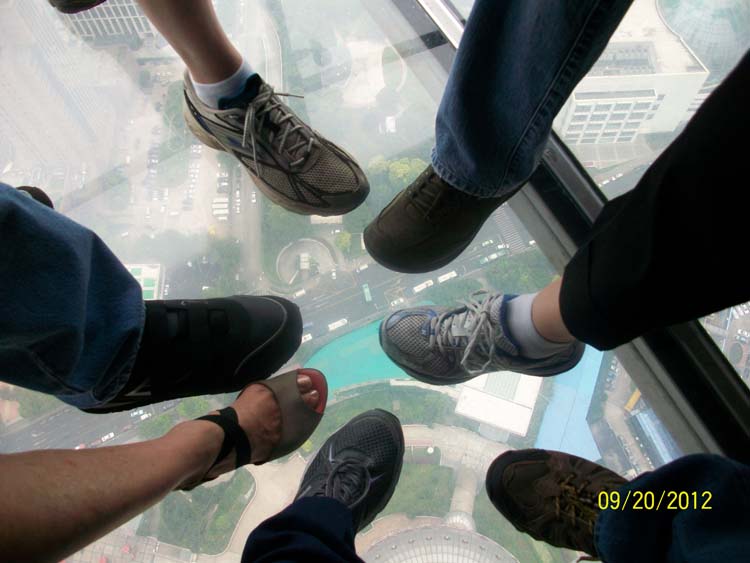 Can you name these shoe owners?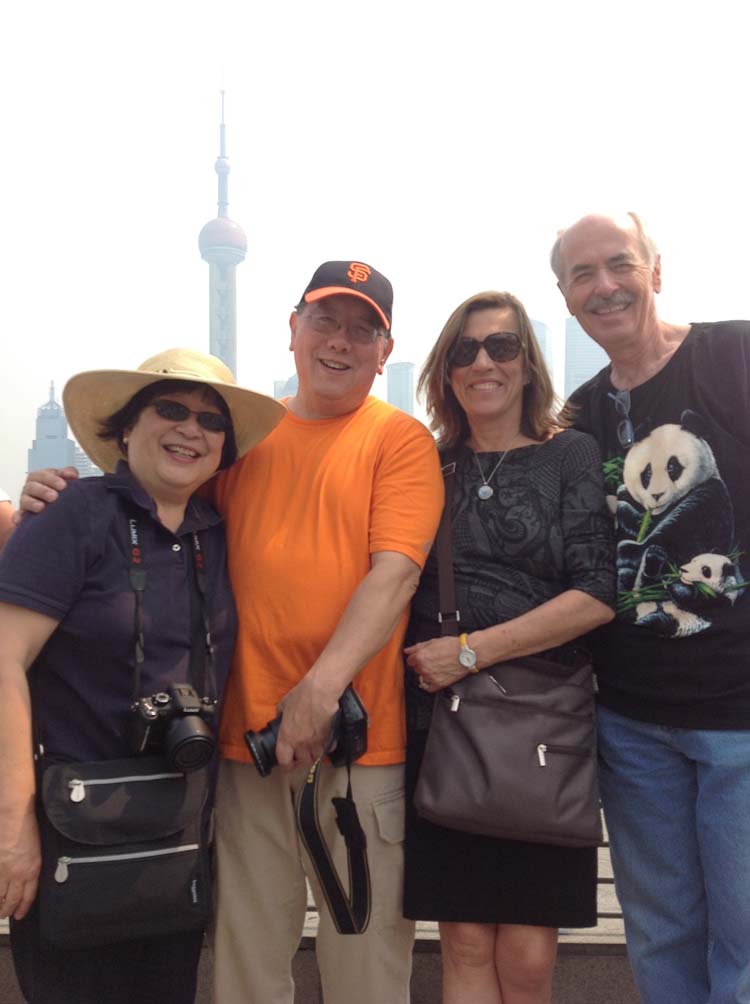 Carol, Craig, Eve and Tom
Having way too much fun on the Bund
Shanghai September 20, 2012

This evening, we all went to The Peninsula in Shanghai. What a treat!!!
A very big THANK YOU to Renee Robertson, Sir Michael David Kadoorie and all of the staff at The Peninsula,
including 张荣耀 Joseph W.Y. Chong, General Manager,
Cecilia Liu, Regional Director of Communications - China
and Katja Henke the Hotel Manager at the Peninsula.
Click here - to download the Peninsula video. It may take a couple of minutes


---
September 21, 2012
---
September 22, 2012
Heading Home
We need to remember to complete this Departure Card before getting into the return/security line, if we remember...

Menu for the long return flight

Moon to San Francisco (Hillsbrough), California
Peter to Moon's for a two day visit, then home to Connecticut
Craig and Carol to San Francisco, California
Miles to San Diego, California
Valerie to San Francisco (Willits), California
Tom to Palm Springs (Rancho Mirage) via Los Angeles, California
Eve to Princeton, New Jersey
Jeff and Carol ???, Utah
Alan and Susan to Porterville, California




If you want to share any information about this trip
or would like to be added to the CNAC e-mail distribution list,
please let the CNAC Web Editor, Tom Moore, know.
Thanks!