In the 1943-45 log book of Don McBride, Ken listed his address as:
3123 WENDOVER DRIVE
TOLEDO 6, OHIO

---
This letter was written by Bob Walkinshaw (14th Air Force),
regarding John Papajik.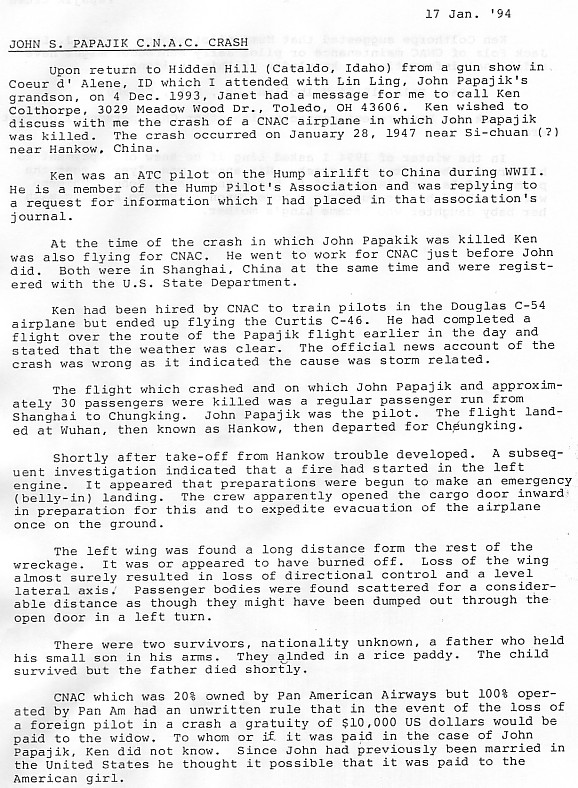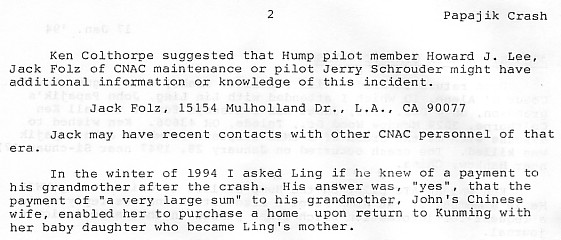 ---
March 4, 2004

Hello, my name is David Stong and Ken Colthorpe is my mother's uncle (guess that makes him my great uncle?). I just had dinner with him last Saturday (Feb 28, 2004) night and he asked me to look on the internet for information regarding CNAC and included a few names of people he knew. I have printed a few articles from your web site and will be sending it to Ken for his review. I would be glad to forward any messages or requests for contact information to Ken.

Regards,

David Stong


---
COLTHORPE
Kenneth G. "Ken or Kenny"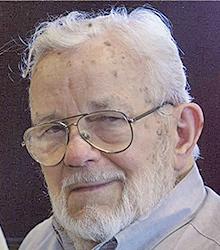 Ken Colthorpe, 93, born Toledo, March 2, 1922, died April 13, 2015, at his Swan Creek apartment.

At age 4 Kenny began helping his older brother by selling the Toledo Blade on Upton Ave. He became so adept at selling them and creating home delivery routes that the Blade awarded him with two trips to the 1933/4 Chicago World's Fair. While also successful in grocery and emergency oxygen delivery businesses, his real love and interests lay in flight. He graduated from DeVilbiss High School in 1940, majoring in aviation, but had already begun flying school at Metcalf Flight Services in 1939. By the early 1940's he was part owner of a 2 seat aircraft and was an active member of the Civilian Pilots Training Program (forerunner of Civil Air Patrol). During WWII he was a civilian flight instructor for the AAF, training hundreds of pilots in Lakeland, FL. He continued his own schooling, earning his commercial pilot license along with many ratings, including night flight, instrument, and multi engine. He was transferred to the Air Transport Command Ferrying Service and delivered hundreds of aircraft throughout the U.S. and Africa. This allowed him to fly everything from single engine L2s to four engine B17s, B24s, C47s, C54s and most everything in between.

In 1944 he married the new love of his life, Corrine Powell whom he had met in Toledo several years earlier. Later that year he was transferred to active duty as a Flight Officer and sent to India where he made 144 crossings and 2 aborts of the Himalayas (the HUMP) delivering high octane fuel to China for 14th AF bombing missions. After the war he returned to the U.S. via New York City, where he was met by Quentin Roosevelt and hired by the China National Aviation Corporation (CNAC). He returned to China as the youngest airline Captain and instructor flying 4 engine DC 4s. Corinne joined him in China and they lived in Shanghai and Hong Kong. Their son, Chris was born in Hong Kong. Ken made many of the airlines inaugural flights, including the Shanghai to San Francisco Trans-Pacific route which he flew a dozen times.

Upon returning to Toledo in 1950 Ken became co-owner and manager of the former Metcalf Flight Services. In 1952 he sold his ownership and was employed by Champion Spark Plug Co as Chief Pilot. He remained with Champion for 30 years, retiring as Senior Captain and Director of Travel Services. During his tenure with Champion, Ken earned numerous aircraft ratings, including jet ratings on the Falcon 20, and the Grumman Gulfstream II.

After retiring Ken and Corinne continued to travel extensively throughout the U.S., Europe, and returned once to Hong Kong.

In his life Ken went from news boy selling The Toledo Blade in West Toledo to a pilot flying for more than 21,000 hours, over 6 million miles, crossing over all 50 states, more than 50 countries, 5 continents, and 5 of the great oceans.

Ken was predeceased by his brothers, Sid Colthorpe and Don Venters. His beloved wife of 67 wonderful years, Corinne, departed in 2011.

Amongst others, Ken was a member of Sylvania Pyramid Lodge 289, Nobles of the Mystic Shrine - Zenobia Temple of Toledo, Aircraft Owners and Pilots Association - AOPA (a member of 71 years), WW II HUMP Pilots Association, the Aviation Old Timers, Good Bears of the World, the Air Force Association, the China National Aviation Corporation organization (CNAC), Quiet Birdmen - Toledo Hanger, and was active in the National Business Aviation Association (NBAA) for more than 30 years. Ken was a dedicated aviation mentor to many men and women. He was the driving force behind many individuals who became commercial pilots and/or successful in the many facets of the aviation industry.

- See more at: http://www.legacy.com/obituaries/toledoblade/obituary.aspx?pid=174668566#sthash.lETeUL3n.dpuf



If you would like to share any information about Kenneth Colthorpe
or would like to be added to the CNAC e-mail distribution list,
please let the CNAC Web Editor, Tom Moore, know.
Thanks!