From The Dragon's Wings by William Leary, "On January 28, (1947) John Papajik went down about 100 miles west of Hankow; 25 of the 26 persons on board died."

---
New York Times -- January 29, 1947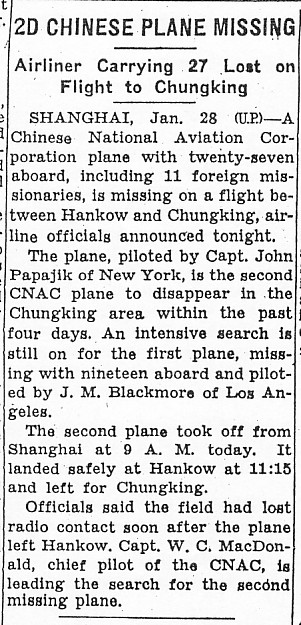 New York Times -- January 30, 1947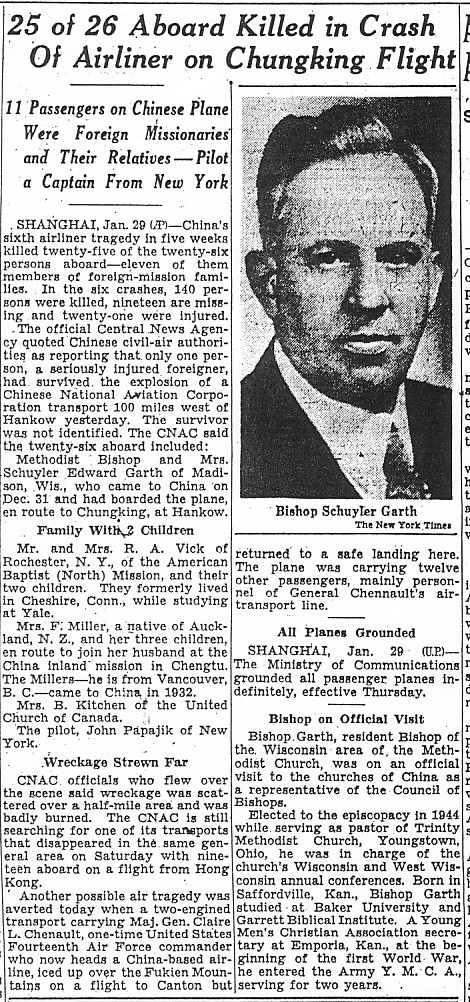 ---
From the jing bao JOURNAL April - May, 1993 (Official Publication of the Flying Tigers of the 14th Air Force Association, Inc.
"We need some 'proof' of Captain John Papajik's marriage in China on Sept. 7, 1945 and the birth of his daughter, Virginia, in Shanghai on Aug. 15, 1946.
John served with the 14th Air Transport and on his return to China for a second tour, with Hq. Flight Section.
How about Porky Petrone, Vince Forte and Ed Cahill? Can any of you help?"

---
July 11, 2001
The following information comes from Gaylord Hall, a member of the 14TH Transport /322 Troop Carrier which was a courior for the 14th Air Force Headquarters having responsibility for the planes of General Chennault and Chiang Kai-shek. John Papajik was in this same outfit. After the War, John went to work for CNAC. After John's death his wife, Aloise, and young daughter, Virginia, moved back to Kunming to be with John's mother-in-law. John's daughter, Virginia, came to the U.S. about 3 years ago. With the help of John Papajik's former comrades of the 14th, Virginia got her U.S. Citizenship. Senator Stevens (Alaska), another member of the 14th squadron, assisted in this effort. The eldest of two grandsons of John Papajik arrived in the U.S. and completed upper level college work in Montana. The younger one came over about two years later. The three of them were at the 14th Air Force Reunion two years ago and they were all happy. Unfortunately, in December 1999, Virginia died.

---
Update!
July 12, 2001
"Tom

Lin Ling (oldest) and Lin Qiao live in Portland, Oregon. Robert Walkinshaw, a squadron member who keeps our sqd. records, was able to get Ling into college in Montana. Ling's earlier Chinese school work was in engineering I believe.

Other contacts that knew Virginia Papajik are Michael Kan, Cypress, CA and Kay Chin, Fort Walton Beach, FL, a medic that was assigned to the 322 Trp Car. Sqd., after the surrender. There was an exhibit in a Kunming museum of some type that had a display of Papajik and his wife with story about 2 years ago. I think both Kay and Michael were there and saw it.

This has brought back some memories but I don't recall all the detail. I first met Virginia in Kunming in 1991. We had an excursion trip on the lake and had invited her and Qiao to join us.

(During the War) At Kunming we had the parking lot next to CNAC across the runway from the tower, the end of the runway with the village and start of the hills. A couple of the Chinese mechanics from CNAC would earn a little extra money helping us mechanic on some of the dirty jobs. Whenever we could we would eat at the CNAC flight kitchen (open 24 hours) and better food then we had at our mess hall in hostel 4.

Gaylord Hall
329 Coral Drive
Fort Walton Beach, FL 32548"

---
The following documents and photos were sent to me by Bob Walkinshaw.
Bob served with John Papajik in the 14th Air Force.
Thank you Bob.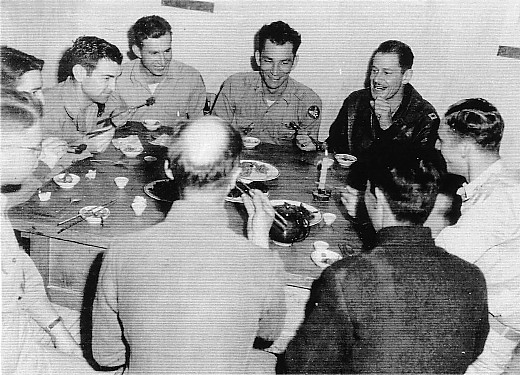 China - 1944
Back - Faces showing, L-R
Harry Odle, John Papajik, "Skippy" North(?), Richard Borgfeldt
Others unknown
(Photo from Hal Greenblatt)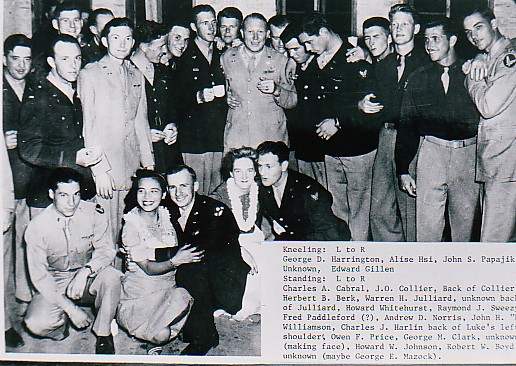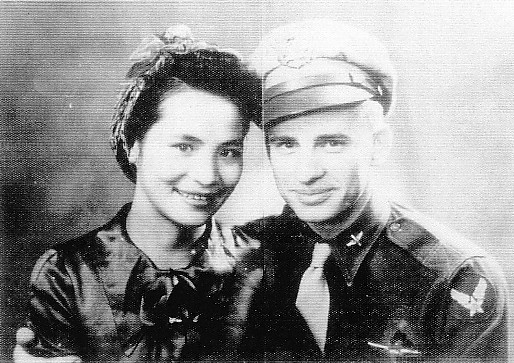 Aloise and John Papajik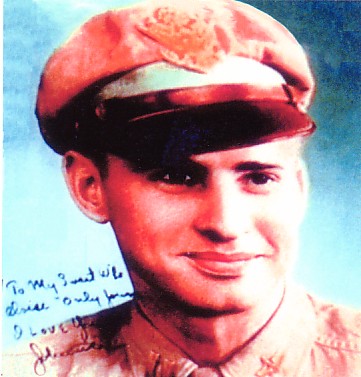 Captain Papajik - 1945(?)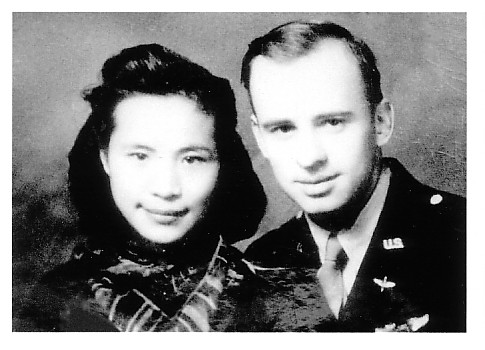 Aloise and John Papajik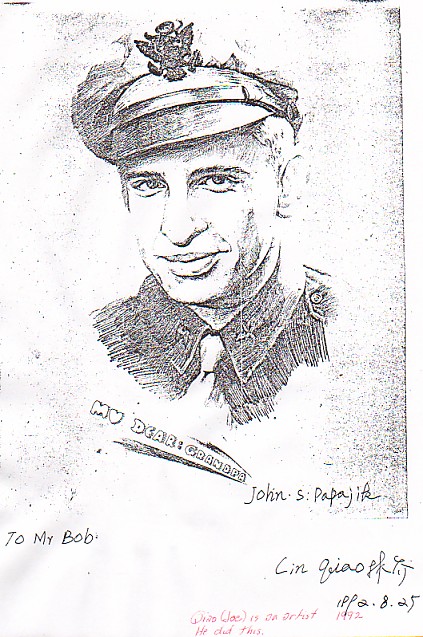 Sketch of John Papajik done by his grandson, Qiao (Joe) Lin.

The following article is starting to be overcome by additional events,
but we wanted to include it for it's historical background on the Papajik family.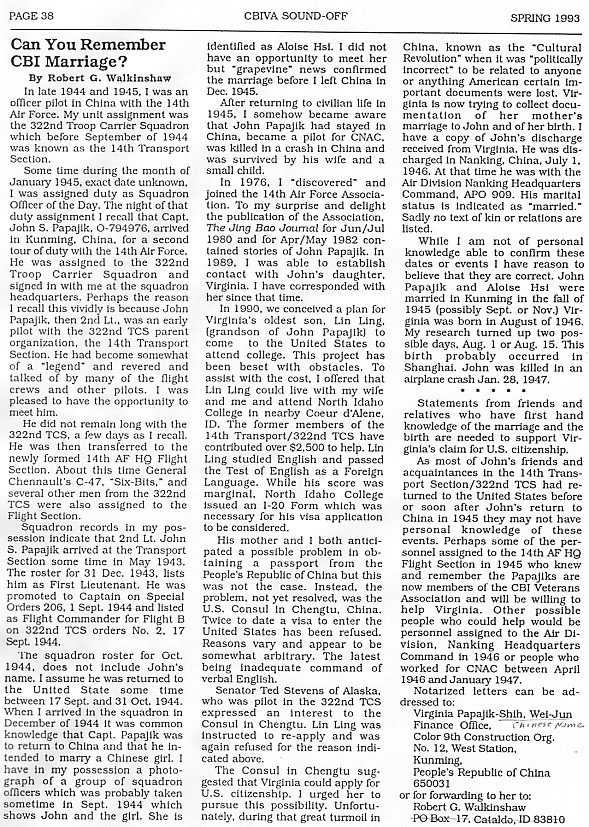 This letter was written by Bob Walkinshaw.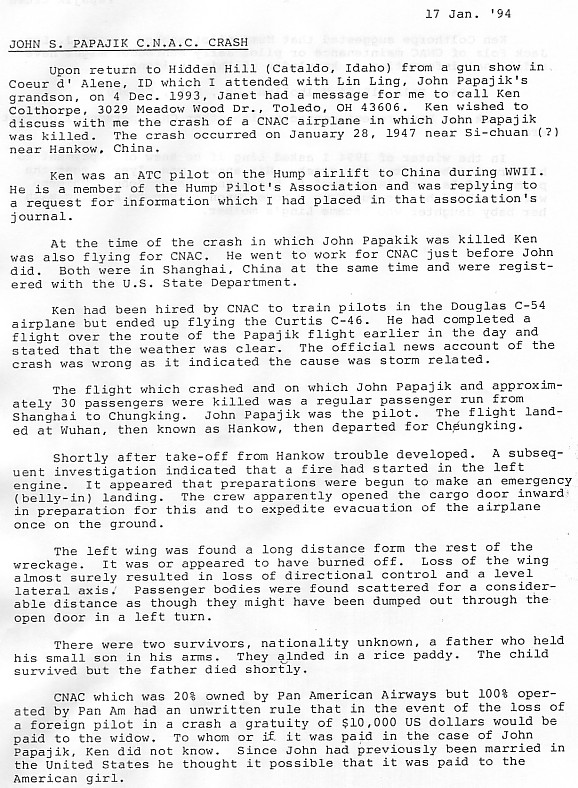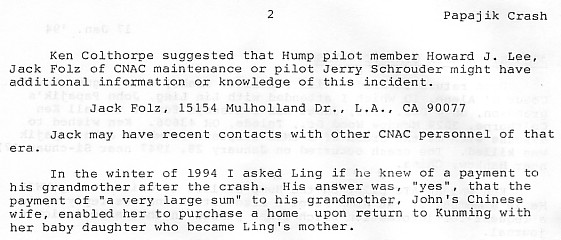 If you would like to share any information on John Papajik
or would like to be added to the CNAC e-mail distribution list,
please let the CNAC Web Editor, Tom Moore, know.
Thanks!