V. EDWARD SMITH (1900-1970)
"Eddie"
(CNAC August 1931? - 1937?)
(Captain - ???)


Eddie was one of the original Loening pilots.



From "Wings Over Asia" Volume IV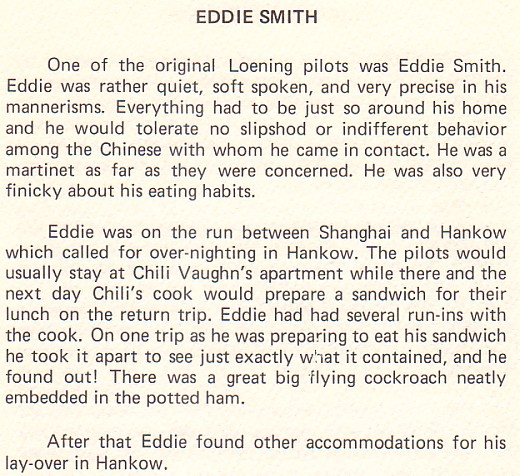 From Gene Banning's notes of 8/31/00:
Believed Eddie to have left CNAC after the fall of Shanghai, 1937? Flew S-43 in the Spring of 1937.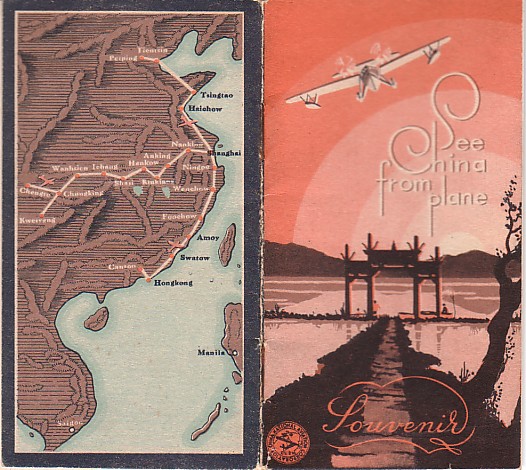 This is the front and back of a small booklet that was given CNAC passengers in the 1930s.
The booklet has many pages to it, so click here to see the entire booklet.
(Booklet Courtesy of Peggy McCleskey)




Captain V. E. Smith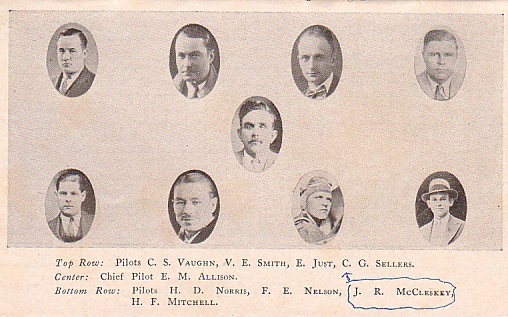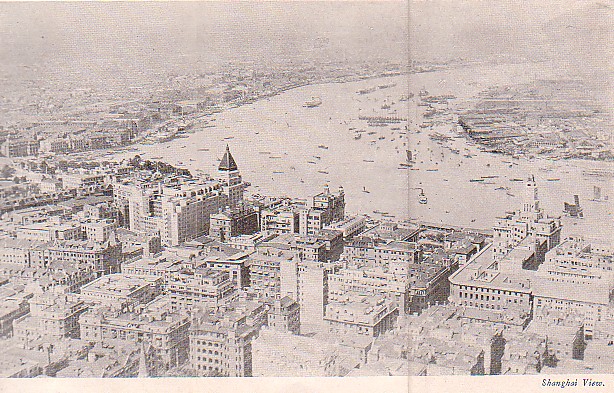 ---
See Wings for an Embattled China by W. Langhorne Bond, page 135.

---
Flash!

January 1, 2003

Just received the following e-mail from Eddie Smith's grandson:

Good Morning,

I am V.E. Smith "Eddie's" grandson and have just discovered your CNAC site. It is very impressive. I have some pictures that my grandfather took while living in China that show all of the aircraft that you mention as well as immediately following the Japanese invasion of mainland China. Some of them are very graphic. I am trying to preserve them by scanning into the computer and writing them to CDs.

I did not know my grandfather very well. He lived in Little Rock, AR until his death in 1970. He started a company in 1953 (while living in Los Angeles) that manufactures Tap Magic brand cutting fluids. He moved it to Little Rock in 1957 to facilitate shipping from a central location. The story goes that he took out his calipers and determined where the most central place in the US was and called an old pilot friend from Little Rock (Louis Rosen) to find him a building. I now run that company (The Steco Corporation) and we sell his original invention worldwide.

I would be happy to send you some of the pictures on CD that I have already preserved. Many of them are absolutely perfect even after all these years. There are literally thousands of photos and he was quite a photographer, so I suspect that you could use many.

Let me know where to send them and I will be happy to do so.

Michael P. Smith (personal e-mail address mpsmith@tapmagic.com
The Steco Corporation (Smith Tool and Engineering Company)
P.O. Box 2238
2330 Cantrell Road
Little Rock, AR 72203
501-375-5644
800-643-8026

I got the CD, Thank you very much Michael.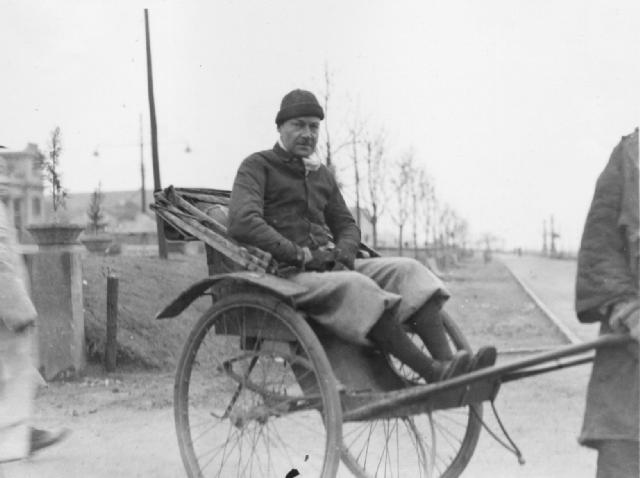 Eddie Smith
(Photo Courtesy of Michael Smith)




If you would like to share any information about V. Edward Smith
or would like to be added to the CNAC e-mail distribution list,
please let the CNAC Web Editor, Tom Moore, know.
Thanks!



Background music to this
page can be controlled here.
"Keep Your Sunny Side Up"