January 29, 2010

Hello Tom,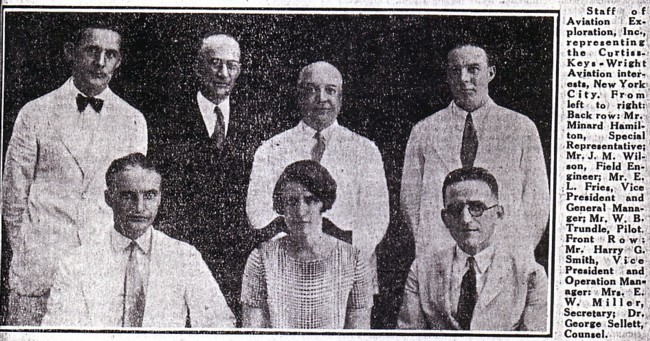 left to right, back row
Minard Hamilton, J.M. Wilson, E.L Fries and W.B. Trundle
front row
Harry G. Smith, Mrs. E.W. Miller and Dr. George Sellett


I think I gave you the article that accompanies the photo (Randall Gould, "China Spreads Her Wings," China Weekly Review, 31 August 1929, pp. 9-10) – it includes an interview with the "jovial Kentuckian." If it's gone astray, please let me know and I can send a scan.

Edward Louis Fries was born 6 April 1874 in Louisville, KY, and was married to L. Maude Booth. He served as accountant for railway companies until he became involved in the aviation industry.

In spring 1929, the Chinese government's involvement in air transportation began when it signed a contract with Aviation Exploration Inc. and Curtiss-Robertson Airplanes. Edward L. Fries was dispatched to China as the representative of Clement Melville Keys, president of the Curtiss company. He sailed from Los Angeles on 8 July 1929 and arrived in Shanghai on 5 August. Fries was a passenger on CNAC's inaugural flight, 21 October 1929.

Edward Louis Fries died on 2 January 1953, in Los Angeles


---

China Weekly Review, 10 August 1929, p. 496

CURTISS REPRESENTATIVES ARRIVE IN SHANGHAI

Mr E.L. Fries, vice-president of Aviation Exploration Inc., and personal representative of Mr. C.M. Keys, president of the Curtiss-Robertson Airplane Company, arrived in Shanghai this week, to assume charge of the development of aviation service in China. Accompanying Mr. Fries was Mr. M. Hamilton, also of the Aviation Exploration.

By the middle of September, Mr. Fries said, the Curtiss company will have ten planes in China. There are already are four here; those brought over by Major Robertson and his party when they came here last spring to secure their contract with the National Government. Within a month, a half dozen more machines will be landed in Shanghai. All of the machines will be amphibians and among them will be several Loening planes. They are all planned for use in air mail service. Mr. Fries said the craft for use as passenger carriers will not arrive for some time yet. When the planes arrive, they will assist in facilitating the operation of the program for the development of Chinese aviation, as arranged between the Aviation Exploration Inc., and the Ministry of Communications. The original contract was signed for the Americans by Major E.F. Robertson, representing the Curtiss-Robertson Airplane Co., St. Louis, Mo, as well as Aviation Exploration Inc., and for the Chinese by Sun Fo, Minister of Railways.

Patti (Gully)


---

October 11, 1929 from State Deptartment files.
Subject: CNAC
Information on airline from discussion of executives to number of planes, history. Harry Smith to be operations manager. Mentions airline from Nanking run by Wang Peh-chun who intends to run opium. Said he planned to make first trip to Hankow today but weather turned bad. Mentions employee named Henderson. Henderson gets $700 a month, other employee $600. CNAC pilots $500.

Conversation with Fries talks about no landing fields provided as stipulated in contract. Written by John Marauder, general staff military attaché.



If you would like to share any information about Edward Louis Fries
or would like to be added to CNAC's e-mail distribution list,
please let the CNAC Web Editor, Tom Moore know.
Thanks!