November 20, 2000 -- Bart provided the following information and photo.

"CNAC C-46 #114 fully loaded taking off from Dinjan for trip across the Hump to Kunming. Just before lift-off the right engine quit and the propeller would not feather. Kept the airplane flying for about eight minutes but co-pilot Charlie Sullivan could not re-start the engine or feather the prop. Never got over 100 feet altitude. Left engine overheated so we made a wheels-up landing in a rice paddy. We waded out of the paddy and started walking through the jungle. Came to a path and found the mahout (The keeper and driver of an elephant.) with his elephant and paid him to take us back to the plane to retrieve our gear. Plane was eventually flown out of the paddy.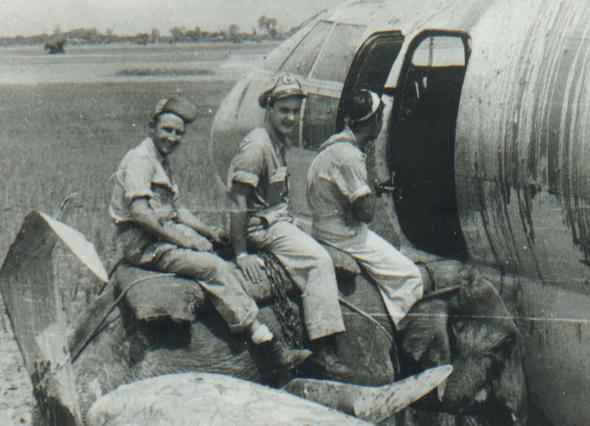 Charlie Sullivan, Bart Hahn and mahout (elephant driver to you).
Photo was taken by the Chinese radio operator.
August 9, 1945
(Photo Courtesy of Bart Hahn)
---
November 20, 2000 -- Bart sent the following bio:



THE SOCIETY OF FORMER SPECIAL AGENTS HISTORY BOOK


Barton N. Hahn, born January 30, 1920, in Peru, Indiana. Graduated 1941 from Ball State University, Muncie, IN. Served 1942 to 1944 in the Air Transport Command as pilot and instrument flight instructor. 1945 and 1946 flew as captain for China National Aviation Corporation in China and India. Awarded Distinguished Flying Cross, Air Medal, Asiatic Theater Medal and Victory Medal.

Entered F.B.I. in March, 1948, and served as Special Agent in Miami, Baltimore, Boston and Indianapolis, resigned in 1955. May be the only new agent who on first day on duty engaged in car and foot chase resulting in the apprehension of a wanted fugitive.

Since 1956 have resided in Martinsville, IN, conducting an accounting business and developing real estate and shipping center. Ten years on bank board of directors. First wife Irene deceased 1986. Present wife Shirley, daughter Teresa, son Jefffrey, four grandsons.


---
November 22, 2008

Dear Tom,

Just wanted to let you know that Barton Hahn passed away on September 27, 2008. I am including his obituary for you in case you're interested.

Thank you so much for your website. I enjoyed seeing the pictures of Bart - especially the one of him on the elephant!

Sincerely,

Lisa Christman Shireman
(Bart's Daughter's Niece)

Barton Hahn, 88
JAN. 30, 1920 - SEPT. 27, 2008

Barton N. "Bart" Hahn, 88, Martinsville, died Sept. 27, 2008, at Methodist Hospital in Indianapolis.

Born Jan. 30, 1920, in Peru, he was the son of the late Herbert and Ninetta (Robison) Hahn.

He married Irene V. (Freymark) Hahn on Oct. 2, 1941. She died Nov. 9, 1986.

He married Shirley (Goss) Albertson Hahn on June 3, 1989 and she survives in Martinsville.

He was a self-employed real estate manager and co-owner of the Martinsville Plaza Shopping Center. He was a member of the First Christian Church in Martinsville.

He was a graduate of Muncie Central High School and received a Bachelor's degree in Business Administration from Ball State University.

After graduating from Ball State, he went into the Army Air Corps Transport Command during World War II. He was an instructor for the Air Transport Command from 1943 to 1945, teaching pilots to fly on instruments at Romulus Air Force Base near Detroit. He then became a pilot for the Chinese Airline, where he flew several dangerous missions transporting supplies from India to China during World War II. About half of the airline crew was lost in crashes due to bad weather. The Army gave him permission to become a pilot for the Chinese Airline.

After returning from China in 1946, he worked for seven years as a Federal Bureau of Investigation agent stationed in Washington, D.C., Miami, Baltimore, Boston and Indianapolis. During that time, he was a special agent investigating crimes. He was transferred from Indianapolis to Gary, but didn't want to rear a family in that area, so he resigned from the Bureau and moved to Martinsville in 1956.

He was a member of the Martinsville Elks Club, American Legion Post 230 and the former Special Agents Society.

Other survivors include a son, Jeff Hahn of Fort Wayne; a daughter, Teresa Carpenter of Martinsville; a sister, Odessa DeHaven of Albany; four grandsons, Christopher and David Hahn and Aaron and Tom Carpenter; and five great-grandchildren.

He was preceded in death by a brother, Herbert D. Hahn.

The service will be 10 a.m. Wednesday at Costin Funeral Chapel in Martinsville.

Visiting hours will be 4 to 8 p.m. Tuesday and 9 to 10 a.m. Wednesday in the funeral chapel.

Burial will be in Nebo Memorial Park Cemetery in Martinsville. There will be a military service at the graveside.



If you would like to share any information about Bart Hahn
or would like to be added to the CNAC e-mail distribution list,
please let the CNAC Web Editor, Tom Moore, know.
Thanks!