CHARLES E. SULLIVAN (19?? - 1974)
"Charlie"
(Pilot)
(CNAC 194? - 194?)


In the 1943-45 log book of Don McBride, Charlie listed his home address as:


Charles E. Sullivan
830 North 23rd Street
Paducah Kentucky
---
November 20, 2000 -- Bart Hahn provided the following information and photo.

"CNAC C-46 #114 fully loaded taking off from Dinjan for trip across the Hump to Kunming. Just before lift-off the right engine quit and the propeller would not feather. Kept the airplane flying for about eight minutes but co-pilot Charlie Sullivan could not re-start the engine or feather the prop. Never got over 100 feet altitude. Left engine overheated so we made a wheels-up landing in a rice paddy. We waded out of the paddy and started walking through the jungle. Came to a path and found the mahout (The keeper and driver of an elephant.) with his elephant and paid him to take us back to the plane to retrieve our gear. Plane was eventually flown out of the paddy.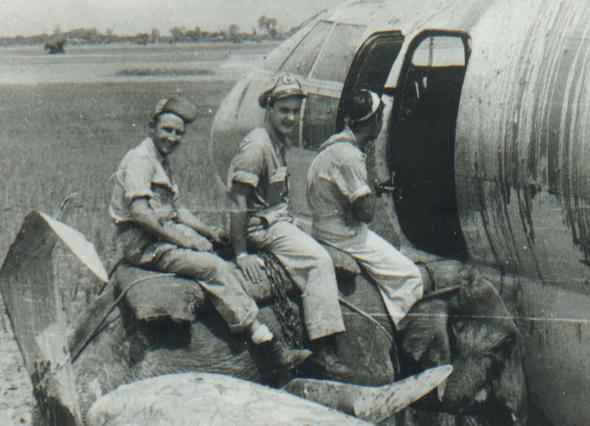 Charlie Sullivan, Bart Hahn and mahout.
Photo was taken by the Chinese radio operator.
August 9, 1945
(Photo Courtesy of Bart Hahn)




If you would like to share any information about Charles Sullivan
or would like to be added to the CNAC e-mail distribution list,
please let the CNAC Web Editor know.
Thanks!



Background music to this
page can be controlled here.
"Tuxedo Junction"