In the 1943-45 log book of Don McBride, Hank gave his address as:


Henry A. Smith "Hank"
Park Chambers Hotel 58 & 6th
N.Y., N.Y.
---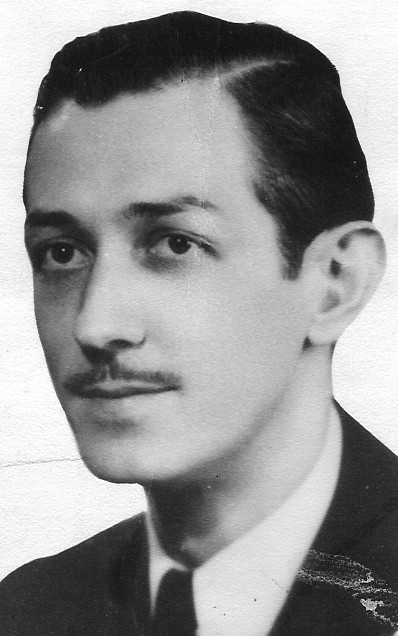 Henry Smith
(Courtesy of Henry Smith's daughter Pat Ross)
---

Henry or "Hank" Smith was checked out July 15, 1943, and came from the RCAF.

---
February 3, 2003
Received the following from a good friend of Hank's.

Great Site! I was a good friend with Capt Hank Smith, CNAC pilot. He had quite a number of friends who loved to hear his stories every friday night at a local pub in Denver. We put together quite a celebration on his 85th birthday, Brig Gen Steve Ritchie, Vietnam's leading AF pilot ace presented Hank with the DFC and Air Medal that was authorized CNAC veterans. Capt Hank gave me some CNAC pins that I will treasure forever. The accomplishments of CNAC are legendary and I am glad that the story is finally being told. We also put on a Fly-in at a local airport to honor him and three other CBI fliers. He passed away in 1999. He was a great gentlemen and we miss him terribly.

Bob Resling bobresling@hotmail.com
Colorado

---
February 22, 2003
Hi Tom,

Another pilot you wanted to know about; Hank Smith.

I met Hank when he joined CNAC around mid 43. Hank emerged from the town of Tenafly, N.J. He was a professional Bar Tender (New York Licensed). I don't know where he picked up his flying. He did do some ferry work for the Canadian AirForce before joining CNAK.
Hank always regarded himself as a "card-Sharp". His pet phrase was; "just happen to have a deck!". He and a few other cnak "card sharps" were always playing gin rummy.

End of the war; he, Eddie Quin and Jimmie (one leg) Muff formed an airline in India called JamAir (freight) in Calcutta. Eddie and Jim squeezed Hank out of the deal.

Hank then went to work for an outfit in Bombay called Indamer Airlines, and flew overseas to Egypt and Africa. I used to see him in Bombay once in awhile in 1948.

In the late fifties he showed up in Beirut, Lebanon while I was there and stayed with me. He had tried flying for IranAir, but soemthing went wrong. I then ran into Hank in NY. He was now bartending in a pub on 57th St. near the Henry Hudson Hotel. Same old Hank; always laughing and "happen to have a deck". Hank then wound up in Miami and bar tended at a place called the "Palm Court". I was then flying for National Airlines. This is before Beirut days. Early fifties. He then got married to as nice gal called Ann who already ahd a couple of kids. They were a good match. Ann was a nurse. I think they had a couple more kids, and I became a "God Father" to one of them.

Years later when I was with FAA in Rome, Italy, I was doing some checking at the Rome (Leonardo DeVincie) Airport, and who came through customs, Hank Smith!! He had been trying to get a flying job with an American company that were flying DC-3s for Libya oil co. Too Old! He loved flying but just couldn't get off the ground. I tried twisting his arm to join the FAA in General Aviation Section. He wouldn't go for it. Hank would have been a good one. Again, he stayed a couple of weeks with me in Rome then headed back to NY.

Later, I found out he had moved back to Miami. His wife Ann had died there. The kids were grown up and were living in Ft. Collins, Colorado about hundred miles north of Denver. I met him there once when I took my daughter to a dude, horse ranch for a week in Laramie, WY. He then moved down to Aurora (Denver area). While doing a lot of FAA work with United Airlines in Denver, I stopped often to see Hank. He was always. at the kitchen table playing solitaire. I introduced him to one of the UAL B-727 insturctor pilots (Don LeBeau). They became friends and Don would let Hank fly the 727 simulator. Don kept me updated on Hank. Hank was most excited that he was able to fly the 727 sim. He sent me letters and and XMAS cards giving me details of his flying.

It was Don LeBeau that informed me that Hank had died.

Yes, Hank told me he had his medals pinned on by a general. Most befitting for my old CNAK friend that "just happened to have a deck".

Pete (Captain Peter Goutierre)


---
and more from Bob Resling, July 21, 2004

Tom:

I have been in contact with Pat Ross and other members of Hank Smith's family. I told them that I did not see any resemblance between the man pictured fourth from the left in the group picture. Other pictures I received had a strong resemblance. I promised to send them pictures and articles about Hank. Hank was a very popular character in Aurora, CO in his last years. His Dinstinguished Flying Cross and Air Medal were presented by General Steve Ritchie, the leading AF ace from Vietnam. The local paper ran a very nice story.

I love your website. The history of the CNAC is a certainly colorful. We used to listen to Hank's tales of his flying out of Kumming, Calcutta, Dinjon, etc. for hours. He had many friends and we honored him annually at his birthday party. Many of the celebrations were at local airports where fly-in events were arranged in his honor. One year we flew him and three other veterans from the China Burma India theater into the airport in a Learjet.

Keep up the good work in telling the story of the CNAC. Very few know of the exploits of these brave young fliers and the contributions they made during WWII.

Regards,

Bob Resling
Denver, CO



If you would like to share any information concerning Henry "Hank" Smith
or would like to be added to the CNAC e-mail distribution list,
please let the CNAC Web Editor know.
Thanks!