There was an Eddie Quinn who was radio operator to Capt. Genovese, We Flew Without Guns page 165. Later on page 180, Genovese refers to "my Chinese co-pilot, Eddie Quinn."

On John Kenehan's list of pilots Eddie Quin is listed as being checked out on 7/14/1944.

From Gene Banning's list of 8/31/00:

(Ed: Gene spells the name "Quinn)
"... stayed in India and formed own line; reportedly kept records of CNAC operations."

---
August 26, 2005
OK, now I really need your help.
I was going through a copy of the 1943-45 log book of Don McBride and found the following two entries: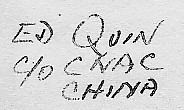 and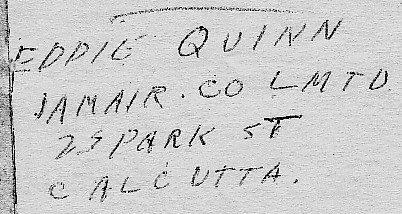 If any of you reading this note can help identify these two, please let me hear from you. Your help is greatly appreciated.
Thanks,

Tom Moore
E-mail pepperbud@pobox.com

---
August 27, 2005

Hi Tom:

I don't know if my sister Nancy has answered you back yet concerning Eddie Quinn (Quin), but I'd say it's the same person. My mother has always maintained that my dad's partner, Eddie Quinn, was half Chinese and that he spelled his name both ways, "Quinn" and "Quin." So, although I suppose there could have been another fellow named Ed Quin, my guess is that Ed Quin and Eddie Quinn are the same guy.

Thank you,

Janet Muff

AND LATER THE SAME DAY...
(working...)

February 5, 2001
I received the following photo and e-mail from Nancy Muff Ryba, daughter of J.B. Muff.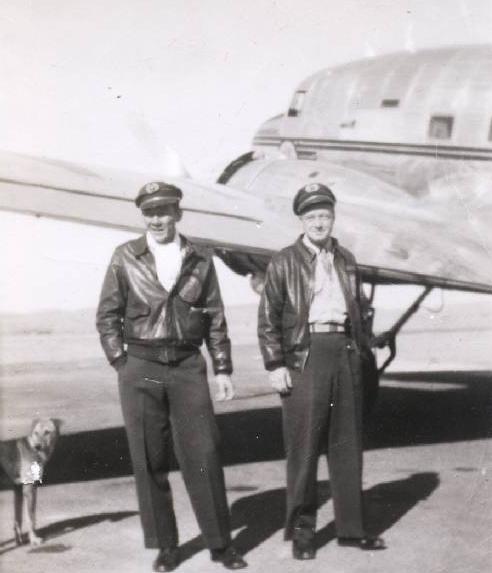 Eddie Quin and JB Muff
The picture was taken with one of their Jamair planes,
but I am not sure if it was taken in Jamnagar, Bombay,
or Calcutta. Could have been almost anywhere!
(Photo Courtesy of Nancy Muff Ryba)


My dad was born in 1916 in Minot, North Dakota and died in Calcutta, India in 1977. He was a member of CNAC by the time he married my mother in 1944, and before that he had worked for Pan Am in Africa. According to my mother's letters to her parents during those years, he left CNAC in 1946 along with Eddie Quin, the pilot listed as "Australian" on the CNAC web page. Eddie, my father, Henry "Hank" Smith (pilot), Les Ellsworth? (CNAC purchasing agent?), and Kiwi Mueller (another CNAC employee) left CNAC to form an airline company with the Maharaja of Nawanagar - his palace was in Jamnagar, India. In late 1946 Hank, Les and Kiwi left the company and Eddie Quin and my father continued the airline. They eventually bought out the Maharaja and moved the company headquarters to Calcutta. My parents separated in 1957 when my mother, older sister, younger brother and I moved back to the US. By the time my father died, the Indian government had taken over many of the most profitable routes that Jamair Company flew and were in the process of nationalizing the airline.

According to my mother, Eddie Quin was anglo-Chinese (his mother was Chinese and he was born in China), but is unsure of his father's nationality. He met my father while flying for CNAC, and both he and his wife, Betsy Anderson, became close friends of my parents. My mother believes that Betsy's sister lived in Australia, but does not remember if that is where Betsy grew up.

My parents were also friends with "Jock" Goldie from Scotland and Frank Gifford, from Australia, both of whom she thought were members of CNAC. Robert Moss ("Moose") was another early CNAC friend who left India and moved to Doe Run, Georgia.

Nancy
E-mail bearaly@earthlink.net

---
September 28, 2005 - Here are some pictures from JB's daughter Janet Muff. Thanks Janet, Tom.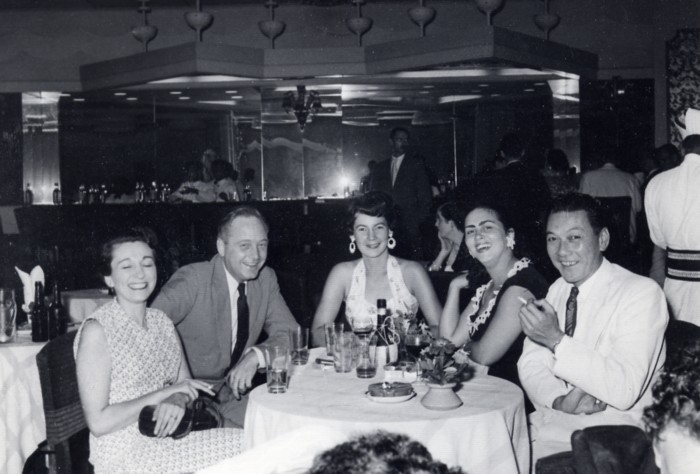 (from left to right), taken, I believe at the Outram Club in Calcutta (photo dated 2 Sep 1956)
Fette Muff, James B. Muff, Betsey Quin, unknown, and Eddie Quin.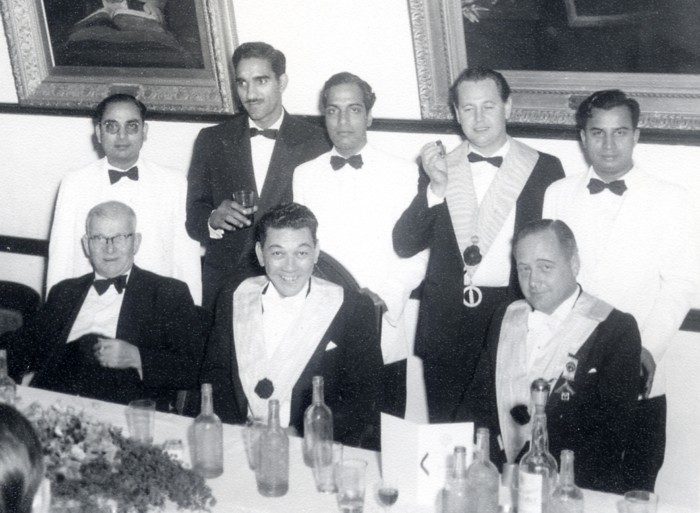 Taken at Eddie's "investiture" or whatever it's called as Grand Master of the Masonic Lodge in Calcutta (photo dated Feb. 1957).
I believe Eddie followed my dad's tenure in this position. (Eddie is seated in the center and JB on the right.
Not sure who the other people are in the photo.)
---
February 6, 2006

Hello Tom,

I thought you might be like to share some info' I have on Jamair, founded by Eddie Quinn and James Muff.

This has come about through my interest in Indian Airlines and my friend Capt Vijay Fernandez who used to fly for Jamair. He now flies for Air India and I used to work for AI at London-Heathrow between 1971 and 1982, though we don't recall coming across each other in those days. We got together a year or two back after he saw my feature article on Air India's history in the UK aviation magazine "Aviation News". Since then we have become firm friends, I gather he also knows Peter Goutiere.

Anyway, here is the data plus a photo of a Jamair DC-3.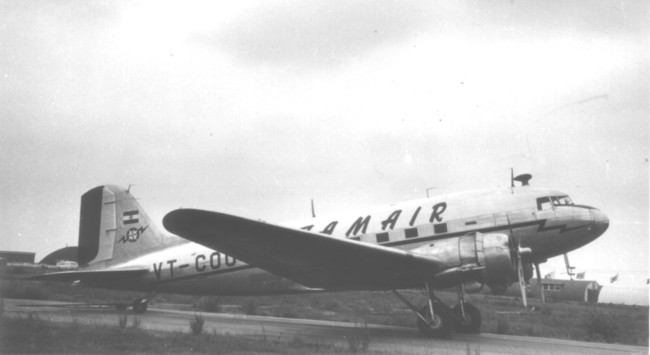 Formed circa 1946 by James B Muff, former Chief Engineer, CNAC and US-Chinese CNAC radio op/pilot, Eddie Quin(n) backed by Maharajah Jam Sahib Nawanagar of Jamnagar (DC-3 VT-CEI registered to the Maharajah 4.46). Later they bought out the Maharajah's interests and moved based to CCU in 1948. Operated air supply missions in NE Frontier and Assam, also CCU-BOM scheduled service. After nationalisation of internal routes in August 1953, reverted to being a private charter company until 1977, when ceased ops on the death of the founder at CCU.

Fleet:
Douglas C-47A: VT-ATT bt 10.64 w/o near Gauhati, Assam 26.3.71 off-course, struck hill ; ATZ bt post-1953, fate unknown; AZV bt 4.51 wfu c 7.54 after total engine flre after t/o due fuel starvation, Amritsar 7.7.61 ; CEI reg'd to the Maharajah 4.46, to Indian Airlines Corp 8.53; COU bt 10.47 fate unknown; CQL bt 12.47 to IAC 8.53, CTR bt 5.48, in storage CCU by 1977, CZC cr after No.2 eng failed following fuel starvation Delhi 5.12.70 (poss on loan/charter to Bharat Industries), DGO leased from Hindustan Aircraft w/o Surgaon 15.5.54, high landing approach, u/c retracted ; DTQ bt 2.65, in storage CCU 1977.

Lloyds Confidential Record 3.49 -
Jamair
Based Jamnagar, fleet 1948 1xDC-3

Accidents reported to Lloyds Insurers 1948-1969:
VT-CTR DC-3 dmgd by cyclone Santa Cruz BOM 21.11.48
VT-AZV DC3, overshot cr into wall lading Barrackpore in bad wx, dbr circa 7.54, presumably repaired.
VT-CQL DC3 u/c struck ridge attempting land Newlands airfield W Bengal Flight returned to CCU, belly landed, badly dmgd 24.10.53
VT-DGO DC-3 (regd Hindstan A/c) overshot & cr single eng appr Saugaon W
VT-CCU DC-3 Cr landed Gouripur 2.4.64 on freight svc total loss Bengal, CCU-Saugaon, Total loss 15.5.54

A 1977 listing shows the company as still operating with C-47s VT-ATZ & DBQ, plus C-54 DIB on passenger and cargo charters from CCU to Agartala-Purnea-Jaipaiguri and Jalpaiguri-Telepara-Grassmore-Newlands W Bengal, Silchar and other points in eastern India.

I surmise, though I've no proof, that perhaps Muff and Quinn, met their Maharajah at Boris Lissanevitch's 300 Club in Calcutta while on R and R. I gather it played temporary home to many transient WWII servicemen who mingled with members of the Indian nobility, otherwise precluded from membership by dint of their race of the city's other smart watering holes. I have heard the story that James Muff had an artificial leg and while visiting with the Maharajah of Cooch Behar, his host was astounded when his tame big cat went for Muff's leg, but was amazed when Muff stood his ground apparently unfazed. An amusing tale, but that's the stuff of legend!

Well there it is, hope it may be of interest.

Very much enjoy visiting your website - a fascinating chapter in pioneering air transport history.

Regards and Best Wishes

Maurice J Wickstead
Aviation Author & Specialist on Airlines of India for Air-Britain
(Historians)UK
E-mail mwavauth@tiscali.co.uk


---
November 18, 2005

Hi Tom:

I was reading through some of my mother's old letters from the early years in India, when she and my dad were living at Man Villas Palace in Jamnagar. In one of the letters she mentions that Eddie Quin has gone back to China to get his mother, and there's some other information about his family in the same paragraph.

Janet Muff



and here's part of that letter...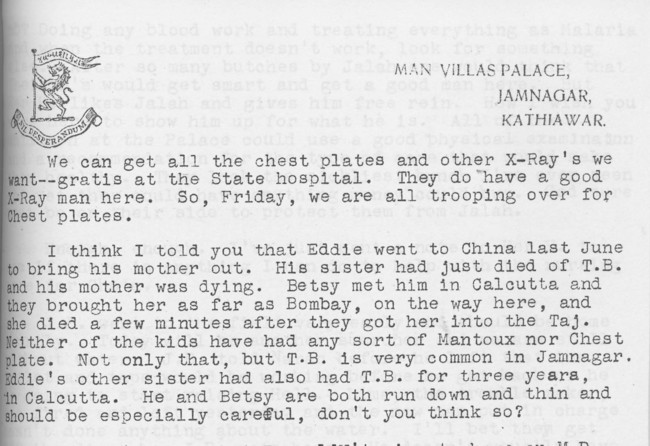 If you would like to share any information about Eddie Quinn
or would like to be added to the CNAC e-mail distribution list,
please let me, the CNAC Web Editor, Tom Moore, know.
Thanks!