This document is courtesy of Jack Dong's son, Dennis Dong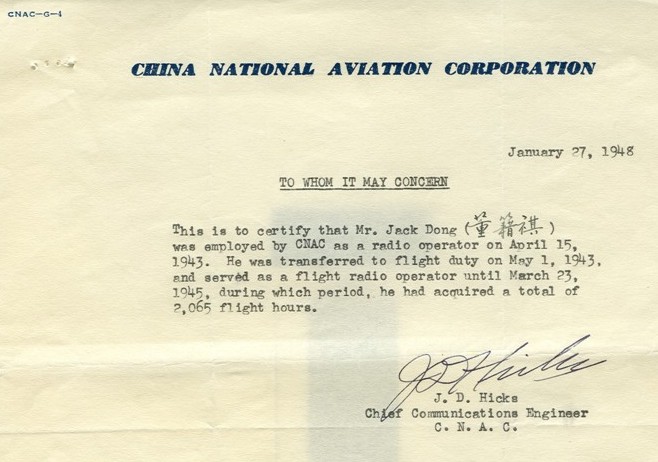 ---
The following was posted on another Hump Pilots Internet site (http://www.humppilots.com/)
April 1, 2003

Hello. I am Maggie Williams. My father was John DeTarr Hicks. He worked with CNAC from about 1943 to 1949. Leaving Shanghai in a hurry? Love to hear from anyone.

Maggie
maggie_rn@hotmail.com

------------------------------------

March 2008

Maggie sent me scans of a statue that was given to her father: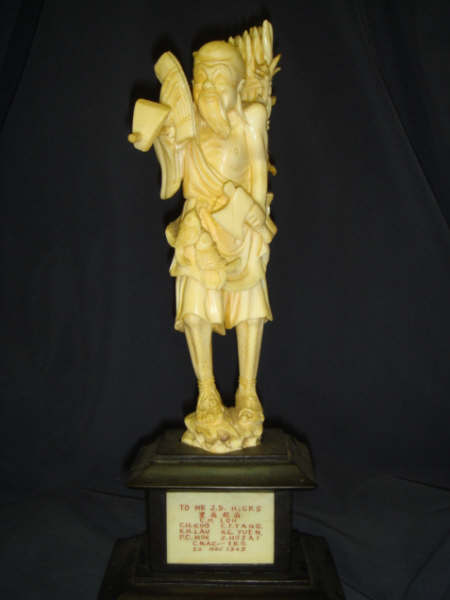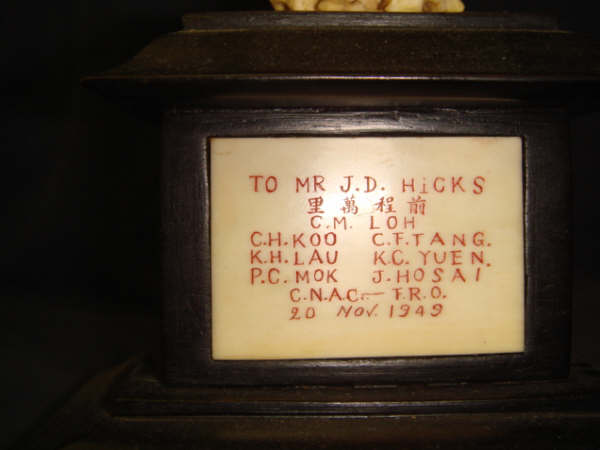 "Wish the Future is Wide and Bright for You"
F.R.O. may mean "Field ??? Office"
(Translation Courtesy of Li Wang)


Maggie has also loaned me the CNAC Bulletin from September 1948. This is the first time I have seen or heard of the bulletin. I'd like to see more.

Tom Moore

---
April 20, 2007

Good morning, Tom.

Yes, "my John DeTarr Hicks" is the same as your J.D. Hicks. When I began the search for his descendents, I found the entry from Maggie (his younger daughter from another marriage to Virginia Hicks Williams), in the HumpPilots guestbook, but have not managed to make contact with her as yet.

My sister-in-law Camille, and her twin Cecille, are daughters of J.D. Hicks, also. We have both accessed your website and other CNAC websites. Camille was very excited to see the information on your site.

Thanks so much for the information -- I am sharing this information with Camille, too.

Annette Deason
netnetters@yahoo.com


---
April 20, 2007

Good Afternoon,

I am so grateful to you for your interest in trying to locate family members of John De Tarr Hicks.

My name is Camille Hicks Asbell, my husband is Wayne Asbell, we live in Valdosta, GA. At this time as we are retired and our eldest son retired from the Air Force after 20 years in service all over the world and from what very little I know of my father I know he was an electrical engeneer, my son was an electrcal specialist on Helicoopters and has been all over the world including Affganistan and Iraq.

My mother's name was Maria Rosa Ycaza Gomez. She was born November 8, 1914. She and my father met on a ship sailing from San Francisco to Ecuador where my mother's family and my twin sister are from. Mother and her entire family were on that ship, including my great grandfather who had been Consul of Ecuador in San Francisco for many years, my grandfather Gomez was deceased.

So, a romance on board was formed -- this is my mother's story, and they continued to see each other in Guayaquil, Ecuador, where he was sent to install radio stations all over South America. They were married in Guayaquil, Ecuador, April 15, 1936.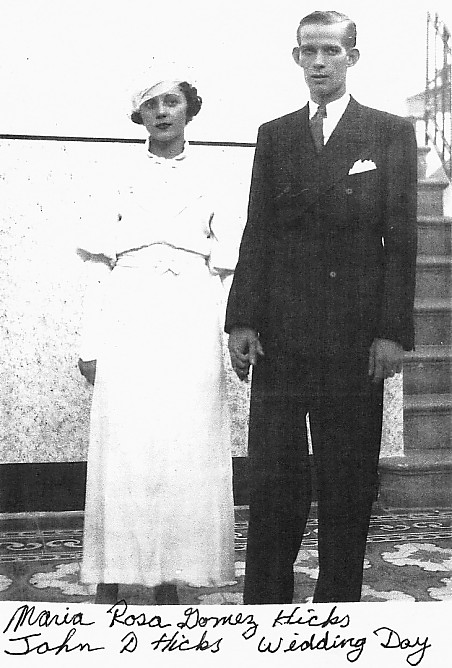 Wedding day, April 15, 1936
Guayaquil, Ecuador


My father was originally from Tampa, FL. His Passport number at that time was 236615. It looks like all this information I am giving you so far is from my birth certificate that he signed when he registered us in the American Consulate in Guayaquil Ecuador in January 26 1937.

Cecille, my twin, and I were born January 13, 1937. My father was 29 years old. Our birth certificates were signed by Frederick L. Roys, Vice Consul.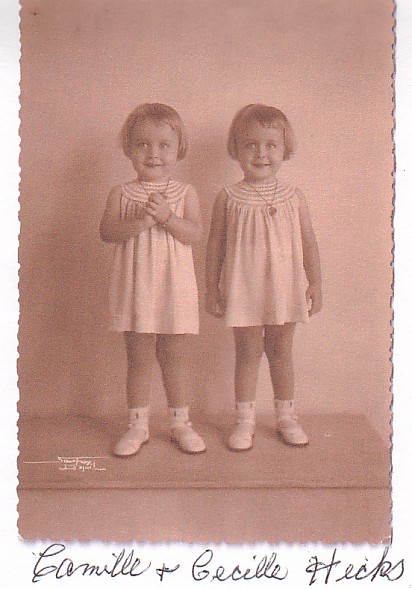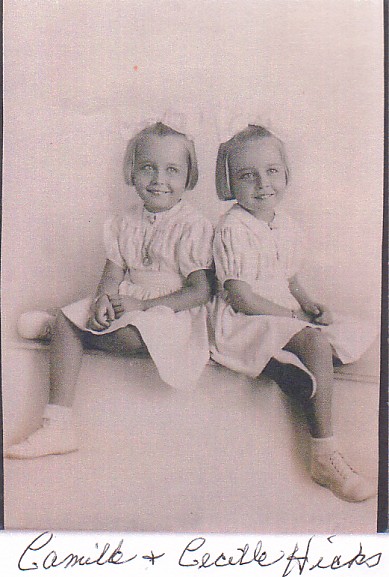 I can't put my hands on a document I had of his death at Tampa General. He died of lung cancer and had been in the hospital four months. An article came out in the Tampa tribune with a picture of my father and it described the work he did for C.N.A.C all thru so many years. I had that article and his death certificate which I loaned to a friend that was helping me locate my half-sister, but I can't find it, so she must have it still.

I was to meet with my father in Washington, D.C. in May of 1959. He was coming back from Okinawa, Japan. Our meeting was not meant to be, as I was called to Bolivia where my mother was critically ill, and so I departed and missed the opportunity of a life time. I knew he was re-maried and had a daughter, so I have a half-sister that I would love to comunicate with. My father died in November of 1960. When he came home from Okinawa he was already ill. I am a lung cancer survivor and I got lung cancer at the same age as my father when he passed away.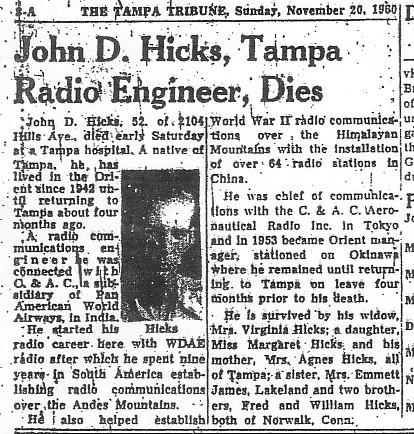 When John died his home address was:
2104 Hills Avenue
Tampa, Florida


I know that my grandmother's name was Agnes Wittenberg Hicks, and that my grandfather's name was Frederick Hicks and that he had a sister named Margaret. My granmother wrote me a letter when I was in Washington. I went to the public library to hunt a Tampa telephone book and I found several John Hicks and a Federick Hicks. I wrote letters, not knowing if they were my father and grandfather. My grandmother answered with the loveliest letter and gave me my fathers address in Okinawa and he replied.

I thank you for your time and patience with me. I am a 70 year old woman still yearning for the father I didn't get to know and would like to know more about him. When my mother remarried they changed our last names to Holguin, telling us that our stepfather had adopted us, but latter we found out it was not a legal adoption.

You have my permision to publish this and anything I write concerning my desire to have met this man that was my father. I mean of course we met/knew him when we were little, and my granmother Hicks says we learned to walk in her house in Tampa, where mother had taken us by ship to meet his family. I also know he had brothers; one was Fred like his father's name and he had another one or two and they lived up north.

I am so grateful as will be my twin Cecille. She was named Cecille Agnes after our grandmother in Tampa and I am Camille Leonor after my moms mother who was the most wonderful grandmother for the short time we had her.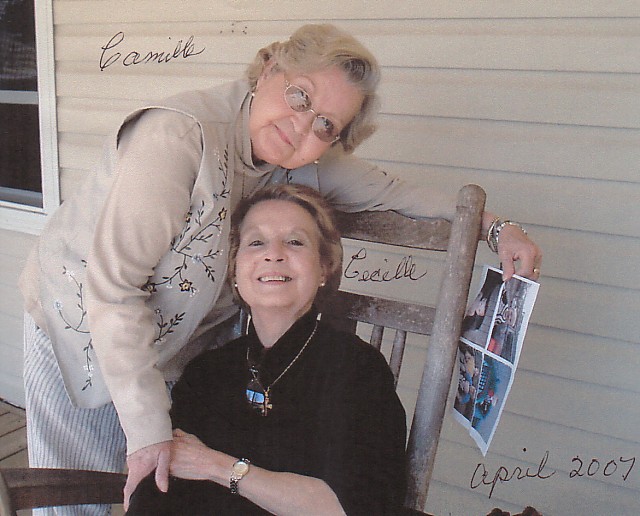 I have no words to explain my gratitude for what you are trying to do for us. Thank you so very much,

Camille Asbell
asbellcm@aol.com
and
Cecille Huerta
cecillehicks@gye.satnet.net



If you would like to share any information about John "J.D." Hicks
or would like to be added to the CNAC e-mail distribution list,
please let the CNAC Web Editor, Tom Moore, know.
Thanks!