From Gene Banning's list of 8/31/00:
"... AVG; prom capt 3/43; left in 1945 (s/b 1944); was in training flight crash at Balijan 10/10/42; plane #52; both engines failed on takeoff (locked controls? or dust in carbs); injuring both he and Bartling; both recovered OK."
(NOTE: For complete details surrounding this accident see the following accident report)

---
August 6, 2001
The following message is from Farrell Laughlin, Links widow.

"Link was born December 30, 1916 in Independence, Missouri. He grew up in Olathe, Kansas, and was an alumnus of Westminster College in Fulton, Missouri. In August of 1940 he enlisted in the Marine Corps Reserve in New York City. Took his flight training at Pensacola, receiving his wings and commission as 2nd Lt. in June 1941, then accepting assignment there as Flight Instructor.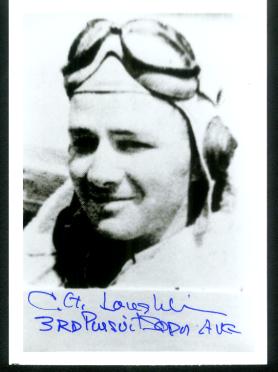 In August of 1941 Link resigned his commission in the Marine Reserves to become a member of the American Volunteer Group under the direction of Colonel Claire Chennault. This took him to Rangoon in November of 1941 where he was assigned to the 3rd Squadron (The Hell's Angels). When the AVG disbanded July 4, 1941, he remained in China accepting employment with China National Aviation Corporation.

(Farrell has also provided several CNAC documents that can be see here.)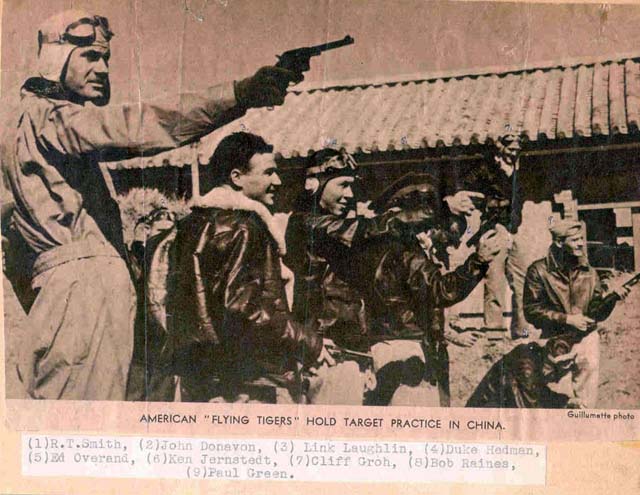 (Photo Courtesy of Chris Groh, son of Cliff Groh)


Link returned to the States in early 1944, reentering the Marine Corps Reserves in May of that year. He was assigned to the 9th Marine Aircraft Wing at Cherry Point, N.C, where he became pilot for General Lewie G. Merritt, Commanding Officer of the Wing. At that point Link insisted he was the oldest 2nd Lt. in the Corps. However, in short order his promotion to Major came through and he remained at Cherry Point until October 1945 when he resigned to join a group of his AVG friends in the establishment of what was to become the Flying Tiger Cargo Line.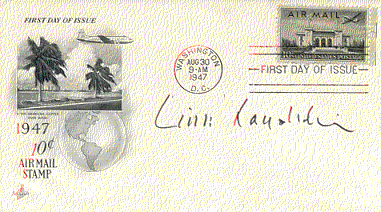 (Cover Courtesy of Tom Moore)


In the 1950's Link moved to the Miami area. He remained in the Marine Corps Reserves, retiring in December of 1976 having attained the rank of Colonel. In South Florida he became engaged in business and real estate investments, worked as editor for Pleasure Boating magazine and was a free lance writer. Link was an avid fisherman, boater and golfer, with a passion for writing, especially corresponding with friends both old and new. Link moved to New Smyrna Beach, Florida in 1986. He passed away March 25, 1995 and was buried with honors at Pensacola on May 5th of that year with a number of his AVG friends in attendance.

Best wishes with this project.

Farrell Laughlin"



If you would like to share any information about "Link"
or would like to be added to the CNAC e-mail distribution list,
please let the CNAC Web Editor, Tom Moore, know.
Thanks!