LESTER CHIN (1916 - 1975)
(CNAC 1945 - 1946)
(Captain - ???)
(Hump Flights ???)


From the September 1947 list of CNAC Pilots:
L. Chin 108-35 C47

---
From the 2 April 1949 List of CNAC Pilots:
Chin, Lester
432 Hamilton House
14275

---
From the 1960-1962, 1/18/64 and 1965 CNAC Mailing List:
Chin, Lester p
1301 S. Presa St.
San Antonio, Tex.

---
From the 1976, 1979 and 1981 CNAC Mailing List:
Lester Chin
1102 Country Ct
San Antonio, Texas 78216

---
San Antonio Express - 1975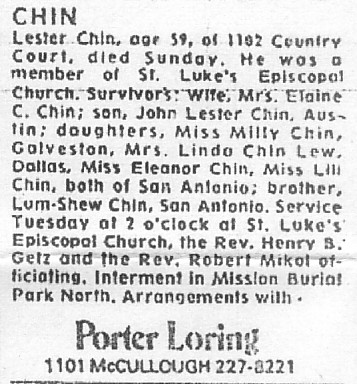 Mission Burial Park
San Antonio, Texas

October 7, 2005
Moon Chin told me that Lester Chin died about 15 years ago on April 15, in San Antonio, Texas.

---
February 25, 2014
Margaret Soong remembers -- Margaret remembers that his English was good and that he came from Canada together with a group of pilots and worked for CNAC. She flew with Lester many times.






If you would like to share any information about Lester Chin
or would like to be added to the CNAC e-mail distribution list,
please let the CNAC Web Editor, Tom Moore, know.
Thanks!



Background music to this
page can be controlled here.
"Tuxedo Junction"