2010
We first met Lillian in Kunming where our little band of travelers went to Kunming in 2010.
Lillian and her troupe, the Miao Choir, put on their Cantata, "Green Path and Rainbow -- The Story of Flying Tigers. Here is the "Playbill program".


---
Fast forward to January 2012
Then in 2012 I hear from Lillian and she is going to be at a special luncheon with former Govenor Linda Lingle as the guest speaker, in Honolulu as the guest of Vanita Rae Smith. Vanita Rae had been working very hard on the Spirit of "45 Hawaii. Well, Vanita knows that Lillian and I know each other from Kunming and invites me to this same luncheon. I ask Vanita Rae if I can bring a good friend, Bud Weinzheimer, to the luncheon. Well, seems as though Vineta Rae has known Bud and his sister Sascha Jansen for many years. So, we all attend this luncheon except Shascha who now lives in California.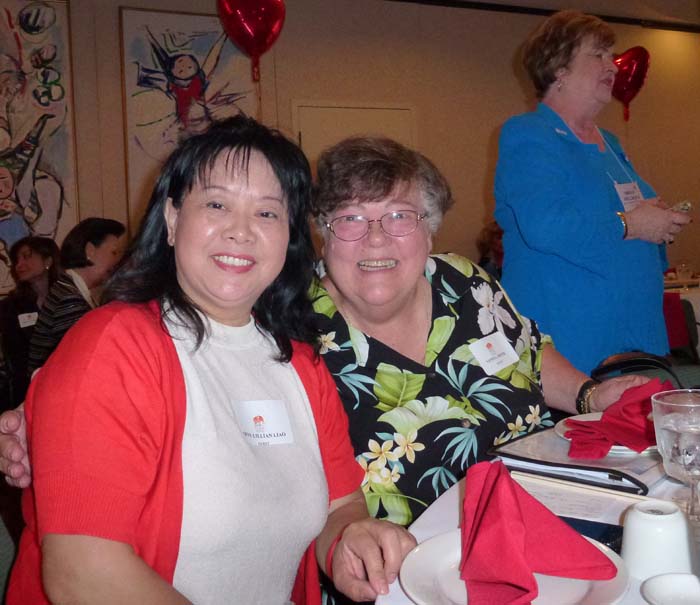 Lillian and Vanita Rae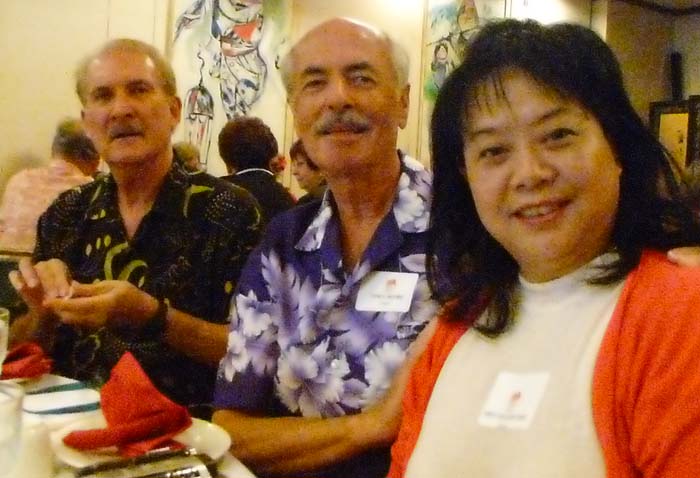 Bud, Tom and Lillian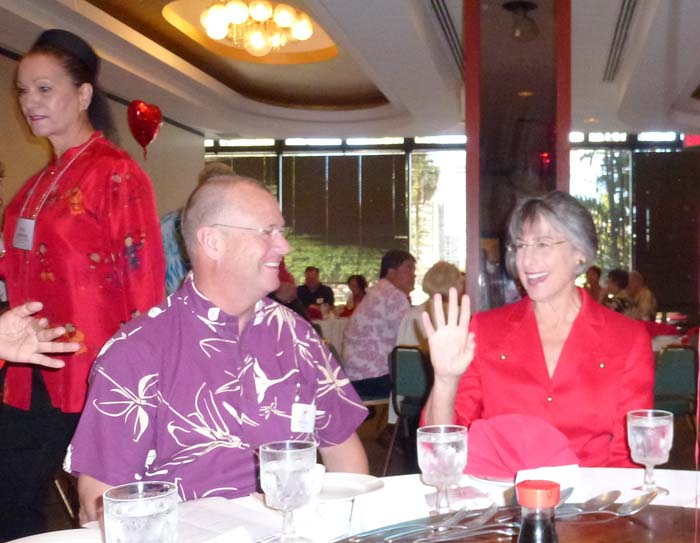 ???, ??? and Governor Linda Lingle

click here for a short video of Bud, Tom and Lillian
We thought we were posing for a still shot....
click here for a short video around the table
---
Fast forward again to May 2013...I receive the following e-mail from Lillian...
My Dear friends,

Greetings from Lillian (Liao Qiyu) in Kunming China!

As the director of Music Teachers and Students Group from 4 Yunnan art Colleges (total person are 37 of teachers and students from Wenhua College, Education College, Yunnan art college, Yunnan University, Ethnic Middle Schools), I'm so happy to tell you that my group visited Hawaii America Feb. 23 to March 2, 2013 for performance. Our trip was successful. The original plan was to perform six times. However, local people liked our performance so much that we added two more performances. In the morning of March 1, all members of the group visited the National Cemetery of the Pacific (Punchbowl) Hawaii to commemorate one of Flying Tigers, EMIL S. SCOTT, who sacrificed for the Chinese on March 14, 1942. The visit left significant impression to the member of my group that they understood America more than before. Hawaii school students and Hawaii local people also left us with very good impressions. We have learned a lot from their education, love, peace and friendliness.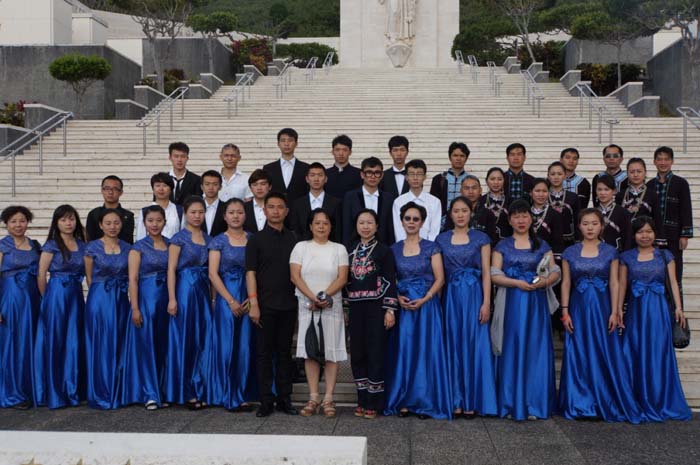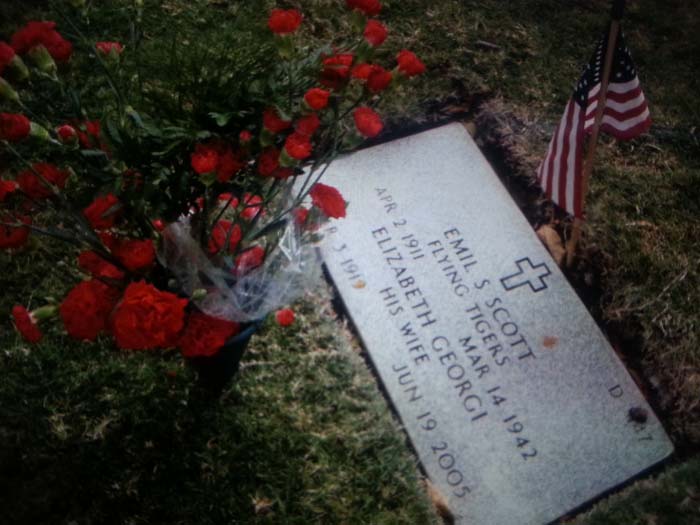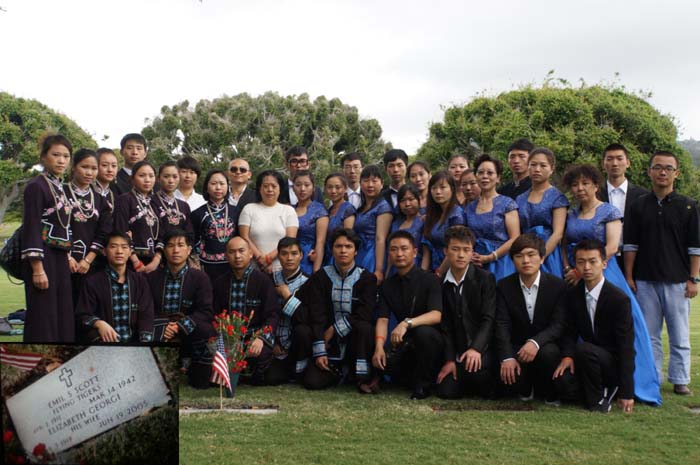 My group was back Kunming on March 4. After two weeks, in the evening of March 20, 2013, at the theatre of Yunnan Provincial Department of Education, Kunming, China, over 600 people attended a special performance to welcome an America students group from Hawaii Pacific Aviation Museum led by Doctor Shana. We performed the cantata: Green Path and Rainbow—the story of Flying tigers and the Hump.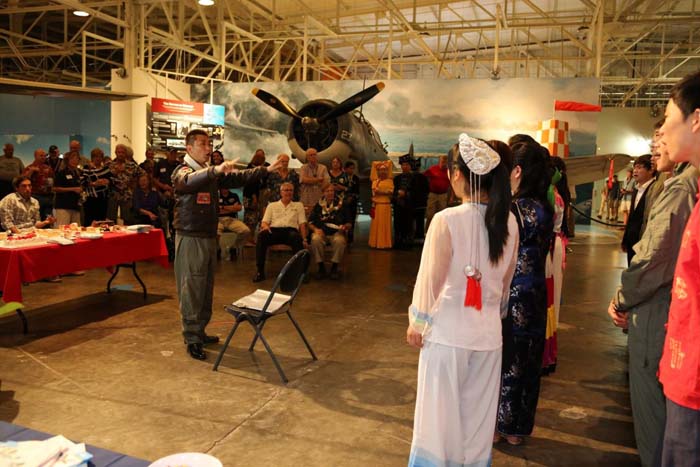 As counted by our students, over 41 different newspapers and websites reported our visit to and performance in Hawaii.

I'm so sorry my English is not good enough and I am too busy to translate some reports in Chinese into English. Track record of our trip performances and activities is half English and half Chinese. Hope your computer can recognize it.

Thanks for invitation by Prof. Cynthia Ning Director, Confucius Institute at the University of Hawaii at Manoa, Prof. Li Qikeng Co-Director of Confucius Institute, Dr. Liu Changjian, thanks for all teachers of Confucius institute, and special thanks for my friends Ms. Jialin Sun, project Coordinator of Hawaii University and Mr. Diego of Hump pilot's son.

Many thanks Tom & Bridge, Ken & Tanja; We go on singing for the spirits of Flying Tigers and the Hump. Go on singing for friendship between China and America!

Hoping everything goes well with you and your family!

Lillian ( Liao Qiyu)

Ms. LIAO Qiyu
Yunnan Provincial Nationalities Academy of Art
12 Fl. Culture & Science Technology Building
No. 371 Qingnian Lu,Kunming Yunnan 650021,
China

Email:liaoqiyu@126.com
Cell: 0086 13064230421


If you would like to share any information about Lillian
or would like to be added to the CNAC e-mail distribution list,
please let the CNAC Web Editor, Tom Moore, know.
Thanks!